LOOKING BACK AT 2000
The year began uncomfortably and what followed seemed like a mountain road--ups and downs and curves with some very rocky stretches--for the rest of the year. Two deaths, several broken bones, and a three-week bout of pneumonia stand apart from the pleasant memories we have of 2000.
January: We began the new year/century/millennium in Kona on the Big Island of Hawai'i with, left to right, (Judy) Dan, Julia, Griffin, Debra, Cindy, (Hughes) and Michael.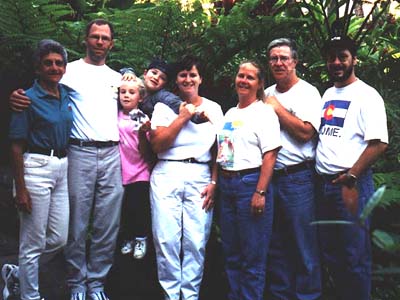 We enjoyed great beaches, hikes, kayaking, snorkeling, macadamia nuts, kona coffee, volcanoes, a luau, and great weather. On New Year's Day, however, Hughes was diagnosed with pneumonia at an emergency clinic in Kona (it laid him up three weeks); Judy went with him despite her broken toe, caused by walking into a wall at the Kona condo a couple of days before (can you tell on which foot the broken toe is?); there's lots we'd like to forget about January.
February: Judy rammed her hand on the edge of a hole in the ice on the reservoir getting certified in ice rescue for the fire department--several months in physical therapy followed; Hughes visited friends in Toledo and went on to Columbus for his annual storytelling gig; college friend Ken Andrews spent a couple of days; Hughes' mom's health declined, he flew to California for a week.
March: Max, the Runyans' schnauzer, visited twice this month to Gordie's and Sophie's delight; we began
planning for kitchen remodel; Judy bought her first new car (an Outback) since the 1984 Corolla, which she kept as her fire department response vehicle
April: We both began anti-malaria pills in preparation for two weeks in Belize at end of the month; the Sanders visited from Whitehouse (Ohio); kitchen was gutted while we snorkeled, hiked, and swam our way through Belize; Judy broke a bone in her shoulder when she tripped on a tree root running in the Belizean jungle (not far from where this photo was taken).
May: Hughes' mom, Helen, died peacefully in Chico at the age of 82; end of school and Hughes' last year to teach; Judy won age group in Bolder-Boulder 10K again.
June: Hughes' nephew Alex Karolyi and fiance Seana stopped on way home to California; we left for two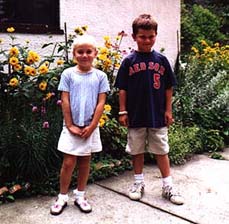 weeks of hiking in Switzerland while kitchen was completed (almost).
July: 4th of July fireworks show was a busy time for Judy and fire department; the next week we left for Massachusetts to stay with Griffin and Julia for two weeks while Debra and Dan rafted the Grand Canyon (a great trip!); a week after we returned, Gordie, our terrier mix and a joy in our lives for nine years, died suddenly while playing in the yard; Judy was devastated; Sophie mourned, virtually stopped eating for weeks; we buried him in the woods he loved next to stones marking Phoebe and Bonnie (Michael and Cindy's poodle).
August: Hughes continued to work on new library which town council finally created by resolution (but gave no money--lots of grant writing and fund raising to be done); we left for a road trip to Portland, Oregon, area for annual reunion with Judy's high school girl friends and spouses; we hiked on the way back in Utah--Zion, Bryce,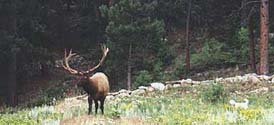 and Escalante, and stayed at Best Friends Animal Sanctuary in Kanab where Judy arranged for a memorial for Gordie; Hedy Andrews spent a quiet few days with us.
September: Hughes elected Chair of Library Board and promptly resigned from teaching and volunteering at Senior Center to make room on his plate; Penny visited Gordie and Sophie while Michael and Cindy played tourist in Banff and Jasper; we helped with the Boulder Marathon on the 24th and stood freezing at the finish line most of the morning during the first snowstorm of the year. (Yes, that's Sophie in the lower right hand corner keeping her distance from an elk browsing in our backyard.)
October: Bella, a lively poodle-schnauzer puppy, joined our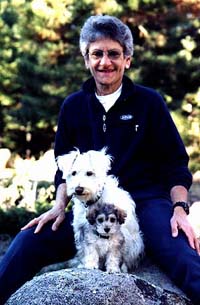 family on the 13th; she and Sophie bonded almost instantly (they now sleep together in the same crate), play constantly; they were separated for a week (Sophie to the Runyans, Bella to the local vet) while we vacationed in the Cayman Islands with Michael and Cindy where Judy took second in the Pirates Week 5K (and beat Hughes this year). Judy and Michael were big winners of the egg toss and snorkel treasure hunt, and received a bottle of great rum, a rum cake, and a dozen free drinks at the resort bar.
November: The coldest and driest November in a century; lots of wood cut and stored, so we stayed comfy; both very busy with volunteer "jobs" and living with a very young puppy; quiet Thanksgiving with Michael and Cindy; Michael designed the library's web page ; Hughes began writing a weekly column on the library for the local paper.
December: We find that we continue to derive a great deal of personal satisfaction in working with community organizations. We should have done more of this years ago, but we never seemed to have the time, what with jobs, raising kids, etc. We'll keep at it.
The holiday season here, like at your house, is filled with times to get together with family and friends and neighbors. The weather will turn bitter cold and snowy soon enough. But we've plenty of wood to burn and dogs to keep us warm and happy.
HAPPY HOLIDAYS!