BELIZE
April 24--May 4, 2000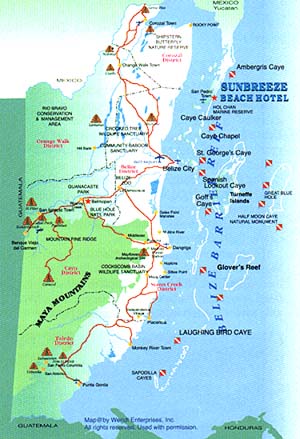 THE BIG PICTURE
We flew from Denver to Houston and on to Belize City. We were ferried out to Spanish Lookout Caye, about ten miles off-shore from Belize City, where we worked on a coral reef research program. Eight days later, we returned to Belize City and drove into the Mountain Pine Ridge area of the Maya Mountains of western Belize about 35 miles from the Guatemalan border. We stayed three nights at Hidden Valley Inn, hiking, swimming, and exploring the ancient Maya city of Caracol (the triangle at the end of the road just above the word Mountains on the map to the left).

SPANISH LOOKOUT CAYE
Our original interest in the trip was prompted by an Elderhostel Service Trip opportunity to spend a week on a caye (sometimes spelled "cay" and pronounced "key") near Belize's barrier reef working with a researcher who, with the support of Oceanic Society Expeditions, has been monitoring the health of the reef's coral by studying the distribution and abundance of a species of stomatopods (mantis shrimp) found in the reef. In addition, we'd never been to Belize, though we knew of the great diving and snorkeling found on the reef off Belize. Even though our winter had been relatively mild and dry, getting some time in the sand and waters of the Caribbean is always a winter pleasure. We were not disappointed.
Spanish Lookout Caye is one of group of small islands called the "Drowned Cayes" that lie between the mainland and the coral reef to the east. These tiny islands are dominated by three species of mangroves and are often unpopulated or may have a small fisherman's house on one edge. Spanish Lookout Caye is about 230 acres (privately owned) with a protected bay (Spanish Bay) and enough dredged "land" to support a half dozen buildings. A path of dredged ocean bottom about 400 yards long has been recently built through the marsh and swamp across the caye. It takes a little less than an hour to canoe around the island. Spanish Bay Resort has 12 cabanas (six "duplexes"), a dining room/bar, living quarters for staff, and a research facility for Oceanic

Society activities. Rainwater is collected by roof drainpipes and filtered for drinking; separate "on demand" hot water systems serve each pair of cabanas; a septic system handles sewage, and generated electricity is available from 6:00-9:00 am and again in the evening until the 10:00 when the system is shut down. The ocean breeze is constant and cooling. In spite of temperatures in the 90s, we were comfortable inside. However, the sand fleas that live in the interior of the island have insatiable appetites and made that short walk across the island to see the osprey nest very unpleasant.
We dined on simple but very tasty Belizean foods: usually fish (including our first taste of barracuda) or chicken, beans and rice, soups or chowders, lots of fruits (several of which we had never heard of: e.g., tamarind and custard apple), fruit juices, local vegetables, and homemade bread or tortillas. A bottle of Marie Sharp's (very) Hot Sauce (carrots, habanero peppers, onions, and spices made only in Belize) was on the table at every meal. Cilantro, lime, and garlic were the main spices used in cooking. Belize's world famous Belikin beer was always cold and very refreshing in the hot afternoons.
At night, as we walked to our rooms from dinner and talk or cards, we could see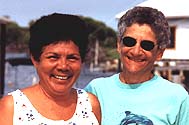 the Big Dipper and North Star as clear as we can here in the mountains. When we turned around, we could also see as clearly the Southern Cross. Though we've been to Mexico and the Caribbean several times, we'd not noticed this double performance before. But now we know where to look.
Many thanks to Elda Ceballos, the very friendly and efficient manager of Spanish Bay Resort. We took her picture with a copy of our local paper, The Mountain-Ear, in hopes it might be printed and we can send her a copy for her scrapbook. Also much gratitude to Marilyn Peters who cooked and baked wonderful food for the week--we hope you finally got that much needed time off to see your family. Thanks also to Jenny and Napoleon ("Napo") who set up, served, and worked in the kitchen day in and day out. We appreciate all that you did to keep us well fed and make our stay so comfortable.

THE CORAL REEF
Our "job," along with four other Elderhostelers, was to assist in the
gathering of the stomatopods, a task that required snorkeling in relatively shallow water (4' or less). We would go to one of the eight marked locations where 36 small concrete containers (about the size and shape of a coffee mug) had been placed a meter apart in a 6 x 6 array. The artificial cavities (ACs) had a three inch long hole as big around as your pinkie finger that permitted stomatopods and other small creatures to live in them. The ACs were cast in such a way that the top separated from the bottom so that they could be opened and the animals within could be examined. The researcher checked on any stomatopods living in each of them (how many, what sex, how big, if they had been found previously, etc.) as well as other animals who might be sharing the
space (usually sea worms, baby octopi [shown on left held in a gloved hand], sea squirts, small crabs, and brittlestars). All the animals were returned to the cavity, the AC retied with a long twist-tie so that it would stay together in spite of tides, surges, or other intrusion, and returned to its original location. This was our regular routine in both the morning and afternoon: the six of us could complete two sites each day. The lectures we had most evenings were focused and informative, with slides or a video, and covered such topics as stomatopods, corals, and fish of the reefs.
In addition, we had several opportunities for recreational snorkeling in various areas along an eight mile stretch of the inner reef between Gallows Reef and Goff's Caye. We also spent one morning on a "natural history exploration," where we boated through neighboring cayes in search of dolphins and manatees. We saw several of each; though the dolphins seemed curious about us and often swam near us, manatees are very shy and kept their distance.
Belize is well known among divers for its three major dive areas: Glover's Reef, Turneffe Islands, and Lighthouse Reef with the Blue Hole made famous by Jacques Cousteau. Ambergris Caye, a finger of land that extends down from Mexico's Yucatan Peninsula, is a popular resort area and a jumping off spot for many dive trips. San Pedro is the "big" town and there are resorts at Caye Caulker and St. George's Caye just to the south.
However, snorkeling along the coral wall and coral heads on the edge of the reef proved to be a terrific way to see most of the life within the reef. We saw a huge number and diversity of beautiful corals and sponges, as well as the usual tropical reef fish (grunts, trumpetfishes, parrotfishes, barracudas, butterflyfishes, angelfishes, triggerfishes, damselfishes, wrasses, jacks, tangs, etc.). We also saw rays (both southern stingrays and spotted eagle rays), spiny lobsters that tried to hide in a small coral head, a lizardfish (for the first time), and a school of at least a hundred squid (we stopped counting at 60). There may have been more to see by diving--certainly you can examine things longer and up closer by diving--but there is lots to see from the surface. We heartily recommend snorkeling in this area, even to divers.
A note about the water: The areas we snorkeled did not have quite the visibility of the Cayman Islands; some say the water around the Cayman Islands is "as clear as gin." However, visibility was in the plus 100' range. It was also quite warm: at 82-84 degrees it was warmer than any we'd been in before. In fact, there were signs of extensive coral bleaching caused by higher than usual water temperatures, a product of global warming, El Nino events, or both. Since coral gets its color from symbiotic algae (zooxanthellae) living within the coral, rising water temperatures can kill this algae, depriving the coral of its color--hence, "bleaching" the coral. Because the algae provides nutrients to the coral, if the algae dies, coral growth is reduced, perhaps eventually killing the coral.

IT'S A SMALL WORLD
Fact #1: Elderhostelers come from all over with diverse interests and backgrounds, and in various sizes, shapes, colors, and ages (though at least one of the traveling registrants must be 55 or older).
Fact #2: Belize is a small country, about the size and shape of Massachusetts set upright. Off-shore are hundreds of islands, cayes, reefs, and atolls, some no bigger than a backyard in suburbia.
Fact #3: If you talk with people, you're apt to discover a direct connection between you and another person, no matter how far either of you is from home.
This is all by way of an introduction to our "fellow travelers" and the story of a chance meeting on a deserted island where three folks were surprised and delighted to meet so unexpectedly after nearly 20 years.
Terry Schreiber (from Florida) and Arlene Casper (from Arizona) met up with us at Spanish Lookout Caye after a 10-14
day Elderhostel tour of Maya sites in Honduras and Guatemala which was followed by several days of R & R at St. George's Caye. The other two traveling together were Jane Bishop (from Michigan) and Mary Jo Clark (from New Mexico) who had spent the previous week working with a researcher studying howler monkeys northwest of Belize City. (The woman third from the left in the photo is Kate, the researcher.) Each was energetic, interested in coral life, and good fun to be with. We discovered Terry was a Shanghai Rummy maven who had just taught Arlene the game while on this trip. The four of us passed several afternoon and evening hours with one of our favorite games.
The first SWE (Small World Event) took place when Jane said that though she lived in Ann Arbor (home of our daughter's alma mater and a short 36 miles from where we once lived in the Toledo area), she had taught middle grade science at Maumee Valley Country Day School in Toledo during the 1970s and 80s. Further, she thought she knew Hughes' name from the many times he had visited the school and worked with the kids. They talked about headmasters they'd known, as well as teachers (e.g., Chuck Sprandel, Ned Wickes, Martin Nagy, and others who are legendary to many folks in Toledo.)
The second SWE was even more incredible. We had taken a recreational snorkel trip to a tiny sand island known as Sargeant's Caye, which was once featured on a stamp from British Honduras (a 1938 15 cent) showing Sargeant's Caye with buildings, some palms, and an airplane flying overhead. Today, thanks to several hurricanes since, there are no buildings, no trees, and less than half the sand. It's a minuscule dot of white sand in the middle of a huge blue ocean--sort of like the prototypical desert island drawn in many cartoons. While we were there, a small launch from another resort brought a half dozen folks to Sargeant's Caye for snorkeling. When Jane saw one of the women, she knew her! Also from Maumee Valley Country Day School. Judy Donaldson had been the secretary to several headmasters in 1970s and 80s. She knew Hughes as well, and the three of them marveled and laughed at the coincidence of meeting on this tiny speck of land in the middle of the ocean.

ON THE WESTERN HIGHWAY
When we had finished our work at Spanish Lookout Caye, we were ferried back to Belize City and the Princess Hotel with an hour to spare before we were picked up for our trip to Hidden Valley Inn in the heart of the Cayo District (state) in western Belize. Since it was Labor Day (May 1) in Belize, most stores were closed, but there was a Brody's open where we bought plantain chips, some Marie Sharp's Hot Sauce, gin and tonic water, some postcards (none was available at Spanish Bay Resort), and treated ourselves to some ice cream. We returned to the Princess for our 9:30 pickup by Herman Velasquez who, it would turn out, would be our invaluable and knowledgeable guide for our entire stay at Hidden Valley.
We had arranged ahead of time for a stop or two on the way to Hidden Valley. The first stop, 29 miles of good paved road down the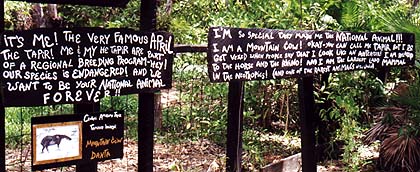 Western Highway, was the Belize Zoo. This facility is, it seems to us, unique since it houses only animals indigenous to Belize, many of them brought to the zoo as orphans, abandoned, or injured. Over 100 mammals, reptiles, and birds (plus a huge tarantula in the entrance museum) are displayed with thoughtful and humorous signs that emphasize their often endangered status and importance to the country; we cannot recall any signs with scientific names or statistical information.
We had passed signs of recent brush fires and saw smoke in several areas on either side of the highway. In fact, on the south side of the highway, across from the zoo turnoff, there was a fire burning a few hundred yards away. While we were walking through the zoo, the smoke became thicker, ash began to fall, and some of the animals became agitated. We heard helicopters, trucks, and heavy equipment on the highway and alongside the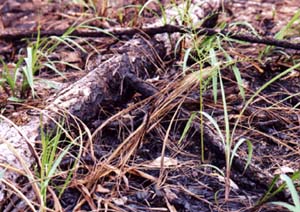 zoo grounds. We finished our tour a bit more quickly than we otherwise might have. When we found Herman waiting for us in the parking lot, he said that the wind had shifted just a few minutes before, but if it had not, he was going to come in and evacuate us. When we drove back onto the highway, we immediately passed by the burn area which had been separated from the zoo grounds by a very wide bulldozed fire break. Without a water supply (there are few engine pumpers in the country and the rainy season would not begin for several months) containment is the principle method of fire suppression.
As it turns out, we saw fires, smoke, or signs of recent fires almost everywhere while on the mainland. Most were controlled burns that got out of hand. The amazing thing about burned areas is that new growth begins almost immediately. The photo on the right shows an area burned over just two weeks earlier! Though there are benefits to these controlled burns, there also is a persistent haze almost everywhere, and the smell of smoke is often in the air.
We stopped twice more on the way to Hidden Valley. Our first stop was for lunch at Cheers, a highway cafe with outdoor tables, delicious "Gringo Tamales," and cold Belikin run by a Dutch woman and her daughter. The sign in front was fashioned in the same style as the logo from the TV bar of the same name. From the rafters of the open eating area hung dozens of T-shirts, largely from groups from the USA--colleges, work groups, etc.--who had eaten there. The second stop was at Caesar's, a well known craft shop where we bought a beautiful wood bowl.
After another 25 miles down the Western Highway
we came to the intersection of the Hummingbird Highway and the fringe of Belmopan, the capital of Belize. Belmopan (population about 6,000) was created in 1970 following especially devastating hurricanes that forced the evacuation of Belize City (population about 70,000), the former capital that lies a few feet below sea level. Belmopan is not only more centrally located, but is about 500' above sea level.
We left the pavement at Georgeville and commenced a kidney-rattling, strut-busting ride of about 20 miles over rough rock outcroppings, potholes in which large animals have been known to get lost, and various ruts, bumps, and other challenges to both driver and vehicle--and passengers! A few folks live here and there along this road (the red line that goes south to Caracol into the Cayo District). A school bus comes along where there are children (school is compulsory in Belize to age 14). We saw people walking and riding bikes from time to time. There is at least one large (3,000 acres) citrus ranch along the way with orange trees surrounded by a row or two of grapefruit trees. (Herman explained that Belizeans generally don't like grapefruit--they find them too sour--so grapefruit trees are planted on the outside of orchards to help cut down on pilferage.) We passed other "jungle adventure" operations and a butterfly farm run by a couple from Belgium who do tours as well as raise butterflies for sale.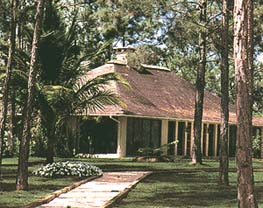 HIDDEN VALLEY INN
Finally, we came to Hidden Valley Inn (about where "Pine" is located on the map above), an oasis of luxury and gracious living on 18,000 acres of waterfalls and hidden creeks, grasses and Spanish ferns, pines and orchids, a variety of cash crops (coffee, pineapples, mangos, oranges--even grapes and
macadamia nuts at one time). The property adjoins the Mountain Pine Ridge Forest Reserve, a national parkland in the Maya Mountains of central Belize. The Inn is the former part-time residence of the American owner who gave up cattle ranching there and added 12 double guest cottages, leaving his residence to be remodeled as a lodge for dining, a movie viewing room, a spacious card room, and library with a fireplace for cooler evenings. (The ranch is at about 2,500' elevation and nights can get cool, at least by Belizean standards. Each room also has a small fireplace with a fire laid ready to light.) We were greeted by our host, Austrian-born Peter Durhager, who immigrated at a young age to Bermuda where he was a watchmaker and antiques dealer for 35 years. He had come to Belize just three years ago to manage the Inn. Peter introduced us to Frannie and Annie, two quite friendly coatimundis who have full run of the grounds, and to several of his 85 varieties of orchids which have become his hobby/passion since coming to Hidden Valley.
Peter gave a brief tour of the lodge and grounds, told us about dining hours and when the generator comes on and goes out each day, what our two full days' schedule would be, and led us to our room. On the way, he told us we would be the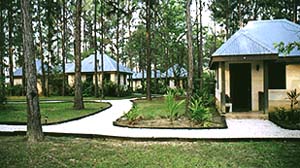 only guests for the next three days! (How wonderful that was! On the day we left, 15 butterfly watchers were scheduled to descend on the place. We left in the nick of time!) With a staff of about a dozen, including three or four in the kitchen/dining room, we were treated like royalty.
After we settled into our room, we hiked a couple of miles to the pools above Tiger Creek Falls. We worked up a good sweat in the afternoon heat and humidity. Soaking in the pools was the perfect tonic. (Ten minutes into the return hike, the sweat broke out again, making the shower when we got back just as much a pleasure.) We invited Peter to join us for dinner which gave us a chance to learn about area, the origins of the property, and about Peter. It was white linen tablecloths, crystal stemware, a choice of fine wines, a gourmet dinner, two servers/waitresses, and great conversation. All in the middle of what can only be described a very isolated part of the Central American jungle.

HIDDEN VALLEY INN RESERVE
We woke at sunrise (about 5:30) to a symphony (perhaps one by Carl Orff or John Cage) of birds also waking. What fascinating sounds we heard as we lay in our half-sleep! Coffee (from beans grown and roasted on the property), fruit (mango, watermelon, and the sweetest pineapple we've ever tasted), homemade coffee cakes, and fresh squeezed juices were waiting for us by 6:30, with breakfast served at 7:00.
Herman arrived soon after breakfast for our driving/hiking tour of the Hidden Valley Inn Reserve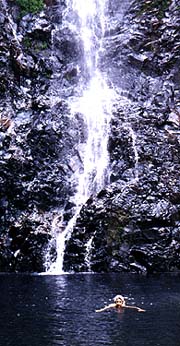 . We drove to the Hidden Valley Falls (now called 1,000 Foot Falls), which has become a national park since the Belizean government "took" the hundred acres around the falls from Hidden Valley. Peter is still negotiating for some sort of compensation.
From there we drove to the trailhead for Butterfly Falls, clearly the gem of the Reserve. We hiked about a mile with Herman who pointed out plants, birds, and answered all our questions. He stopped us at a huge termite nest and scraped a small area of the nest's surface. Scores of termites immediately came out to begin repairs. He stuck some pine needles into the nest at that point and said to look at the nest on our return. He left us to go ahead on our own, saying to take all the time we wanted. We hiked another half mile or so to this beautiful secluded 80-foot falls you see on the right. We swam in this Eden-like setting until we realized that our next stop was for lunch, and Herman was probably as hungry as we were. On the hike back to the trailhead, we found the pine needles sticking out of a completely repaired termite nest. Amazing!
We talked Belizean politics, ecology, schools, and making a living in Belize with Herman over lunch (fried chicken, cole slaw, tortillas, fruit, fresh made cookies, tablecloth, "sky juice," and "Bob Jones" -- Hermanisms for water and fruit juice). Afterwards, we drove to Tiger Creek Falls, this time to see the falls--i.e., where the water we had soaked in the day before falls over a 1,000' precipice into a deep gorge. Our driving tour took us past a man-made lake that once served as a watering hole for the cattle, but is now stocked with bass for those guests who bring their poles. Our last stop was the old ranch site where the coffee is processed and roasted and stored for use at the Inn. In all, we saw the best of what the Mountain Pine Ridge region offers those who like to hike in unspoiled and untravelled areas.

CARACOL
Our second day's trip was to Caracol (which means "snail" or, in some places, refers to the shell of the conch) the site of the largest Maya ruins in Belize. It is a partially restored site (no finely manicured lawns or polished stellae as we found at Chichen Itza). Herman was as knowledgeable about the history of the site as he was about the region's plants and animals. Although we walked through the grounds that are still reasonably accessible (which represents only a small fraction of the total area inhabited by 150,000 Mayas up until about 1000 C.E.), climbed to the top of the tallest man made structure in the country (our view from the top of the Caana Pyramid
revealed at least a dozen fires on the horizon in all directions), poked through the research "settlement" within grounds used during the winter by researchers and students from University of Central Florida, the most startling event of the visit to Caracol was Herman's sighting of a rare Harpy Eagle on a tree branch not 40 feet above our heads.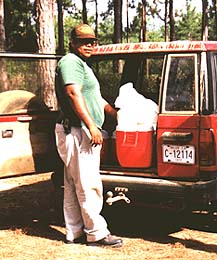 Herman was quite excited, explaining to us non-birders that he'd seen one only on two other occasions and that birders, with their life lists in hand, come to this corner of the rainforest from all over the world hoping to catch even a fleeting glimpse of one. They usually come away empty-handed. And here we come along, not knowing or caring that much, and we "bag" a sighting with no effort at all. In truth, the bird is a wonder to see. Its wingspan was 3'-4', but it does not soar in search of prey like the area's King Vultures or Orange-Breasted Falcons that ride the thermals. Rather, it flies and hops within the rainforest canopy in search of howler monkeys and sloths. And it has the talons to do the job of capturing and tearing flesh: they are huge, quite oversized for its body. Its actions were less regal than we think of an eagle's movements: it bobbed and turned its head more like a member of the owl family. And its call varied from a sort of chirp to a duck's quack. We must have spent a half hour watching it, shooting telephoto pictures, and listening to Herman tell us all he knew about the bird. We finally went on exploring Caracol, not because the bird flew off but because our necks were stiff and beginning to ache.
We began our return trip of 35 very rough miles with a stop at the Rio Frio Cave, a short tunnel with a very wide opening through which a stream flows and a few stalactites hang from the ceiling. Our more interesting and much appreciated second stop was at the Rio On Pools, a section of the Rio On where the river flows over a gentle granite slope forming dozens of small pools, not for swimming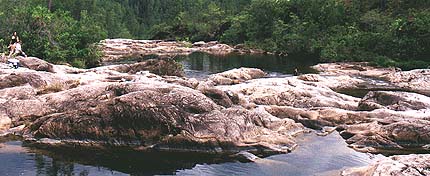 but for soaking in its cooling waters. We arrived, to our great surprise, at the same time a hundred or more British soldiers were enjoying a cool break from basic training in the area. We and they, along with a dozen other tourists, spread ourselves comfortably throughout the pools without stepping on one another.
Dinner, like the previous nights, was superbly prepared and leisurely. We watched one of the delicate gray foxes that live cautiously around the area come out of the darkness and take pieces of raw chicken from a platter placed on the grass just outside the dining room. Frannie and Annie sometimes picnicked there also. Afterwards, as we had each night, we went to bed early and slept soundly until dawn and the birds' music began again.
A footnote about the road to Caracol: There are stories and videos and photographs of Land Rovers and other 4-wheel drive vehicles plowing through mud pits, fording raging rivers, digging through rocky outcroppings, and slogging through deep ruts in order to get to Caracol. During the dry season, the road is certainly rough, but not nearly so challenging as when the rains come. However, Herman told us that plans are in the works to pave the road to Caracol to make it easier for tourists to reach this national treasure. The ecological and cultural implications will likely be as serious as the economic benefits to the country. There are arguments to be made on both sides and only time will tell which is right. However, if you don't hurry, you'll not get your chance to make this memorable journey through the Maya Mountains, across the Macal River, and through the jungle of the Central American Rainforest. It will be blacktop and fast food all the way. And the Harpy Eagles may find other places for birders to seek them out.

EPILOGUE
We returned to the airport in Belize City, leaving at 5:30 am to catch an early flight home. Peter got up an hour early to start the generator so that we could have fresh brewed coffee (as well as fruit, coffee cakes, banana bread, and juice) before leaving. What a guy! We were well cared for and pampered from the time we stepped foot on the grounds until we drove off down that terrible road to the Western Highway.
The flight out of Philip S.W. Goldson International Airport, which is just a stone's throw from where they make Belikin beer in Ladyville, was on time and smooth all the way to Houston. During our layover in Houston, however, the skies darkened, lightning and thunder rolled through town, and the heavens drenched the airport with "sky juice." We waited out the four-hour delay by catching up on the news of the day and reading our paperback novels. When we finally boarded our plane, Hughes humorously asked the first flight attendant he met at the door to the plane if, given the long delay, this was United's "champagne flight." A half hour into the flight, a complimentary bottle of chilled Veuve Amiot arrived at his seat neatly wrapped in a white linen napkin. Surprised at United Airlines treatment of a Row 16 passenger, we thanked the flight attendant, praised her resourcefulness, dumped out the ice from our plastic soda glasses, gently eased the cork off the top, and enjoyed French champagne all the way to Denver. After our visit to the jungle paradise that is Hidden Valley Inn, it only seemed a proper way to end our trip.