September 20, 2000
Dear Family and Friends,
Our summer has closed on a gloomy note. One of the state's largest fires of the year burned over a 1,000 acres just four miles to our west. In a summer of fires throughout the west (in all, more than 76,000 fires have burned several millions of acres) this one was small, but mighty close to home.
It began on a Friday afternoon (September 15) in an area of county open space west of Boulder and to the east and south of our house on the other side of Boulder Canyon. As I worked in the Visitors Center Saturday morning, Judy began a twelve-hour shift on the fire line as part of a small wildlands crew from Nederland (along with over a hundred firefighters from around the area). I watched the billows of smoke constantly shift from plumes of dark grays and browns which then dissipated into whitish smoke, like a spring fog or urban haze. What began as a six acre brush burn of unknown origins grew rapidly to a wildlands fire more than ten times that size. It was probably caused by a campfire in an area where a "No Fires" ban has been in effect since July. Fortunately, by Monday morning the temperature overnight dropped and the winds forced the fire back on itself, giving firefighters a chance to establish some defensible lines and clear trees and brush away from threatened houses. In the end (Tuesday, September 19), no structures were burned and the 200 evacuees returned to their homes. This morning we awoke to dense fog/low cloud and about a half inch snow, our first of the season. Summer is over and fall is definitely here.
We didn't have much time between returning from Switzerland in June and spending two weeks with grandchildren Griffin and Julia in Massachusetts. We were here for the 4th of July festivities which is a big effort by the fire department (fundraising, parade, barbecue, and fireworks). Unfortunately, the Barker Dam Brass Band didn't perform in this year's parade. The director, a high school music teacher in St. Paul who vacations out here each summer, claimed "burn out" from a busy school year so Michael and I didn't get a chance to get our instruments out this summer.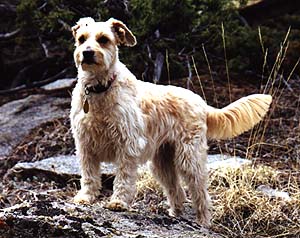 Our one tragedy was the quite unexpected death of Gordie, our nine-year-old pound puppy and the object of great love and affection since we moved out here. We don't know what the cause was, only that one minute we saw him and Sophie doing what they liked most to do--digging out and chasing ground squirrels at the back of our meadow--and the next minute he was lying still on the ground. We held him for a long while and then buried him just inside the woods where Michael and Cindy's first dog, Bonnie, is buried next to a marker in honor of Phoebe who died at 17 just after we moved here. Gordie was a special friend and, though Sophie is very lovable and has many of Gordie's interests and skills, we still feel his loss deeply. The notes of sympathy we received from many of you showed you understand how strong those bonds between people and their pets are. It's not a cliché to say that we lost a member of our family.

At the end of August we began a two-week, 3500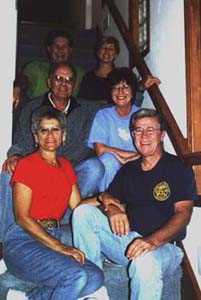 mile driving/camping trip to Oregon. Our destination was a Labor Day reunion with the Williamsens and the Eisenhuts, an annual event which we began three years ago. Pat (Williamsen) and Irene (Eisenhut) are Judy's best friends from their high school days in New Hope, Pennsylvania, and they were Judy's bridesmaids at our wedding. Though we've stayed in touch over the years, we had seen them only a couple of times since our wedding. When Pat remarried Tom in 1997, she invited us and Lee and Irene to the wedding. It was as though we had seen each other just the week before. We had such a good time, we agreed to get together again the next year. Two years ago we met in Lake Tahoe and last year we hosted them here in Nederland. This year we drove to Lee and Irene's in Richland, Washington (just across the river from Portland, Oregon). They showed us the Portland metro area and the Columbia River Gorge which were new to us. When we weren't in the car playing tourist, the three women talked for hours and the three guys walked the dogs, watched some football, and stayed out of the way.
On the way out, we drove through Salt Lake City, across the southern and dull part of Idaho, and discovered some beautiful areas in eastern Oregon. Baker City and the mountains west of there were a real surprise. We camped one night on a beautifully quiet lake near the old mining town of Sumpter where we learned about dredging for gold and discovered an incredible and complex dredging machine at Sumpter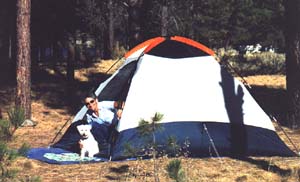 which was used up until 1954 to gather millions of dollars of gold from area rivers. It's worth a stop at the Sumpter Valley Dredge Heritage State Park to see this contraption and understand this aspect of mining history.
From there we drove through the Columbia River Gorge to Hood River (Oregon) where windsurfers zip back and forth from the Oregon side of the river to Washington and back again at some incredible speeds. It is then only a short drive to dramatic Multnomah Falls on historic US 30 which parallels the river on the Oregon side, passing the John Day and Bonneville Dams and on into Portland.
On our way home, we drove south to Salem and across the Cascades (a gorgeous area) through Sisters to Bend, home of what we've come to believe is the largest concentration of retail opportunities per capita in the country: shops, stores, outlets, and other purveyors anything and everything for folks who come from anywhere and everywhere to spend their money on the edge of the eastern Oregon's high desert. We left some money in Bend.
We camped on the Oregon-California border before leaving for another trek across Nevada on US 50, "the loneliest highway in America." We camped near Ely where we turned south to Pioche and Panaca, and then east to Cedar City, Utah, before coming to our main destination: Best Friends Animal Sanctuary in Kanab.
Best Friends is a remarkable undertaking where abandoned, injured, orphaned, or otherwise unwanted animals are taken in for either later adoption or to live out their lives in a comfortable and caring environment. Hundreds of dogs and cats, of course, are there, but also horses, mules, birds, goats, bunnies, and other animals live on the 3,200 acre former dude ranch and the setting for many western movies tucked up Angel Canyon along the Kanab River about five miles west of Kanab. Judy has been a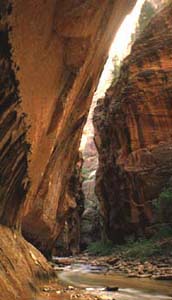 supporting member for years and has wanted to visit the facility for some time. We rented one of the few cabins there for three nights, toured the Sanctuary grounds, and took a rather strenuous hike in the canyon exploring Anasazi ruins that abound in the area.
Sophie, who has become a terrific traveler, stayed at our Best Friends cabin while we went for a day of hiking at Zion National Park, just 35 miles away. We'd been to Zion some years ago, but did not hike "the Narrows" (photo on the left) at that time because we'd brought only one pair of shoes and the hike is through the Virgin River that slices through the canyon. This time we came prepared with sandals and old running shoes. We walked the one mile of paved path to the head of the canyon from the shuttle stop (yes, Zion, like some other very popular parks, is closed to most cars; the shuttles work very smoothly and keep the area quieter and more park like). At the end of the paved path we changed footwear and waded-hiked about two of the sixteen miles of the river before returning. We walked along the river bank in some areas; we waded through water 2'-3' deep in some other spots; but most of the time we walked across the generally slippery river rocks and pebbles in a foot of rather cool water. (These were late-in-a-dry-year conditions. At other times, the hike is either much more daunting, dangerous, or impassable due to high water or flash flooding.) We picked a good time and agreed it was worth returning to experience this unique part of the park.
We left Kanab the next day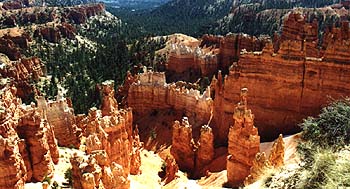 and discovered the amazing beauty of Bryce Canyon National Park. We drove the length of the park along the ridge of the canyon and then hiked for several hours down into this "garden" of sandstone hoodoos whose colors constantly change with the time of day and light conditions. We took scads of pictures. You probably can't take a bad picture in Bryce Canyon.
Though our hiking took most of the day, we had time to drive up US 12--a very scenic drive--on to Escalante and find a spot at a tiny campground on Calf Creek, one of the few public campgrounds in the new and sparsely populated Grand Staircase-Escalante National Monument. The campground was full at 4:00, but the campground host said OK to pitching our tent in the day use area "just for the night. It's still seven dollars." We pitched our tent and quickly
headed for Lower Calf Creek Falls, a 165 foot waterfall about three miles from the campground. Sophie proved she could keep up the pace and stay on the trail. The trail was fairly level, but was made challenging because it was so sandy, like walking on a beach. We got back just about dark. (As you can see in the photo, it was getting dark when we got to the falls. The color of the canyon walls changed quickly as we slowly ran out of sunlight.)
That evening, while talking some more with the campground host, we learned that on our way to the campground we had driven past the trailhead of a great hike along the Escalante River two miles back. So, in the morning we packed up drove back to the trailhead. Again we took our sandals and old running shoes since the trail crossed the Escalante River at least a half dozen times. In our six mile round trip we were rewarded with views of Anasazi ruins and the Escalante Natural Bridge, but also absolute quiet and an almost spiritual feeling of remoteness that Edward Abbey promoted in his collection of essays, Desert Solitaire.
We returned to the trailhead and drove north through Boulder (Utah), Capital Reef National Park, and on north to I-70 and civilization. We stopped in Green River (Utah), to pick up a generous supply of the best melons this side of Rocky Ford, Colorado. An hour later we were in Fruita, Colorado, to stay the night with former neighbors, Fred and Crystal, and bring them up to speed on what's going on in their old neighborhood. We left for home the next morning, glad for the adventures and renewed friendships, and happy to be home again. After as much traveling as we have done since spring, being home for an extended period is very comforting.
Since returning, we've been gathering wood (four plus cords of pine that need cutting to stove length and split), cleaning the cobwebs out of the greenhouse, doing some minor maintenance on our road in preparation for the fall rains and snow melt, and easing back into our community activities (the new one is working to establish a
public library in town). This morning's snow reminds us of the comfort of our home and the warmth of a wood fire. It's a good feeling, being home.
I've always liked this photo of Judy and Gordie and include it here as a remembrance of Gordie. I took it about five years ago when we were in Ohio. We had gone back to Toledo for my winter quarter of teaching at the university and we rented a house south of Toledo in Waterville on the Maumee River. We often enjoyed walking along the river, looking for migratory birds and at the way the sun looked in the northwest Ohio sky, and letting Gordie run after birds and squirrels. He was good company for Judy while I was on campus. He brought us both lots of joy. Both Gordie and Judy look happy and they were. It's the way I remember him at his best: alert and energetic. And he made us smile.
As always, we look forward to hearing from you about what's going on with you and your family. We hope you'll want to keep in touch.