THE CAYMAN ISLANDS--AGAIN
October 27--November 3, 2000
There is, we all agreed, something comfortable about returning to a place where we had vacationed before. It's why we like Puerto Vallarta and the Big Island of Hawai'i: the familiarity of place and, as much as any occasional tourist can, being immediately at ease.
Three years ago we had traveled the largest of the Cayman Islands, Grand Cayman, on a family vacation with our children and grandchildren. We had rented a condo on South Sound, just a few miles from the capital of George Town. We went during their Pirates Week festival, a sort of secular national holiday time for eating, drinking, and celebrating the islands' pirate heritage. We watched the pirate ship enter George Town harbour to capture the Governor and ravage the women; we ran in the Pirates week 5K road race (Judy took first in the 50+ women's group); Dan and I did several dives in the clear waters off 7 mile beach and we all swam with the rays (and green turtles) at Stingray City (shown on the map above near Morgan's Harbour). We went to Hell, a small district near West Bay, and sent postcards. We had a great time and enjoyed ourselves so much, that going back seemed like a good idea. We knew, at least generally, what to expect: how the island is laid out, where the best beaches were for snorkeling, how to get around, where to eat, and what we might like to do when we got there. (If there's anything you'd like to know about the Cayman Islands there is a Cayman "discussion board" where virtually any topic related to Cayman is posted, unedited, by folks who claim to know.)
We also knew that we'd have to drive a strange fitting car on the left-hand side of the roads; that food there is rather expensive and that we should bring a lot of our regular groceries; that Pirates Week festivities were often loud, crowded, and
boozy; and that the days would be in the upper 80s, the nights in the lower 70s. And we knew that it was an ideal place to relax, to swim and snorkel, and to get ready for winter in the Rockies.
This time we decided to avoid many of the festivities of Pirates Week and headed instead to the east side of the island, to Morritt's Tortuga Resort--about as far away from George Town as is possible on an island that is 23 miles wide and 7 miles from top to bottom. Our goal was to sit on the beach or at the pool gathering strength from the sun's rays, to read (our total was 18 books for the week), to drink a few rum punches and some Stingray beer, and to snorkel the good beaches (Smith's Cove, Eden Rock/Devil's Grotto, Cemetery Beach, and Spott's Bay) as well as the reef that parallels the shore off Morritt's beach. Hughes planned at least one dive since it had been about 10 months since he went diving in Hawai'i. The only "special" event scheduled was running the Pirates Week 5K so Judy could defend her 1997 title.
We landed at the airport near George Town and picked up our rental car, a strange Hyundai model called an "Atos," one of the funniest looking cars we've never seen before. It looked as though someone had chopped off the back four feet of the car where the trunk was supposed to be. It did have four doors with seating for four and room enough for four backpacks and four suitcases! The teeny tires were rated for loads up to about 850 pounds, just enough apparently for us and our gear. It wouldn't do at all to make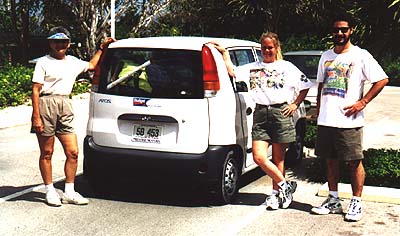 the trip from Boulder to Nederland, but since Grand Cayman is flat at never more than a few feet above sea level these odd vehicles do well enough. They are fairly popular there, at least with rental companies.
We spent one night at a nicely located Sleep Inn on the north side of George Town and drove the next day to the other end of the island. After we checked in to the Morritt's, we turned around and drove back to George Town to run the 5K which was scheduled to begin that evening at 6:00. The race is good fun if you don't care about organized starts, traffic on the course, accurate times, prompt award ceremonies, and running in the dark. Both Judy and Hughes survived: Judy came in second this year to a just-turned-50 woman, and Hughes, who had given up running for the past six months or so, finished less than a minute behind. It was fun to be a part of the chaotic fun again.
The rest of our stay went just about as we had hoped. We cooked and ate breakfasts and lunches in our apartment/unit. We usually ate dinner out, though one evening we barbecued six pounds of snapper filets we'd bought from "the guys" who were just coming in to George Town from a day's fishing. Cindy had brought a suitcase full of groceries and bought a few fresh items while Hughes and Judy were running. We also stopped at the Stingray Brewery to stock up on good locally brewed beer which even Judy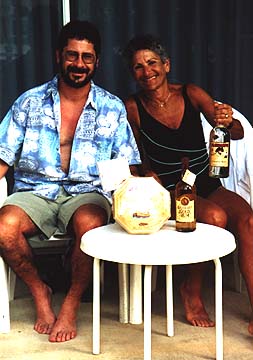 found refreshing in the heat of the afternoons. Among the treats of the week:
There are samples of Tortuga Rum Cake, reputed to be the largest Cayman export, everywhere: in groceries, liquor stores, tourist shops, at resorts and hotels, at the airport duty free stores. It is delicious and a real treat; we each consumed close to a whole rum cake over the course of the week just from the samples alone;
Thursday afternoons at Morritt's is games time--with prizes! Judy and Michael were the big winners: Judy took first and Michael second in the snorkel treasure hunt, and they teamed up to win the egg toss competition. For their achievements, they won two bottles of rum, a Tortuga Cayman Rum Cake, a CD of island music, and a half dozen free drinks at the bar. They happily posed with some of their loot!
We had an excellent dinner at Portofino's, an Italian restaurant overlooking the Caribbean a few miles south of Morritt's run by Pakistanis or East Indians! We highly recommend it for atmosphere and their seafood;
Just beneath the boat dock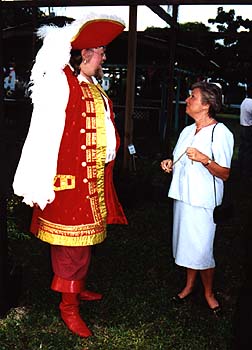 at Morritt's is one of the most concentrated gathering of tropical fish we've ever seen. In an area about 30' in diameter and less than four feet deep we saw flounders, rays, tarpon, eels, an octopus, and dozens of parrot fish, butterfly fish, tangs, wrasses, and other common fish;
We had the opportunity to meet, talk, and shop with Cayman Governor Peter J. Smith and his wife at the Bodden Town Heritage Days festival, one of the local celebrations that took place each day at one of the smaller towns on the island. We also talked with several of the "pirates" in attendance, most of whom are "imports" from the States. Several are members of the Seattle (Washington) Seafair Pirates who come each year to Cayman where they are the center of attention during Pirates Week. The pirate attired flamboyantly in red talking to the Governor's wife (on the left) is "Captain Kidd" from Seattle. Less shy about giving his real name is Ocracoke, North Carolina's Ben Cherry who portrays Blackbeard (complete with a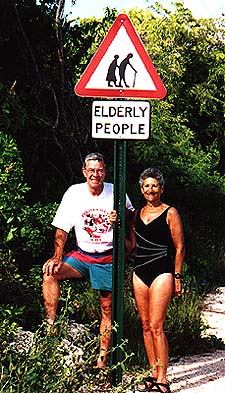 dozen or more red bows that adorn his thick beard) as his full time one-man/one-role show during Cayman's Pirates Week and all over North America throughout the year;
In the East End area there is a retirement home or nursing home for area seniors. Motorists are warned to slow down in the area with a sign we've never seen before. As AARP members and "older" folks ourselves, we thought it deserved recording for our memory book (We found and photographed a similar sign warning drivers in the small town of Akaroa, New Zealand, of the hazard of getting tangled up with some elderly people who might be wandering aimlessly, helplessly along a busy thoroughfare.);
We enjoyed terrific snorkeling at the places mentioned, especially Smith Cove where we stayed until sunset (see photo below). We saw lobsters, crabs, barracudas, mantas, eels, turtles, and the usual variety of colorful tropical fish. We were a bit disappointed with the unhealthy condition of the coral, at least along the shore and at shallow depths; it's probably over used and affected by changing water temperatures that is slowly killing the algae that the coral relies upon for food (and color). Hughes found healthier coral at 50' and deeper during his dives on the southern coast of the island;
Hughes went diving two days with two different dive operations he'd not been with before: Eden Rock (out of George Town) and Tortuga Divers (located at the Morritt's Resort). Both provided small groups, careful dive masters, good guides, and areas along the southern coastal reef that were new to Hughes. The coral and sponges were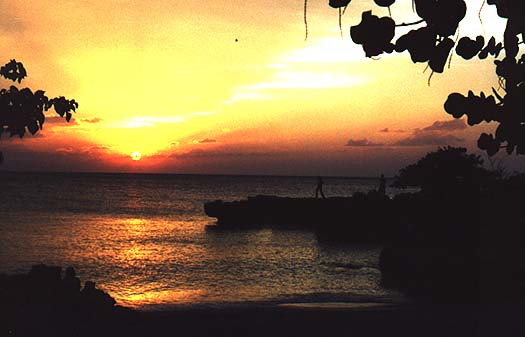 certainly healthy and colorful, but he found greater varieties of fish while snorkeling. Both he and Judy, however, agreed that the coral reef and fish life off the coast of Belize are more extensive, more varied, and more interesting than what each saw during the week in Cayman.
All in all, we returned home to our jobs (Michael and Cindy)/work (Hughes and Judy), and to our home with new appreciation for the mountains and our season weather changes (an inch of snow remained from a brief storm that came through a few days before we got here). We've had a fire in the wood stove every day since we got back. One-year-old Sophie loved her week raising hell with Max and Lucy in Boulder at Dan and Yvonne Runyan's (Max and Lucy will pay a return visit in December while Dan and Yvonne are on a trip of their own.). Our baby, Bella, who is just six weeks old, spent her time with her vet, Doc Joe (Evans) here in Nederland where she got some needed puppy shots and some TLC from Joe's staff. We were pleased that each remembered the other as well as us.
In addition to looking forward to the upcoming holiday season, work on creating the Nederland Community Library has turned out to be a nearly full-time effort, filled with more meetings, memos, and phone calls for Hughes since his faculty days in Toledo. (The difference, however, is that these meetings, memos, and phone calls make a difference.)
As I write this, we still don't have a president elected, and though we joined the majority of citizens who voted this time around, I wonder how the outcome will make our future different. I wonder.....