January 27, 2000
Dear Family and Friends,

In spite of what you've been reading about big snows in the high county of Colorado (e.g., 54" at Breckenridge; avalanches closing interstates and killing snow boarders), winter is still trying to blow into our area. Yes, the local ski area, Eldora, has a base of over 60" and they got another 6"-10" last night. However, six miles away (and 1000' lower) here at our house we got only a couple of inches yesterday and overnight. Not much for this time of the year. However, the sun came out this morning to melt the snow covering the skylights, so the house will warm and we can stop feeding the fire in the woodstove. Judy just came in to say that she has been shoveling the walks in socks and sandals. Now she's going for a run (the road likely will be icy and/or snow covered in spots) and she'll then probably head for Eldora to X-country ski.

It seems ages since we got back from our family vacation to Hawai'i where we had decided a year and a half ago our millennium celebration would be memorable. Each of us, for our own special reasons, will remember our ten days there for a long time to come. Judy and I will be sure to remember:

• The condominium we rented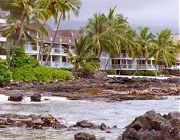 was spacious (four bedrooms, three baths) enough for the eight of us. It was right on the ocean and had lanais on both floors to
watch the sunsets (yes, we did see the "green flash" a couple of times) and, on a couple of evenings, whales. It was at the 2.5 mile marker on Alii Drive (i.e., 2.5 miles south of Kailua-Kona) and right on the ocean, though without a sandy beach (mostly lava with small, scattered areas of sand). Alii Drive features an extra lane on the east/northbound side for runners, bikes, walkers, etc. which we took advantage of as often as possible: a run to town and back is about right. If you like the pictures and would like a place comfortable for four couples, you can learn all about it by emailing Jeannie, who will email photos of the place, costs, availability, etc.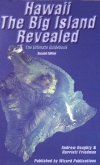 • Michael did most of the "homework" about where to snorkel, hike, shop, and visit using a terrific book "Hawaii: The Big Island Revealed." (The authors, Andrew Doughty and Harriett Friedman, also have an extremely useful web site. We can highly recommend both for anyone planning a trip to the Big Island. They also publish "The Ultimate Kaua'i Guidebook," an equally excellent guide to that island.) The result of his research was we found great beaches for surfing, boogie boarding, and relaxing (especially Hapuna Beach),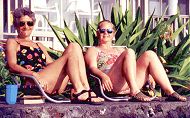 and outstanding areas for snorkeling (especially Kahalu'u, Kealakekua Bay, and Pu'uhonua o Honaunau).
• Hawai'i Volcanoes National Park was a 100 mile drive but well worth the time in the van. We drove the Crater Rim Road, stopping to see the steam vents and the Jaggar Museum. Judy, Hughes, Michael, and Cindy hiked across the Kilauea caldera along the edge of the Halema'uma'u Crater. All us of, except Judy, hiked the mile and a half at the end of Chain of Craters Road across the old lava flow to where new lava was flowing from the Pu'u 'O'o vent of Kilauea.
It was fascinating to feel the heat and watch the lava flow red, then cool to a black crust, then ooze red again in short bursts. Griffin and Julia threw pennies into the red hot lava to watch them "go with the flow" and disappear.
• Everyone except Hughes and Judy drove across the island to the end of the road overlooking the Waipi'o Valley. They hiked the very steep road almost to the bottom where over 200" annual rainfall creates a lush landscape that is in startling contrast to the arid Kona coast which has from 10"-20" of rainfall each year. The island is truly an area of great variety.
• We rented four double sea kayaks and spent the better part of one day crossing Kealakekua Bay to the monument honoring Captain James Cook, whose incredibly adventurous and significant life was snuffed out by an unnamed Hawaiian on Valentine's Day in 1779. Ironically, the Hawaiians, who had previously believed Cook and his crew to be gods, were so horrified they had killed him that they scraped the flesh off his bones and distributed bones and body parts among the chiefs (his hair went to Kamehameha; his heart and liver and other organs were eaten by local children who mistook them from dog innards!) Most of the bones were returned eventually to the British and what was left of Cook was "buried" in Kealakekua Bay. The monument that now stands on the north shore of the Bay is, we understand, technically British soil. Be that as it may, the snorkeling in the waters around the monument was terrific! A good sized moray eel,
well known to those who come regularly, even made a partial appearance (head only showing) from his usual hole in the coral.
• We cracked macadamia nuts and sampled Kona coffee at several plantations and from local roasters/sellers. There really is a difference between Kona and other coffees--and among Kona coffees! We brought back several brands, the best of which we think is Ron and Leslie Brinkman's WoodRose Kona (call toll free 1-877-281-8882 to order and they will share the shipping costs). It goes for about $17/pound.
• Hughes and Dan scheduled two dives: one with Dive Makai (two excellent close-to-shore dives, including one that they'd hoped would bring them up close to three whales that were cavorting nearby; they missed them by probably 200 yards) and the other dive trip with Aloha Divers (strongly recommended by Doughty and Friedman). Unfortunately, though they scheduled with Aloha twice, they never got to go out (way out off shore) with them (see below).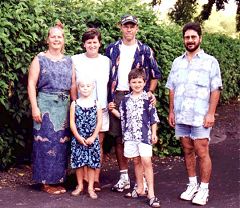 • Michael, Cindy, Debra, Dan, Griffin, and Julia got dressed up one evening and went to the lu'au at the Royal Kona Resort. They came back raving about the food, the music, the dancing--the whole show, they said, was an outstanding event/memory and well worth the $52 a head they paid. Since we didn't go, we can only say that if and when we go back, we will not think twice about going ourselves.
If you noticed that one or both of us were missing in some of these accounts, you're right. You see, for Judy, a significant memory of the trip will be the broken little toe she sustained when she stubbed it walking in the kitchen and caught the toe on a baseboard corner. The x-rays at the hospital at Kealakekua verified the break and the ER doctor advised her to tape the toes and stay off her feet, preferably elevated. How do you follow that advice if you're a runner, snorkeler, and hiker on vacation?
One of Hughes's lasting memories will be that he flew lots of miles and spent quite a few dollars to catch pneumonia--or at least leave with it. He spent the morning in bed following his first dive (three days after we arrived), feeling pooped, coughing a bit, but with none of the usual symptoms of the flu or a cold. He continued to snorkel and hike until finally chills, fever (spiking to 105), and persistent coughing sent him--on the first day of the new millennium!--to an urgent care doctor who diagnosed pneumonia ("Thank goodness it's pneumonia," he said. "Why is that good?" Hughes asked. Said the doctor, "I can treat that. I couldn't do anything for you if it was the flu."). Happy New Year! Three weeks later, Hughes was back running (slowly) and could teach, wash dishes at the Senior Center, and attend various scheduled meetings.
(Note: You probably knew this long before we did, but people can get a pneumonia shot that lasts from 5-8 years, or longer. Do you think Hughes will get one? Or Judy? We've planned a trip to Belize this spring that will put is off shore on Spanish Lookout Caye for a week of snorkeling and research, and in the Cayo District (western highlands jungle) for several days afterwards. Will we get our shots? You're darn right!)
Broken toes and pneumonia aside, the Big Island was everything we'd hoped for (and more!).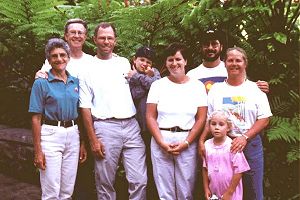 We relaxed each evening, hoping to see a great sunset and the green flash that often occurs just as the sun disappears on the horizon. We had a margarita or two, experienced everything from cactus to lush fields where cattle grazed to tropical rain forests; white sand and black sand beaches (there's still a green sand beach left to visit the next time); and arty little laid back towns (Hawi, for example) and tourist-glitzy retail experiences (Kailua-Kona, for example). And, of course, the volcanoes that literally make the island (and all of the state) what it is.
Our grandchildren, Griffin and Julia, turned out to be terrific travelers, rarely complaining, game for everything, and able to find great delight in new sights and experiences. Griffin truly snorkeled for the first time, and Julia will not be very far behind. They both looked great in their Hawaiian shirt/dress, and they learned to boogie board in the surf at Hapuna, one of the best beaches in the country.
Since we've all been back, at least one notable event occurred that we're proud to pass along: Debra was elected to Town Meeting in Milton (is this like City Council?) to add to her responsibilities as Glover Elementary School PTA President and her part-time work with the Admissions Office at Boston University. The Town Meeting position was something she really sought and persisted to achieve. We're really proud of her and what she's been able and willing to do politically.
And we'd like to thank Michael for launching his own web site (in fact, you're on in now) which is expected to grow and evolve in the next few months. I don't know how long we'll maintain/update our presence here, but we're going to give it a try. Let us know how you like it.
Now we're back to reality: winter at 8500'. Judy's back from her run. The walks and paths she shoveled earlier today have dried as the sun warms everything in the mountains on days like today when the sky is deep Colorado blue. The dogs have each claimed a sunny spot in the office to snooze. Things are fine here. Hope they are at your place also.