NEW ZEALAND
April 6-18, 1999
THE BIG PICTURE
In the spring of 1999, we traveled through New Zealand on a group tour arranged through Elderhostel. Among the many advantages to an Elderhostel trip are learning opportunities from usually outstanding lecturers, a great travel value for your money, and royal treatment.
When our two weeks in New Zealand were completed, we spent nineteen touring Australia, four days on a live aboard dive boat on the Great Barrier Reef off the coast of Queensland and four days in Fiji on the way home. Those portions of the trip are covered in separate sections.
Our New Zealand portion of the trip began in Auckland on the North Island, a bus ride to Rotorua, a flight to Queenstown on the South Island, a bus ride to Te Anau and Milford Sound, and eventually to Invercargill and a flight to Christchurch, our last stop in New Zealand.

THE FLIGHT
Let's be honest: It's a long way from Los Angeles to Auckland, New Zealand. We left at 9:30 in the evening and landed in Auckland, New Zealand's largest city (but not the capital) at 5:30 in the morning. Somewhere along the way we lost a day and passed through five time zones. The huge Qantas 757 was about half full so we were able to find 4-5 empty seats next to each other that we could stretch out on and sleep. We arrived feeling rather rested and ready to go.

AUCKLAND
A quarter of the country's population lives in Auckland, yet the city remains very manageable, beautifully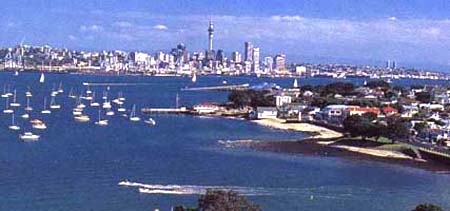 positioned on 46 dormant volcanos on one of the most beautiful harbors in the world. We're told there are more boats/ships per capita than anywhere in the world. Public transportation is efficient and goes almost everywhere. Downtown shopping was great fun, full of bargains--especially with the exchange rate of NZ$1.00 = US$0.65--at both large stores and small shops.
As it seems in most English settled countries, the parks are beautiful and great for runners, especially Albert Park in the center of the city, and Auckland Domain. The Maritime Museum
near the site of the yacht harbor where the America's Cup is being held was worth the visit. (Yes, that's Judy at the helm of the "Pride of Auckland" in Auckland Harbour.) Don't miss the moa in the Auckland National Museum: it's at least 10' tall! Be sure to take the ten minute boat ride across the harbor to Devonport and poke around in this charming suburb of real houses, real people, and real businesses reminiscent of an English village. All in all, this is terrific city!
Lectures presented by Auckland University professors on NZ history and economics; Maori language, history, and culture; and the NZ political system were quite good, especially on Maori--English relations since the invasion by the British in the 1800s. Though certainly not perfect, the treatment of the Maoris by the English has been much more positive and progressive than similar relations in the US and Australia. NZ, our lecturers suggested, is a newer country and, having observed the (moral) mistakes that had taken place in the other two countries, tried "to get it right." Our sense is NZ has been more successful from the start and are continuing to be progressive.

ROTORUA
Three hours south of Auckland, Rotorua is a beautifully situated lakeside town in the heart of volcanic activity. Its emphasis on Maori culture makes it the North Island's most popular tourist destination, and for good reason.
The Maori proudly display their art, their music, their carving, their food, their history--all of which we found exotic and fascinating. Don't miss the Maori Arts and Crafts Institute. In addition, the area is infested with geysers, fumaroles, mud pools, steam vents, and the smell of sulfur; it's like a miniature, compact Yellowstone.
We pakehas (non-Maoris) were treated to a traditional hangi (feast) at the wharekai (dining house) at Te Tawa Ngahere Pa, a reconstructed Maori village. It was an evening's entertainment not unlike what you would experience at Bunratty Castle in Ireland, a fiesta in Puerto Vallarta, or a lua'u in Kona. Traditional food, dances, music, traditional challenges to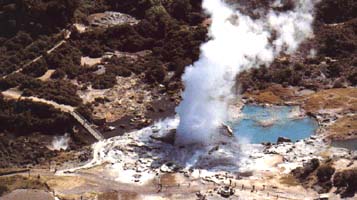 visitors (complete with bulging eyes and threatening long tongues) followed by short welcoming speeches and hongis all around (pressing noses in greeting--two times and never hard). Something for the tourists to be sure, but instructive and entertaining, and worth the price of admission.
Rotorua is also a great place to shop, especially for jade. Jade (greenstone) and bone carving have always been greatly prized by Maoris and some of the finest carvers have their studios in Rotorua. We met and talked with several artists, and Judy bought some beautiful pieces for herself and for gifts.

QUEENSTOWN
Old mining towns make us feel right at home.
Though its origins are in the gold rush of the 1860s, today adventure tourism drives Queenstown (population about 14,000). It is the South Island's headquarters for outdoor activities of all kinds: skiing, trekking, and fishing; the first bungy jumping operation began just outside of town. Sheep stations are huge and numerous and there is a growing wine industry in the area (look for an outstanding Pinot Gris from Gibbston Valley Winery). The town is beautifully located on Lake Wakatipu surrounded by
angular mountains; it was easy to feel at home here. The town has a pedestrian mall filled with shops, a fine restaurant accessible by a 1,450' gondola ride to an outstanding restaurant overlooking the town and lake, several internet coffee houses, a running path of several miles along the lake shore, and golf courses. We'd go back in a second.
We were able to get in a white water rafting trip on the Kawarau River (class III-IV). It was only a half day trip, but got our adrenaline moving. Arrowtown, is a well maintained a "ghost town" from the gold rush days just a few miles away.

TE ANAU and MILFORD SOUND
It would be impossible to take a bad photograph of the small town of Te Anau.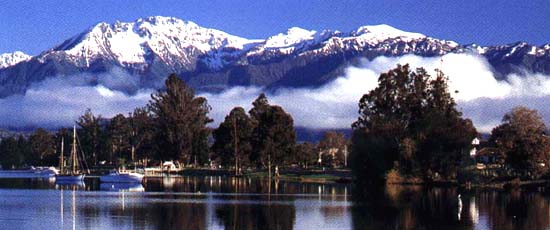 It sits on placid, mirror Lake Te Anau across from spectacular mountains that rise up to the west. It is also the gateway town for the Milford Track, one of the world's best known hiking trails or "treks:" 33 miles and four days from the north end of Lake Te Anua to Milford Sound on an inlet of the Tasman Sea. Trekkers preparing to hike the area of course read Moir's Guide South (Great Southern Lakes Press, Christchurch, 1995: 6th edition edited by Robin McNeill).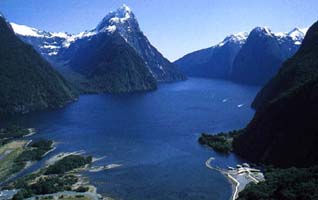 The Milford Road (completed in 1953) is a 74-mile engineering feat rivaling many roads in the Rockies. Passing by Mount Moir near the Homer Tunnel at the top of the pass, we reached the eastern end of Milford Sound (really a fiord, shown on the right) in time to hop on a boat that took us out to the Tasman Sea, passing sea lions and scores of waterfalls.

INVERCARGILL and CHRISTCHURCH
Invercargill is an undistinguished town at the southern tip of NZ. We were lucky to be in town when the first crop of Bluff oysters, from the fishing village of Bluff.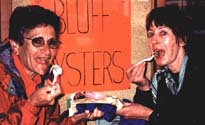 The oysters are only available for a short time each year. Judy, who had eaten oysters everywhere on the trip, said they were outstanding.
We flew to Christchurch, the South Island's largest city (population about 350,000), a city founded in the 1850s by John Godley and the Canterbury Foundation as an Anglican stronghold in the Southern Hemisphere. Their aim was to create a city "more British than Britain." They brought their cricket bats and rowing shells, built lawn tennis courts, erected their church(es), planted public gardens with local trees and plants as well as imports from Britain, and uniformed Christ College schoolboys glided their punts down the Avon River which runs through city center. By 1853, 3,500 very carefully screened Anglicans were the sole residents of Christchurch. However, a drought in Australia brought too many Aussie sheep ranchers to the area to be denied citizenship. Later, of course, Maoris and other people
of color and ethnicity have been welcomed. The city has grown well beyond the narrow views of John Godley, yet is the most English city we encountered.
An hour or so away is Akaroa, a very picturesque former French settlement south and east of Christchurch on the Banks Peninsula. In addition to art galleries and quaint shoppes for browsing, it will be remembered

(by us) for the "Elderly Crossing" warning sign in the center of town.
Near the Christchurch airport is the Antarctic Centre, a demonstration center and museum devoted to south polar exploration. Don't miss it! It is a remarkable place to learned more about Antarctica than we'd thought possible. It was the last stop in New Zealand before taking the plane to Melbourne.

Some Miscellaneous Recollections
We came to really like New Zealanders. We were always impressed with the quality of the New Zealand people we met. Soft spoken, somewhat formal, modest, hardworking, proud of their country, and welcoming of strangers. We didn't meet one we would not choose for a neighbor.
The cities are clean, and seem to be a source of pride by those we met who lived there. That there are areas of physical decay and social strife, we have no doubt. We looked everywhere we could for the settings for Alan Duff's tough and provocative novels dealing with the plight of urban Maoris (Once Were Warriors [also a fine movie] or Both Sides of the Moon), but didn't see any areas that came close, though they must exist.
"Possums? Squash 'em." You hear it everywhere. New Zealanders literally go out of their way to run over opossums on roads and highways. They're another pest from Australia that do great harm to farms animals and crops. There's no bounty offered, only a matter of doing your part for your country. It's not like Texans who run over armadillos for kicks.

A Plug for Elderhostel
In addition to very comfortable, occasionally spectacular hotel accommodations, NZ hotel restaurants consider their guests visiting royalty. Dinner buffets always included carved beef roast, pork loin, and succulent lamb (never mutton). Venison, a growing industry in New Zealand (exported largely to Germany) was often available. For seafood lovers, there was always an abundance of oysters, clams, muscles,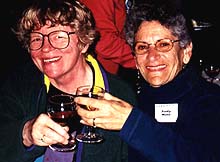 various local freshwater and ocean fish, and shrimp to eat--sometimes crab and lobster. Outstanding quality and enough food to feed a small nation--and then there were the desserts....
Judy likes group travel, at least with Elderhostel. They relieve us of the burden and concern for making decisions and put it in the hands of experienced, knowledgeable individuals whose responsibility is for our travel comfort, enlightenment, and pleasure. Elderhostel travelers are usually experienced and rarely complain or are embarrassingly demanding. Hughes agrees, though suggests there can be drawbacks: we have to keep to a schedule not of our making, and we do not always have the time we'd like to take in everything that's available (though Elderhostel trips are flexible: we did skip the winery tour and went white water rafting on our own). However, the trade-off is usually worth it. We both were able to relax and enjoy thoroughly everything on the trip. We are sold on Elderhostel as the very best travel value we know of. We have two more planned for this year, and we'll likely plan at least one a year indefinitely.

Last updated: March 31, 2000