LOOKING BACK AT 1999
January: It was really a very quiet winter. There was not much snow, nor was it ever very cold. We were busy with various volunteer activities. Both of us continued working with the Fire Department and the Nederland Visitors Center. Judy served as Treasurer of the Nederland Area Chamber of Commerce. Hughes still worked with the 6th grade at Nederland Elementary School and was a member
of the school's accountability committee. He washed dishes once a week at the Nederland Senior Center, edited the Fire Department newsletter and maintained the Fire Department website on Peaknet, and was a member of the Boulder County Aging Advisory Council and the Boulder County Aging Services Foundation. Judy began two months of "Women's Wednesday" X-country ski lessons at nearby Eldora Ski Resort.
February: We all watched and cheered the Broncos' 2nd Super Bowl victory. The next week Hughes was in Columbus for a storytelling gig at OSU's Children's Literature Conference. This year's remodelling project was the lower level rec room and greenhouse (new carpeting, tile around the woodstove, stain on all the walls, some painting, etc.). Ken Andrews from Atlanta (and Antioch College days) paid a too short visit from Atlanta.
March: Most of the month was spent on last minute planning, purchases, preparations, and packing for our "Big Trip" next month. Gordie seemed to look forward to four weeks with Max (Dan and Yvonne Runyan's schnauzer) and two weeks with Penny (Michael and Cindy's dog).
April-May: We flew to Auckland for five weeks of Elderhosteling in New Zealand and Australia, plus additional four days diving the Great Barrier Reef on a liveaboard dive boat, followed by four days of R&R on Castaway Island Resort in Fiji. It was one of our "Great Trips." (The others include Europe [1982], rafting the Grand Canyon [1993], hiking Mexico's Copper Canyon, [1998]). We had many highlights: sailing in Milford Sound, whitewater rafting the Shotover River near Queenstown (NZ), climbing Uluru (Ayers Rock), boating Sydney Harbor, local races with the Alice Springs and the Cairns running clubs (We each took firsts in our age groups at both events!), snorkeling and diving on the Great Barrier Reef, and our private bure on Castaway Island (Fiji). We returned with 26 rolls of film, several beautiful jade sculptures, the obligatory T-shirts, a unique kauri bowl hand carved by Fijian woodcarver Maciu, much better appreciation and respect for Australian and New Zealand histories and cultures, and memories to last a lifetime. We were clearly not ready for the Bolder-Boulder 10K this year, so we did not run it. Judy's seven-year winning streak came to an end!
June:
Ken and Carol MacKenzie hosted a Chasan family reunion in Loveland which brought folks from east and west coasts as well as in between. Judy's Aunt Margaret is shown on the left with Herb Chasan and Bobby Chasan (nephews), Judy (niece), Carl MacKenzie (daughter), and Steve Gausbeck (son). A week or so later, Debra, Dan, Griffin, and Julia visited to go hiking, camp out, watch Uncle Michael play softball, toast marshmallows in backyard, and meet Babar at a children's concert at Chautauqua Park in Boulder.
July: We hosted the annual reunion with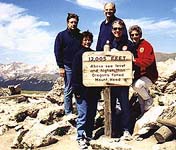 Judy's high school best friends and their spouses. We took them hiking in Rocky Mountain National Park and the Indian Peaks Wilderness Area. We enjoyed a sumptuous dinner at the Gold Hill Inn, and did some mature mall-crawling in Boulder. Our summer garage sale cleared the house and garage of two years' accumulation. The bicycle/camping trip we'd planned to Canadian Rockies was canceled when company went out of business--and kept our deposit! We pursued legal action for months against the owner, but to no avail. The lesson learned: Never ever send a check--always use a credit card.
August: Because of the planned bicycle trip, we didn't host our annual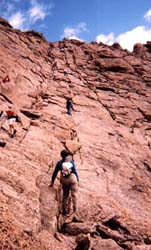 neighborhood barbecue this year. We'll go back to it next year. Gordie's summer was memorable: Max visited Gordie for three weeks much to his delight. Then Penny visited while Michael and Cindy spent some time in Aspen. Hughes went 3 for 4 in the annual Nederland "Kids and Cops" softball game. The highlight of the summer, however, was Judy climbing the jewel of the front range, Long's Peak. (That's Judy on the left looking up "the Trough" toward the summit.) Though it's not the state's highest (only 14,256'), the climb is never easy.
September: We also skipped the Neder-Nederland 5K and 10K races this year for the first time since we moved here. Judy chose not to defend her seven-year win streak. Instead, we took a camping trip west to visit Hughes's
mom in California and extended the trip to northern California and the Oregon coast, Crater Lake, Tetons/Jackson Hole and Thermopolis (Wyoming). We had beautiful camping on the coast and inland, but the highlight was the night we spent on an isolated mountaintop fire lookout rented from Siskiyou National Forest in southwest Oregon. When we got back, Hughes was elected chairperson of school advisory committee on promise to finish meetings on time.
October: Judy attended the Colorado firefighter's conference in Durango and Hughes tagged along as a spouse. While Judy was in meetings for two days, Hughes hiked in Mesa Verde National Park and in the Durango area. Afterwards, we visited Silverton, stayed with former neighbors Fred and Crystal in Cortez, and took a driving tour of the Colorado-Utah western slope area, a beautiful but unpopulated area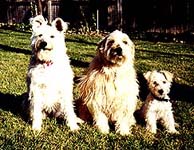 we'd not been through before. The newly elected Fire Chief reorganized the officer corps and Judy was promoted to Captain. We were both busy with regular volunteer commitments, sometimes too busy we think.
November: After being the "only child/dog" for nearly eight years, Gordie became big brother to Sophie, half Jack Russell, half Westie (shown here to the right of Penny and Gordie). She seems smart and loves both the outdoors and a sunny spot in the office. We celebrated Thanksgiving with Michael and Cindy and read up on things to do on next month's family vacation in Hawai'i.
December: More than a year ago we (Michael and Cindy, Debra and Dan, and us) agreed that we would be in Kona (Big Island, Hawai'i) for our millennium family vacation. We hiked over volcanoes and rainforests, went diving and snorkeling, relaxed on some spectacular beaches and enjoyed the benefits of retail therapy. It was a memorable way to celebrate the holidays, the turn of the century and the new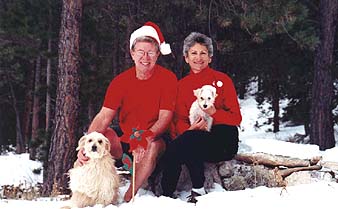 millennium, and to rejoice that our family remains together, healthy, and happy. We hope yours is the same. Happy 2000!

Last updated: June 4, 2000