The Great Barrier Reef
Castaway Island, Fiji
May 7--16, 1999
THE BIG PICTURE
After leaving the Elderhostel group in Sydney (see previous trips to Australia and New Zealand, 1999) we flew to Cairns and took a "fast boat" out to the Great Barrier Reef for four days on a dive ship. We returned to Cairns at the end of the fourth day, spent the night in Cairns, and flew to Nadi, Fiji, via Syndey for four days on Castaway Island. We returned home on May 16 via Los Angeles and Denver, a total of 42 days from the time we left.

AUSTRALIA'S GREAT BARRIER REEF
We flew to Cairns from Sydney and found our room at the Acacia Court Hotel waiting for us as promised. This was an excellent choice suggested by the travel agent with Lyon Travel in Brattleboro, VT (1-800-241-1404). The room was clean, the hotel people were very accommodating, the location was a mile stroll from the center of Cairns, and Charlie's Restaurant at the hotel was outstanding. They were packed every night! This was a great find.
We had initially made reservations with Down Under Dive who operate a 140' brigantine, "Atlantic Clipper," anchored on the Outer Barrier Reef. We liked the looks of the spa on the foredeck, the dining area, and the accommodations, and they had room during what was to be their last week of operations before they pulled the boat in for maintenance for the season. Two weeks before we left, they emailed to say that they were going to pull it in earlier and were canceling our time.
We were disappointed--in fact, in a bit of panic--but Eleanor at Down Under Dive got us on with Deep Sea Divers Den and the price was about the same. There were several others to pick from via the internet, and we found quite a few other dive operators when we got to Cairns. However, Deep Sea Divers Den advertised a good experience for snorkelers as well as divers, and they were flexible in the length of time aboard. And Eleanor did speak well of them.
We held our breaths that everything would be ready and they would be expecting us. They were.
They picked us up at the hotel at 7:00 am and ferried us out aboard "The Sea Quest" to Norman Reef, about 30 miles from Cairns where our boat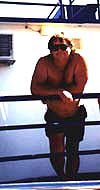 anchored. That's the very laid back Captain shown on the right. We had reserved one of the few available private rooms: the bunk beds were OK, but it was the private bath and shower that made us the envy of most of the other passengers who shared both bunk bed facilities and bathroom/shower facilities with 4-6 others.
There were about 35 or so other divers from around the world. We were the only Americans. Many were from Japan and most of the rest were from Europe--and maybe a half dozen of us under 30. Most of those aboard were there to get certified and they required the attention of the dive masters and instructors. About ten of us were certified divers and Judy was the lone snorkeler. We were generally benignly ignored: a crew member gave us a brief overview of what we might see at each stop along the reef, and then checked us off when we jumped off the boat and checked us off again when we returned. Hughes greatly missed the experience and knowledge of a dive master on the dives. He would never do this sort of "move'em off--get'em on" approach to diving again. (Earlier in the year, another dive boat operator on the Reef was not so careful in his counting procedures and abandoned a diver to die when his boat left the area without checking his whereabouts.)
In spite of the mob scene, our liveaboard experience overall was a good one. In four days Hughes did about a dozen dives on Norman and Saxon Reefs. The water was usually quite clear (though not as clear as the Cayman Islands or Cozumel), but the coral life was rich and healthy and the fish and other animal life abundant. We saw sharks, turtles, barracuda, some huge wrasses, and countless butterfly fish, parrotfish, angels, and other little yellow, blue, red, black, purple, and green things everywhere. The snorkeling was so good that Hughes joined Judy several times for some leisurely snorkeling that showed off the coral reef life as well as 30-80 below. In fact, as the water got shallower, it got clearer, especially in the areas too shallow for boats. The use of a 3mm dive suit made it next to impossible to dive down very far (We should have thought to use weight belts), but the suits did protect from scraping the coral when the water got very shallow and surges bounced us around.
Our boat, "The Ocean Quest," was a converted shrimp boat which held up to forty passengers and a dozen crew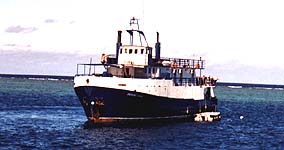 members. The cabins were spartan but good enough for the three nights and four days. The food was adequate and there was plenty to drink. Naively, we looked forward to peaceful evenings floating gently on the ocean breezes. Nothing of the sort! The diesel engine and generators droned constantly, the vessel creaked and groaned from time to time, and some of the kids stayed up late! However, we had good weather and the gentle movement of the boat rocked us to sleep each night (so much so that for several days after we came ashore, we were still rocking!)
In all, it was a good experience: we had a good time by ourselves and with a few of the "kids" we got to know a little: e.g., Anita, an accountant from Switzerland, and Andrew from London who was backpacking his way around the world, both of whom were travelling alone and seemed to gravitate toward the quieter side of the dining area. We'll know better what to look for next time in a liveaboard experience: smaller numbers, attentive dive masters, and a wide variety of dive locations.
We returned to Cairns for a good run that evening along the Esplanade, some last minute window shopping until late in the evening, and finally to the quiet of our room at the Acacia Court Hotel.

CASTAWAY ISLAND, FIJI
Bula (BOO-lah means "Hello"), and welcome to Vasasavulukaciwa 49. That was the address of our bure (BOO-ray) on the south shore of Castaway Island, Fiji.
We arrived in Nadi (NON-dee) two hours later than our scheduled 8:00 pm arrival time, but were met promptly by a taxi that took us to the Fiji Macombo Resort Hotel, a very nice hotel near the airport. We left early the next day by ferry for Castaway Island, one of the more than 250 islands that make up this former British colony, an hour away. (We asked an older gentleman who drove our cab how the British treated the Fijians as conquering rulers before independence came to the nation. He said, "At least we don't eat each other any more.")
Castaway Island Resort was one of several recommendations made by Lyon Travel, but our final selection was made after checking
out Castaway's web site on the internet. The choice turned out to be everything promised, and then some: it was as comfortable, relaxing, and friendly as advertised.
The Fijians who run Castaway are, to be honest, in the hospitality business, but they appear sincerely friendly, tolerant, sometimes shy, and express a happiness or contentment among themselves that we've not seen anywhere else. Maybe it's due to the kava that is drunk frequently and often, especially among the musicians who play all day from lunch through the late evening.
The people who work on this tiny island (no more than a mile long or wide) seem to enjoy singing--Fijian songs that are very similar to Hawaiian music, as well as American country and western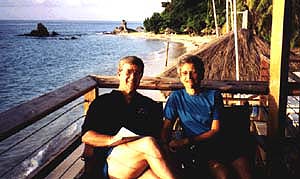 music (Kenny Rogers is especially big here). There was a couple from Germany who rented the bure next to ours who were married the day we got there, and 15-20 folks from the resort donned what looked like choir robes and sang hymns throughout the ceremony. In addition to music at meals (as good as any we had on the entire trip, and we ate well everywhere!) and after dinner, we enjoyed singing during pizza/happy hour where we would sit on the upper level deck watching the sun set each evening.
Castaway's 50 Fiji dollars/person/day optional plan for food covers everything and anything, except drinks--a bargain considering the conversion rate. Guests also have free use of sea kayaks, catamarans, all snorkel gear, tennis courts, and other non-motorized toys. There is also a dive shop (though Hughes decided he'd had enough after four days on the Great Barrier Reef). The swimming pool is crystal clear and warm, though not as warm as the ocean, and the beach is clean and quiet. We snorkeled in the reef off shore which we paddled around in our kayaks. We also took a boat trip to an outer reef teeming with fish, giant clams, blue starfish, and for the first time saw squids.
Our oceanfront bure consisted of a large front room with a queen size bed and two twin day beds, a love seat, chair, and
refrigerator. A wall separates this from the two-room bathroom and closet. The ocean breeze is sufficient air conditioning; there are screens all around, though with complete privacy. Simple bouquets of hibiscus were laid out on the bed and bathroom sink each day. No phones, no TV, no movies, no stereos--only singing or the sound of waves as gentle as the breezes.
Judy made friends with Maciu (the Fijian spelling of Matthew, the "c" pronounced always as "th"), a woodcarver who works on the grounds of the resort. She commissioned him to create a beautiful large wooden bowl with mother-of-pearl inlays and our name carved on the rim. It could not be a better reminder of the wonderful time we had there.
We could stay here for a very long time. In our brief stay we really did
slow down and felt relaxed by the leisurely pace of life here. We actually sat together for more than two hours over dinner (always served outside overlooking the ocean), something we can't remember ever doing. We get up when we want, and have, as the Australians say, "No worries."
We returned from Castaway Island in the late afternoon and were met by the taxi we'd arranged for in advance. We had several hours before our plane would leave for Los Angeles and our taxi driver volunteered to take us on a tour of Nadi (not much to brag about, except that it is home to the largest Hindu temple in the southern hemisphere). In passing, he asked if we had had any kava while we were in Fiji. When we said we hadn't, he said then our trip was not complete and he drove to his private source: a cab stand near one of the airport hotels where we gave him a couple of dollars and he arranged for a batch to be made for us. We shared several coconut cups with him and some of the other cabbies. After one or two cups, he asked us if our tongues were numb yet. He seemed disappointed that we said no. He also said it was good for digestion. Well, maybe he was putting us on just a bit (though he seemed a pretty straightforward kind of guy), but just in case we brought some back with us.
There may be other resort islands in Fiji and elsewhere in the south Pacific, but it just can't get any better than our four days at Castaway. If we return to New Zealand, and we will, we know that there is no extra charge for a stopover in Fiji and that Castaway Island will be there waiting to slow down the pace of our lives with happy music, gentle people, and a cup or two of kava.