2003 REUNION IN
PUERTO VALLARTA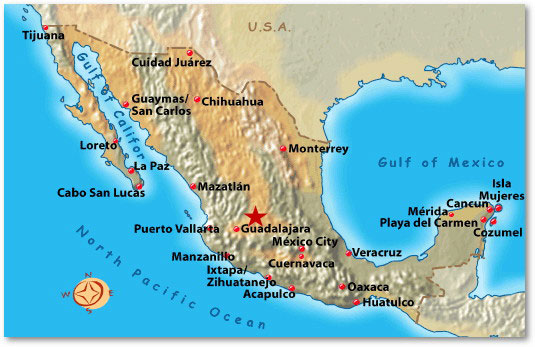 HOW DID THIS REUNION BEGIN?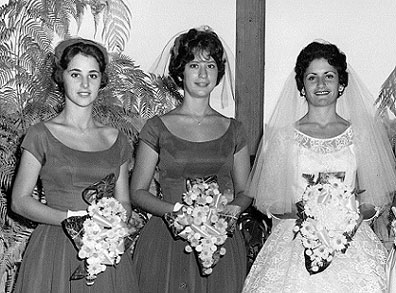 Many years ago in a small town in Pennsylvania (New Hope), three girls were best friends. They went to school together, graduated (in 1960) in a class of 47 in a tiny high school (New Hope-Solebury High School). They went off to college and to work. When the first one got married (Judy), the other two (Pat and Irene) were bridesmaids. Shortly after the others married, had families, left Pennsylvania, and kept in touch over the years, visiting one another from time to time.

Then, in 1997, they were reunited with their respective spouses in California. To their delight, even though they had never been together in one place at the same time, all six found they got along so easily and comfortably they decided to do it again the next year. And the year after that, and so on. Six years later the reunion had become an annual tradition.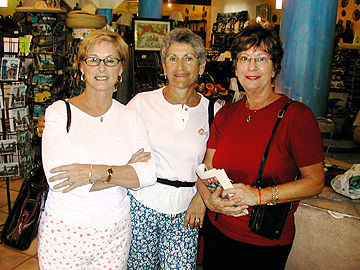 After the initial get together in southern California at the home of Tom and Pat, each couple took turns making the plans for the following year. In 1998 we met for a long weekend in Lake Tahoe. In July of the following year, everyone came to Colorado as our guests for a tour of the Rockies. In 2000, we met at Lee and Irene's near Vancouver (Washington) and visited the Portland area. Two years ago we spent four days together in Yellowstone and Grand Teton National Parks just before the tragedy of 9/11. Last year we toured Victoria BC and the Olympic Peninsula.

This year was our turn to host the reunion. We hoped that the others would enjoy a week at one of our favorite places: Puerto Vallarta. Some had visited briefly when they were dropped off on a Pacific cruise; others hadn't been to PV before, but at least one had vivid memories of Mexico from visits to border towns. We assured them that the accommodations would be first rate, the water safe to drink, the food outstanding, the city easy to navigate, the beaches clean, and the shopping adventurous. Each of us, in own ways, arrived in anticipation of a wonderful week in the warmth of the Mexican people and weather.


A WEEK IN PUERTO VALLARTA


Judy and I arrived the afternoon before the others, which gave us a chance to check in at the Krystal Vallarta, unpack, and walk a few blocks to the new Wal-Mart to get some basic groceries. (Hint: The Wal-Mart there, like those anywhere, have everything—fresh baked goods, fruits and vegetables, clothes, hardware, etc., plus a wide variety of tequilas priced well below anywhere. Never buy booze or anything else at the "Duty Free" shops at the airport; you always pay more!). We had a quiet, relaxed dinner and watched an HBO movie with Spanish subtitles.

The next day we had some pool time in the morning and spent the afternoon at the airport to pick up the others whose flights were an hour apart. When we finally all gathered with luggage, we introduced them to the wonders of the PV bus system. Four pesos (35 cents) will get you most anywhere in the area, often in a hurry and air conditioned if the windows are down. (Notes: When you make your way through the taxi hustlers and timeshare sales people that crowd the terminal, go outside and take a public bus immediately in front of the terminal that has a variety of destinations painted on the front window. "Centro" buses will get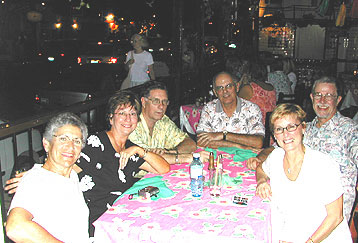 you downtown; so will those with "hoteles." Don't walk across the highway on the overpass: those buses go away from town. Also, it's useful to have some pesos with you when you arrive. A cab will cost 20–40 pesos, or $1.75–$3.50, depending on where you are going.)

We got settled in our rooms and then met in the lobby to go to Las Margaritas for dinner in town. A warm evening, great fish, good music, along with a bit of street noise and fumes got us off to a good start for our week. Over dinner we discussed plans for the week ahead. Almost everything we decided upon centered around four things: shopping, eating, an "activity day," and relaxing.


• SHOPPING

There's a bit of an art and personal satisfaction to shopping in PV—except at Wal-Mart where no one seems to engage in dickering over Sam Walton's printed prices. We did our major grocery shopping there, ignoring for the first time a trip to the downtown Gigente which was our previous one-stop shop before Wal-Mart located three blocks away. However, it was something we needed to do, and we gritted out teeth and spent a couple of hours having a semi-Mexican experience (Spanish, not English; pesos, not dollars).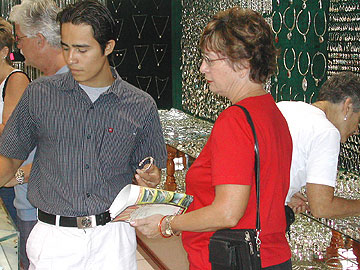 The other kind of shopping—the real shopping, the kind everyone likes most—takes place in town and at the beaches. Downtown shopping offers lots of choices and can be an exciting search for bargains—especially in jewelry, leather, clothing, and art—and usually involves tough bargaining. However, there is some merchandise so inexpensive that it would be embarrassing to argue over the price.

Downtown shopping always takes time, usually more time than planned for. Such was the case with our one group assault on downtown. We agreed to meet at Pipi's for their famous (and rightly so) margaritas and lunch at 1:30. Plenty of time, we thought. However, we never did make it to the central mercado, the shops on the Isla Rio Cuale, or beyond. We'll save those for another time. Our lunch at Pipi's was excellent: we've never been disappointed. (Note: I finally asked for their margarita recipe and learned that their ingredients include Cuervo blanco, lime juice, orange liqueur, and a little 7-up or Sprite. I don't know the proportions of each, but there's whole lot of tequila in each drink. One is usually sufficient; two can do damage.)

Beach shopping is
not very different from downtown shopping, though choices are more limited, the bargaining more competitive, and the surroundings usually more comfortable. Sometimes a vendor will cross the rope fence between the beach and the hotel and bring his/her wares onto the hotel property, generally frowned upon though often tolerated. This is sometimes known as "pool shopping," though the contest is just as ruthless in spite of the more leisurely pace of the process. There are at pool side, at the beach, as well as in town, good bargains to be had on gifts or souvenirs. Patience, courtesy, and consideration are important, as well as toughness. (Note: Shoppers who are new to these forms of commercial transactions often fall prey to a kind response intended as a form of refusal: "Maybe tomorrow." If you agree to "maybe tomorrow" don't be surprised that the following day the same vendor will find you and remind you of your agreement to reconsider their offer. Best advice: a polite "No, gracias" handles the situation clearly and nicely.)


• EATING

There seems to be no end of excellent restaurants in Puerto Vallarta. We've had great meals at many downtown restaurants; we've had tasty snacks prepared by pushcart vendors on the streets; the best ceviche (raw fish with lime and cilantro) we ever had was on the beach at Punta Mita where the Mexican Health Department probably hadn't visited in years, if ever!

Seafood—red snapper, durado, shrimp, lobster, calamari—is at the top of our list. It's always fresh and plentiful, and almost always cooked simply, without heavy sauces: broiled in butter, garlic, and lime is enough. I've not had good beef in Mexico and generally don't order it. While most restaurants, of course, specialize in Mexican cuisine, there are other ethnic and international foods available. We don't usually go to those, especially with all the great choices serving Mexican specialties. We generally eat breakfast in our suite (it comes with a full kitchen) and often lunch as well. Dinners become a marvelous way to end a hard day of shopping or sitting at the pool. Here are the ones we chose this year (along with Las Margaritas:)

• Pipi's, our favorite place for lunch while downtown shopping, not only makes the best margaritas in the world, their fajitas are as good as any we've had. Don't be seduced by the fruity margarita drinks (they don't come with umbrellas but they should): order the standard margarita on the rocks with or without salt to suit yourself. One will hold most folks on the hottest day. Lee had #3 on the menu and is still raving about it.

• El Palomar sits up a steep street overlooking the city. It is run by the Gonzales family in their converted home. Grandmother attends to the gift shop and to special guests; the grandsons greet guests when they arrive in cars, opening the doors and practicing their best English: "Good evening. Thank you for coming." The view was excellent, the food outstanding, the tariff moderate, the gift shop enticing, and the hospitality without equal. We'd not been there before, but we'll return each time we come back to PV.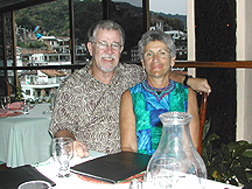 • El Panorama (above) is a 5 star restaurant high above the city with an expansive view of Bahia de Banderas. The food was quite good, the prices steep, and the ambiance "fancy" and formal. There are three levels of seating from which to choose, plus a terrace on the very top for a drink before dinner. We think the view from Ah Caramba is as good, the food just as good or better, and all at a more modest price. They don't have a web site and may be out of business. We hope not.

• Mariscos Tino's ("Tino's Fish," I think) is located in Pitillal, a suburb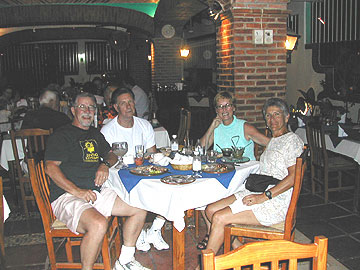 just a few miles east of Wal-Mart. A public bus will drop you in front and pick you up to take you home. We have enjoyed the best seafood dinners at Tino's each time we've come to Puerto Vallarta. It's the first place we think of when we make dinner plans. The hospitality is outstanding, the musicians entertaining, the service excellent, prices are reasonable, and the fish is always outstanding! We usually order just one fish, sized to fit the group: about a half kilo per person and it is always a freshly caught red snapper. We were told that few tourists know about Tino's. It may be true: most of the people who eat there seem to be Mexican families and other local groups. We don't remember how we first learned of Tino's, but it was probably recommended by someone from PV. As you can see in the photo on the right, one couple had left for home by the time we got to Tino's at the end of the week.

We didn't have time to eat everywhere we wanted. One of our neighbors returned from PV recently with high praise for Chez Elena and for the Red Cabbage, both of which they encouraged us to try. Now we have these and others to look forward to on our next trip.


• OFFSHORE ACTIVITY DAY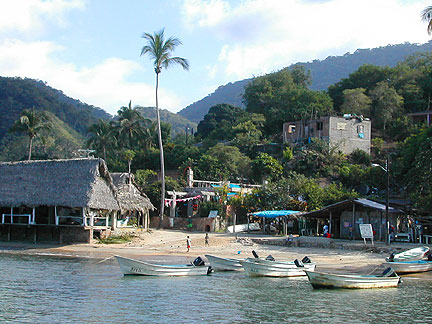 There are lots of activities to keep the tourists busy during their stay. While the main reason for going to a place like Puerto Vallarta is likely rest and relaxation, many folks get the itch to "do something." The hotel concierge can arrange anything and often at a discount through the hotel. There are lots of choices. There are trips by car, by bus, by boat, or by airplane to various sites around the area. There are staged fiestas, bullfights, and tours of tequila distilleries. There's hiking, golf, tennis, fishing, whale watching, swimming with dolphins, and other sports. You can get scuba certification in a 3-day course (a bargain at $217!). If you're bored in PV you're not paying attention.

In the past we've hiked the jungle near El Eden, snorkeled and dived off Los Arcos and the Mariettas Islands, hiked inland from the isolated village of Yelapa, and we've even taken the "booze cruise" on PV's pirate ship, the Marigalante.

The six of us decided we'd take one day out of the week and "do something." We found a trip that offered a variety of "things to do": Snorkeling at Los Arcos, horseback riding (Judy, Pat, Irene, and Lee) or hiking (Hughes and Tom) through the jungle from the fishing village of Quixmito (photo on left) to an isolated waterfall for a swim (Lee and Hughes). Unfortunately for us old folks, the cruise also included ear-splitting loud music and more tequila and Coronas than any 80 or so people should have access to. We had a modest lunch at an outdoor restaurant in Quixmito. And we did have a few drinks.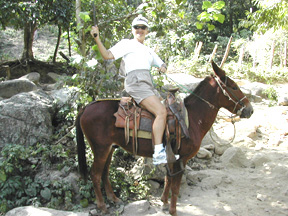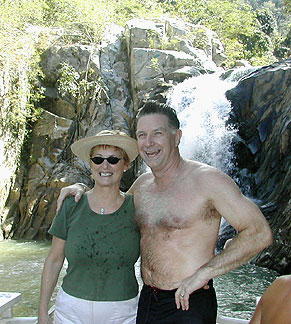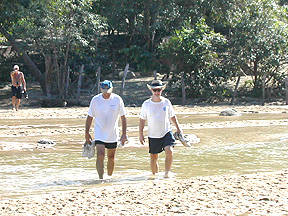 • RELAXING
We probably didn't do enough of this. The amount of PT (pool time) was less than we'd anticipated, and it wasn't because the weather wasn't hot and humid. It was. And the Krystal has great swimming pools. Some are small and intended for the residents of the individual hotel units; there are about 45 of these. The other pools, all of which are available to everyone, are set up primarily for relaxing and keeping cool. There is one "activity" pool area for scuba classes, pool volleyball, water polo, and water basketball. But it still leaves three large pool complexes that are quiet—some that cater to kids to slide into the water, others that have swim-up bars and inlaid chess boards on pedestals in the middle of the the pool, and some that are just for quiet snoozing or reading. There is even a covered area of hammocks alongside one of the quieter pools.

There's also a beach to walk on. To the north you can walk about half a mile; to the south you can walk
several miles to town. But watch out for horses, jewelry vendors, parasailers, and the occasional dog.

Except for the day on the booze boat, we spent at least some time at one of the pools. We read, snacked, snoozed, and, most of all, talked—catching up on the past year and the three wives planning for their 45th high school reunion. As you can see, Tom was clearly expert at finding a comfortable place to snooze.

We also each had a massage at the Krystal. It was the first time we'd had one there and the women who worked on us were terrific. The ones who worked on Judy and me were did not hold back. For an hour and a half they dug deep for those knots and sore muscles close to the bone. We'll do that again every time we visit.

One event during a "pool day" should not go unnoticed: Pat Williamsen, to the surprise of at least some of us, attached to a parasail harness at the end of a long rope pulled by a speed boat, flew solo high above town, high above the hotel, high above the Pacific. She was airborne for nearly ten minutes. Her take-off showed panache and flare, and her landing soft and graceful. No one in our group took up her challenge to do the same.


A TRADITION COMES TO PUERTO VALLARTA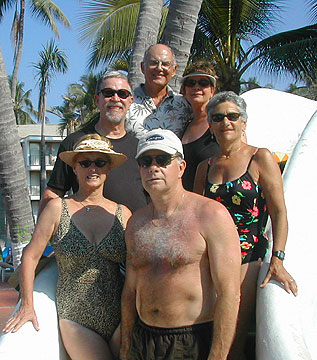 One of our newer traditions is to have our picture taken on a set of stairs. I'm not sure why we started doing this or why we've continued it each year. But on the last day of our reunions, we rush around looking for a staircase to pose upon. We have photos taken on a dark staircase at the Old Faithful Inn, a similar one at the Lodge at Lake Quinault in Washington, and on the stairs to our bedroom. This year we gathered on the stairs leading to the top of the water slide at the quiet pool near our suite. We had to kick the kids out of the way, but we got there first.

So, here's the staircase photo for 2003.

Where will we be next year? Who knows? Pat and Tom are in charge of arrangements. We've talked about Alaska. Banff and Jasper have been mentioned. In many ways, it really doesn't matter. It's all about the company.

However, we know for certain where we'll be in 2005: New Hope, Pennsylvania, for the 45th reunion of the New Hope-Solebury High School class of 1960. There are three prominent graduates (and their spouses) who are looking forward to "going home" where they grew up. Judy's been looking through her yearbook at the pictures of the other 46 graduates.