LOOKING BACK AT 1998
January: Since moving here in 1992, this was Hughes's first winter in Colorado! No more University
of Toledo, no more dreary Ohio winters. We spent a "late" Christmas with Dan, Debra, Griffin and Julia in Milton where we watched Griffin (on the left) practice hockey with his team and we watched Julia's dance lessons. Old friend Ken Andrews, who comes from Atlanta to ski with
his son each year at Vail, spent a night with us before returning home. This year's Super Bowl party was particularly exciting to watch as the Broncos finally won the big one. Hughes flew to Columbus the next week to do a storytelling session at a conference at Ohio State University.
February: The cold got to us, so we spent a week in La Paz, Baja California. We had hoped to see whales, but they must have been somewhere else. We settled, instead, for snorkeling with sea lions, running along the coast, and soaking up the warm sun on beaches north of town which we often had all to ourselves. When we returned, Judy got busy with the Fire Department again and Hughes with the 6th grade class he'd been with since September.
March: Judy began race training in earnest with twice a week 7:00 a.m. sessions with the Boulder Roadrunners. Toledo friends Dick Hersh and Judy Meyers invited us to share their condo for a week in Aspen. They skied while we ran. (That's Colorado weather for you!) In the evenings we ate well, window shopped, and got caught up with the nearly 15 years between visits.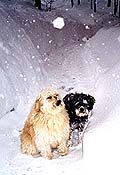 April: This was the "Month of the Big Snow:" 38 inches in two days. We spent another two days digging out. On the left, that's Gordie and Max (Yvonne and Dan Runyan's schnauzer who was visiting) deep in a walkway on the side of the house. Hughes entered and finished his first duathlon (5 mile run and 15 mile bike ride) in Pueblo. We both worked on the successful $1.8 million bond issue for new fire station. Hughes was later elected to 4-year term on Fire Board. (He had been filling out the term of a previous Board member who had left town.)
May: We experienced another "Highlight Trip" this year. (We've had two highlight trips: Europe in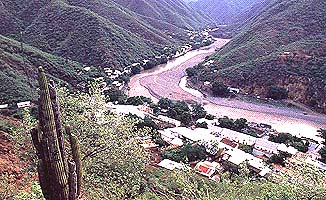 1982 and rafting the Colorado River through the Grand Canyon in 1995.) This year we spent eight days in Mexico's Copper Canyon—a few days on the rim near Creel and most of the time at the bottom in the tiny former silver mining town of Batopilas (on the right). Getting between the two places was a trip in itself! It turned out to be a fabulous experience! When we returned, Judy's training paid off when she won her Bolder Boulder 10K age group for 7th year in a row. A record 37,000+ runners entered this year.
June: We took a road trip to California to visit Hughes's mom. She no longer lives in Paradise; she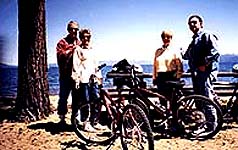 moved 15 miles down the hill to Chico where she has her own apartment. On the way home, we spent a couple of days with high school girlfriends of Judy's—they were bridesmaids at our wedding—and their spouses at Lake Tahoe for what we hope will be the first of annual reunions. Judy won her age group in two more races this month. She also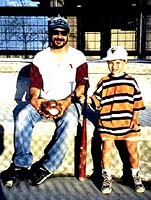 began the serious work as Race Director of September's Neder-Nederland High Altitude Road Races.
July: Debra and Dan and grandchildren visited for a week. We saw the dinosaurs and IMAX film on Everest at Denver's Museum of Natural History. The kids rode with Judy on the fire engine in Nederland's 4th of July parade. Hughes and Michael played in the Barker Dam Brass Band again. And we all got to go the Fire Department picnic and watch the fireworks over the reservoir. We also attended a children's concert at Chautauqua, we hiked in the mountains near Brainard Lake to play in the snow, and we watched Uncle Mike play baseball. Judy climbed her first 14ers, Gray's Peak and Torrey's Peak, in one day as a volunteer EMT accompanying a local Teen Center group.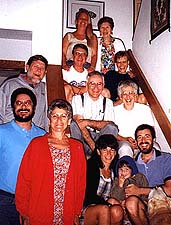 August: Our annual neighborhood barbecue grew too big this summer: 75 people was too many to be able to enjoy the company of our neighbors. We will try to scale it down next year. (Homemade beer won out over last year's winner, margaritas.) We took a get-away week to Silverton (our old cabin still looks good), Cortez (a pleasant visit with former neighbors Fred and Crystal), and some high country back roads/ghost towns before the final push to get ready for next month's Neder-Nederland Races. We had a mini family reunion when the Judy's aunt, counsins, brother, nieces, spouses and kids came for a day of picnicing, reminscing, and picture taking (like the one on the left).
September: Judy won her age group in the Neder-Nederland again. (Her 1998 total: 4 firsts and 2 seconds in 6 races). The event was huge success: we had the largest number of entrants which turned a good profit for the Chamber of Commerce to distribute among the nonprofits in town. However, after three years, Judy decided to turn race director's job over to Wendy Seeman who will keep up the tradition of a quality race. Our "reward trip" this year was a week in the Seattle/Olympic Peninsula area, a part of the country we've not visited. When we returned, Judy began hydrant testing in town for Fire Department and Hughes began his sixth year working with 6th graders.
October: Our fall this year was incredibly warm and dry. The aspens were glorious and the number of folks driving through seemed enormous. Hughes was appointed director of the Visitor's Center by the Chamber of Commerce and Judy decided to become a volunteer.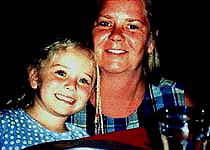 We both fell into our routines with school, Fire Department, Peaknet, and the County Aging Advisory Commission.
November: Our family vacation this year was at the Krystal Resort in Puerto Vallarta where we had a cloudless, mild, and languid week swimming, shopping, reading, and eating with Michael, Cindy, Debra, Dan, Griffin, and Julia the week before Thanksgiving. Julia and Cindy got their hair braided with beads. When we got back, Judy accepted appointment as Treasurer of Chamber of Commerce.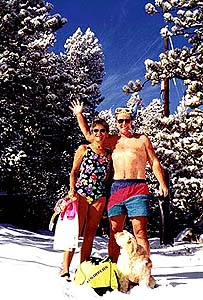 December: The cold weather arrived late this year. December 5th was first night of year below 20 degrees. We attended a slide show on Australia to get us psyched for our upcoming Elderhostel trip there and to New Zealand this spring. The Broncos' drive for a perfect season made Judy an excited fan for the first time. Several end-of-the-year social get-togethers sent us to the local fitness center along with running. We enjoyed a quiet Christmas with Michael and Cindy this year. We hope your holiday season will be as pleasant. Now we're looking forward to next year's trips.


WE WISH YOU
A VERY HAPPY 1999