July 13, 2003
Dear Family and Friends,


We survived the winter of the Big Snow, learning that we could be marooned comfortably in our home for at least a week armed with plenty of food, wood, and, if the power stays on, water, TV, and computers (if not, headlamps purchased for camping and good books). Snowshoes are essential, and a reliable snow removal plan. But all that seems a distant memory. Our lives have turned to a different direction with only a greener yard and a beautiful spring garden reminders of seven feet of snow.

The fire danger that was thought reduced by the spring snows and full reservoirs has returned to very high or extreme; the local fire department, like those throughout the state, are on constant alert, especially since there are no open fire bans in place—yet. As you've seen on national TV by this time, Colorado has at least a dozen near-major fires in progress. Those of us living in older pine and spruce forests are sensitive to the risks (as well as the joys) of living where we do.


SCOTTSDALE GET-AWAY
In May, Judy and I spent a week in a foreign county: the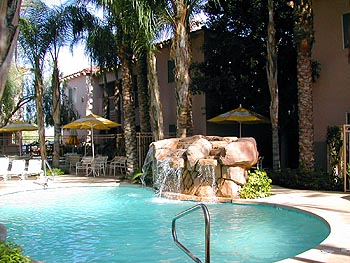 Phoenix metropolitan area. We stayed at the Desert Oasis in Scottsdale simply to warm up and dry out. Not being golfers, we had to find other entertainment: the Heard Museum in Phoenix (not as diverse, as large, or as extensive as the Smithsonian); the Desert Botanical Garden in the heart of Phoenix (the equal of Tucson's Arizona-Sonora Desert Museum which we also loved); Frank Lloyd Wright's Taliesin West (photo below; his always in-progress experimental workshop was surprisingly crude though interesting); the Apache Trail (a wonderful dirt road into the mountains east of the metropolitan area leading into the Superstition Mountains and down to the copper mining area of Globe and Miami) were on our list of places to visit during the cooler morning hours. We biked in the back roads of Phoenix's South Mountain Park and the greenbelt bike path that runs from north Scottsdale, through town and down to Tempe. We shopped a great junque store, The Town Dump, in Cave Creek, a small community to the north.

Judy ran early each morning and Hughes, whose knee pains prevented much hiking and no running at all, biked a good deal. The two pools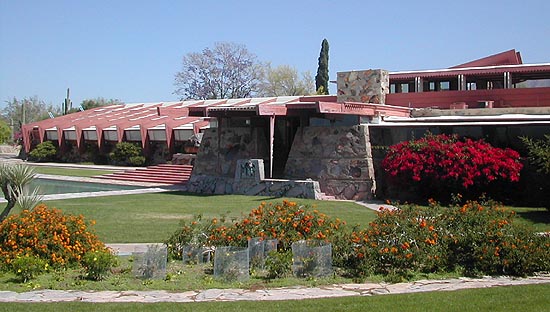 at the resort kept us cool in the afternoons. We discovered, too late, that Phoenix-Scottsdale is more expansive than we realized. Like California, cars are king and pavement contractors are anxious to please. We were naive: everyplace in the area is a bit of a drive. We are not likely to return, even if we did play golf.


RETURN TO RUNNING
Judy's running this spring has not been for training purposes, but simply to get back to much needed exercise following the stress fracture in her pelvis that plagued her most of the winter. She did not compete in this year's Bolder-Boulder for the first time since we moved here. However, by June she felt good enough to run a short race (2K) in Boulder in which she won her age group. Her time did not come close to what she would like to have done, but she feels as though she's returning to her old form. She's going to enter the Pearl Street Mile next week. We'll see how she does in this year's Neder-Nederland in September.


BODY REPAIRS
A pleasant evening with friends led to a discussion of arthroscopic knee surgery one of our guests had a year or two ago. His recovery was swift and the outcome was that he could walk and hike and exercise as he had before. Hughes had been disappointed last year that a highly recommended orthopod did not recommend surgery before climbing Kilimanjaro. While he felt strong enough last year to make the climb, the pain flared up during the winter and spring, so he decided to get a second opinion regarding knee repairs. A different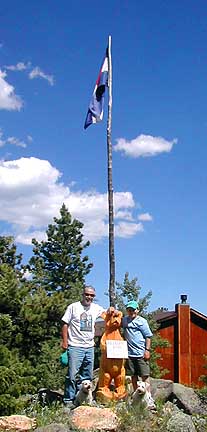 orthopedic surgeon strongly recommended what is a fairly routine procedure (a recent book club meeting of six revealed that three of the other five members had had the same procedure sometime in the past!). So a week ago, he had his meniscus repaired and some rough edges of the patella smoothed off ("as long as I was in there") and less than a week later he's up and around without crutches, a little stiff and not very sore. The invaded knee is covered by three Band-Aids that protect the tiny incisions of the surgery.

The surgery was scheduled in July so that Hughes could complete the raft trip in late June with grandson Griffin down the San Juan River, a memorable five day gentle adventure just right for a 10-year-old and his achy-kneed grampa.


EAST COAST FAMILY VISIT
They returned to find Barney, the latest addition to the "outdoor family," waiting beneath the flagpole to welcome the travelers back. Michael and Cindy found Barney in the South Park town of Fairplay on a recent car camping trip and, as they said, "picked up this hitchhiker and brought him to your place, where we told him he could probably find a good home." Judy hung a "Welcome Home" sign around Barney's neck. (That's Barney in the photo on the right with Hughes, Griffin, Bella, and Sophie.)

Griffin flew out with Debra and Julia who stayed with Judy for five days having adventures of their own. They hiked in the Indian Peaks Wilderness Area, went horseback riding with Cindy McCollum (see the "Horses 'R' Us" web page at the Nederland Area Chamber of Commerce site), and spent a summer day at Six Flags Elitch Gardens riding everything from the flying coaster and the giant Ferris Wheel to "Mind Eraser." Grammy and Debra did their best to keep up with Julia who had a terrific time. Griffin and Grampa also missed a cookout with Uncle Mike and Aunt Cindy. They flew home a few days before Hughes and Griffin got off the river, so Griffin flew home alone, another first for him.


THE MUNDANE AND ROUTINE
Along with the so-called highlights above, our calendar for the past three months shows the routine and minutiae of our lives this past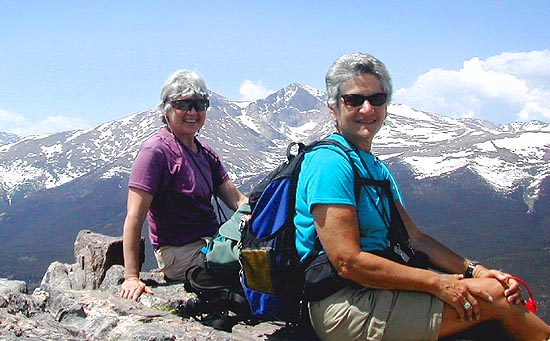 three months. Like your daily lives, ours have certain patterns of events that make up the bulk of how we get from day to day. We belong to book clubs that meet monthly (recent recommendations: The Secret Life of Bees, The Last Canyon, Silk Hope, NC, The Life of Pi, The DaVinci Code, and The Number 1 Ladies' Detective Agency series); we help keep the Nederland Visitors Center up and running, doing everything from buying cleaning supplies, books, and maps, ordering tourist brochures from around the state, arranging field trips, keeping the sales accounts and tracking visitors (both huge this past June); Hughes continues as President of the Aging Services Foundation of Boulder County, a fundraising non-profit that, like all non-profits, is struggling mightily to keep contributions flowing; Hughes and Michael practiced the 8–10 songs they play annually in the Barker Dam Brass Band's single appearance in the 4th of July parade (see photo below); Captain Judy of the Nederland Fire Department keeps the personnel records and run statistics for the department as well as responds to calls; Hughes has joined a "Slow Jam" group that plays Celtic and old timey tunes weekly; Judy has continued weekly hikes wtih her hiking partner Betsy in Boulder's Flatirons (before the snow melted in the high country), Rocky Mountain National Park (on the left are Betsy and Judy on the top of Twin Sisters in Rocky Mountain NP) and in the nearby Indian Peaks Wilderness; together we cleaned out scads of unused household goods and tools at our every three years garage sale (what didn't sell we donate to the Mountain Forum for Peace Sale, a huge event each year here in town); we saw a performance of "Lord of the Dance" in Denver; we even were models in a fashion show at Changes in Latitude, the travel store owned by our friend who led us on our trips to Peru and to Tanzania. We both try to read and relax a little everyday, though not as much as we'd like.
As Judy says, "There's always something to be done." Reading and relaxing apparently are not high on the list of things that need doing.


LOOKING AHEAD
We spent a good deal of money this spring to make our mini-RV road-worthy in hopes that we would take more get-away trips this year. We're determined to go north (Glacier National Park and places in between) this summer and another trip south and/or west in the fall: sightseeing, hiking, relaxing—maybe even some fly fishing. Clearing the calendar of volunteer commitments, appointments with doctors, dentists, chiropractors, et al. is difficult. But we're going to make the effort in a week or two (after Hughes gets the green light from the surgeon). We know we've got a date for a week in Puerto Vallarta in November with Judy's high school girl friends. We're in the beginning stages of planning a venture this winter that just might be "Great Trip" Number 7. We don't want to say more until we're sure it will become a reality. But if it comes off, we should have three weeks of high adventure. It's something that should carry us through the gray cold days of fall that will come after the glory of the golden aspen weeks in October.


We hope your summer is relaxing, not too warm, and that you're having a chance to do things you've not been able to do during "the year." Drop a note and let us know what's going on.