COSTA RICA
January 12-24, 2001



THE BIG PICTURE
Dallas-Fort Worth to San Jose, Costa Rica, is an easy four-hour flight. After three nights at the five-star La
Condesa in Heredia, a suburb of San Jose, we traveled north to Selva Verde Lodge near the village of Puerto Viejo on the Sarapiqui River for two nights in the rain forest; then to La Tucano Resort near the tiny village of La Marina just east of Ciudad Quesada (about where the "u" is in Quesada) for three nights; and finally to Bolanos Bay in Guanacaste on the northwest coast west of La Cruz for three nights before returning to San Jose for one night before an early morning flight back to the US.
Costa Rica is comparable to the combined area of Vermont and New Hampshire: manageable in size, great diversity of geography, climatic zones, plants and animals, where nothing is flat, nothing is level, nothing is smooth! Formed late in the world's geological history as the final link between North and South America, it is the meeting point of the Andes and the Sierra Madre with several peaks over 12,500', some of them still actively volcanic.
Unlike our other trips that we have previously reported online, this site will contain photos from other travelers and from online sources. The 28-200 mm zoom lens on our camera broke the second day! Though we bought an inexpensive disposable camera as a replacement, we knew the photos would not be nearly the same quality and so we hardly used it. Others on the trip with us promised to send or post copies of their photos to use. Thanks Marv and David.

MISCELLANEOUS HISTORICAL NOTES
Like its roads, the history of Costa Rica is also bumpy, having endured Spanish, English, and American military and economic incursions, several revolutions and civil war, and the foiled attempt of William Walker, a 19th century American slaver-mercenary, to conquer the country as he had parts of Mexico and all of Nicaragua (where he declared himself President). Old Oliver North and his cronies, perhaps the penultimate ugly Americans in Costa Rica, plotted their own schemes for Nicaragua from Ollie's private base (still called "Ollie's Point" by local surfers) on the coast of what is now Santa Rosa National Park (coincidentally near a ranch once owned by former Nicaraguan dictator Somoza). What was once used as a "secret" CIA airstrip (the Santa Elena Airstrip (see item #67 on web site) to bring supplies to aid the Contras-a clear violation of Costa Rica's neutrality laws-President and Nobel Peace Prize winner Oscar Arias ordered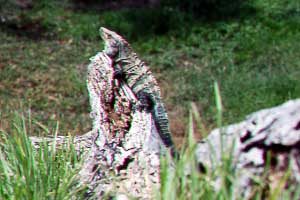 torn down in 1986.
After decades of internal strife, government despots, and sound economic and social reforms, Costa Rica today is the most progressive, stable, democratic, and well educated of all Central American countries.
In spite of the political machinations, geological upheavals, and economic and social strife, this is a country of great beauty and surprises, from the volcanoes and cloud forests to arid coasts and fertile valleys. Its plant and animal diversity is as spectacular as any National Geographic article makes you believe. Where coffee, bananas, and exotic fruits and plants were once the country's economic base, Costa Rica now thrives on tourism: white water enthusiasts, divers and snorkelers, fishing folk, birders, surfers, hikers, and nature lovers from all over the world. It is a country that rightfully beckons any traveler and seduces the 800,000 visitors each year to return again. We felt that in our scant two week visit. We look forward to returning.

SAN JOSE AND THE CENTRAL VALLEY
San Jose is a young city: its origins are old, but the city really began to flower in the 1850s when coffee exports began to boom and the coffee barons exploited the fertile, volcanic soils—and workers—and grew wealthy. It is a prosperous cosmopolitan capital of over one million situated in an agriculturally rich Central Valley where about 60% of Costa Rica's 3.5 million people (called "Ticos") live. The city is a place to shop, to visit historic and cultural museums, to attend university, or to work in one of the several high tech companies that are located there. It is surrounded by a variety of diverse suburbs each with its own ethnic flavor (Many American and Canadian expats live in the suburb of Escazu, southwest of downtown).
Heredia is the capital of the province (one of seven) of the same name.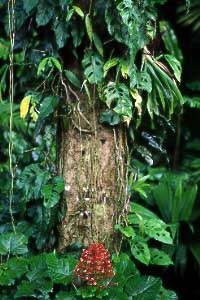 We stayed at the La Condesa Hotel in San Rafael, several miles north of Heredia on the edge of the cloud forest we would later visit. The van that transported us from the airport went constantly uphill so that when we arrived that evening the lights of portions of San Jose and the Central Valley spread out below us.
Among our first and lasting impressions was how much less humid and cooler the weather felt than we had anticipated. We never used the rain coats we brought, rarely sweat except from exertion, rarely had or used an air conditioner except in the van, and there was almost always a breeze wherever we were.
Our first day's excursions included a three mile ride to the Center for Earth Concerns, a trip that took nearly 40 minutes because of the steep and very rough road; it was once paved, now heavily washed out and never repaved. The Center, also known as Jaguarunda or Escuela en la Nebo (School in the Cloud) is run by an American couple who own over 300 acres of cloud forest (usually described as an area above 3300' where rainfall declines, but where clouds gather on the slopes facing the prevailing winds. As we strolled, we saw no insects and no birds (though we heard a few). We saw a wide variety of epiphytes (orchids, ferns, bromeliads, etc.), and tropical trees, particularly a variety of alder not unlike what we saw in the rain forest in Washington's Olympia National Park.
We also learned that the owner takes in, cares for, and attempts to place all stray dogs she finds or are delivered to the Center. She also hosts school groups every day in order that children have a chance to learn about the cloud forest ecosystem. She served us a delicious vegan lunch at the Center, including the ubiquitous rice and beans combo we came to expect and enjoy at every meal at every location plus outstanding fruit ice cream made from soy (no animal/dairy products here).
After lunch we visited one of the most remarkable museums anywhere: The Bioplanet Institute Museum on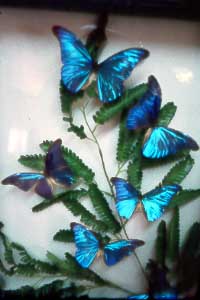 the grounds of the Tirol Hotel, just a short distance from La Condesa. The Museum is the brainchild and passion of Richard Whitten, a life-long collector of insects, butterflies, and moths. Our tour guide was his enthusiastic and knowledgeable wife, Margaret, who proudly showed off a spectacular collection of butterflies, moths, beetles and other exotic insects, and huge spiders from all over the world. Everything was very artistically displayed in cases that were cramped and stored in the small, but soon to be expanded, facility. We were dazzled. Since he has gathered examples of the world's scarce and hard-to-find species, he's shifted his efforts to micro-video those in Costa Rica and has sold many of his videos to Disney, the Discovery Channel, National Geographic, and elsewhere.
We returned to the hotel in time for a short run (the traffic on the narrow, busy road without a shoulder made any running treacherous), a swim in the pool, a shower and the short return trip to the Tirol Hotel for a fine dinner.
Our second full day was spent touring San Jose. Unfortunately (or through bad planning) it was a Sunday. Our attempt to visit the Teatro Nacional (reportedly the "finest building in all Costa Rica...modeled after the Paris Opera House") was thwarted; shops were generally closed and the "famous" bustling 200-stall Mercado Central (Central Market) was quiet, though there were a handful of T-shirt and hammock vendors, wood crafters, etc. Judy bought several framed delicate paintings on feathers, a craft we've not seen elsewhere. But for Elderhostlers used to retail therapy on a grander scale, we were scheduled a day late or a day early.
We did tour visit the Museo Nacional, the former Bella Vista
army fortress and barracks that housed the army until it was abolished in 1948 by the victorious Don Pepe Figueres who became President. The outer walls still showing bullet marks from the last revolution (The War of National Liberation), a reminder of more violent days in Costa Rican history. Now, as the site of the National Museum, the displays remind visitors of the country's history and its cultures.
Since it was Sunday (or not on our schedule), we missed museums dedicated to gold, jade, children, and others, all within walking distance of the Plaza de la Cultura in the center of the city. Now we have things to look forward to on a return trip.
We returned to the hillside area near the town of Barva to visit the grounds of Cafe Britt, where we had a tasty lunch and a humorous and informative program/tour of the grounds performed by actors portraying coffee plantation workers. The entertainment paid off: we bought fresh whole been coffee for $8/pound postage included; it arrived within a week of our return.

SELVA VERDE LODGE AND THE RAIN FOREST
Day three took us by van away from the bustle of the Central Valley over paved but rutted and steep mountain roads: narrow, twisting, one-way bridges, with lots of ups and downs. We were reminded of the Costa Rican mantra: nothing is flat, nothing is level, nothing is smooth. (If you've ever been to Maui, think of the road to Hana but with steep ups and downs.) In the two or three hours we passed coffee plantations, small farms, and leather fern farms with huge net coverings to protect the plants from the sun. Everywhere was green.
We arrived at a put-in spot on the Sarapiqui River and rafted/floated over Class I and II "rapids" for a bit over
an hour to the Selva Verde Lodge, a +500 acre rain forest preserve. Along the way we saw vultures, herons, egrets, an iguana, but no insects though. The water was deemed clean enough to swim in, and we did without catching any exotic tropical disease. We settled into our rooms on stilts and wandered around the botanical garden trails on the lodge grounds. We finally felt as though we have arrived in Costa Rica, at least the dense tropical Costa Rica we envisioned. Selva Verde is not the five-star La Condesa in suburban San Jose, but it is quite comfortable, the food is typical, simple, and very good, the people are most hospitable, the wildlife is varied, and the setting on the Sarapiqui is the stuff of postcards. We experienced no insects, and it rained only once, and at that was at night.
We arose at 6:00 a.m. for a bird walk with another Elderhostel group of birders.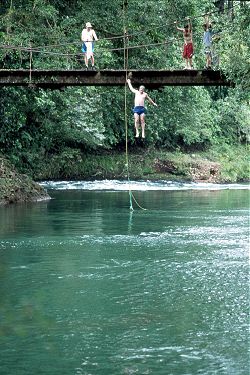 Unfortunately, there were too many people and too few birds where we were led. We dropped out after short time to wander the grounds of the lodge where feeding stations were set up with bananas to lure birds. We saw lots of very colorful species (not being birders, we have no life list, no field guide, and poor memories). But we remember the toucans. We skipped the next day's bird walk and slept in.
The river activities for the morning focused on kayaking in the river. With less than sufficient equipment (poorly planned and organized) no instruction, and confined to a restricted area, we hardly felt that we accomplished anything. Hughes did get some adrenaline rush from bridge jumping and rope swinging over the river. This activity was not on the trip agenda, but since these two activities captured the interest of the kids who were supposed to teach and supervise our "river experience," he figured he'd jump and swing also. River kayaking, like many other "near-activities" we had, shall have to wait for a return trip on our own to Costa Rica.
Our after lunch hike was a slow meandering slog through the rain forest in search of wildlife. Thank goodness for the ants (leaf eaters); without them, we might have concluded that the rain forest was devoid of any visible animal life at all.
The next morning we left early for the town of Puerto Viejo, a small, but important stop on the Sarapiqui, about five miles downstream from Selva Verde. There we boarded a launch for a two hour slow cruise of the river to spot monkeys (capuchins and howlers), caimans (two), iguanas (scads of the them), and more birds. On our return, we did some necessary shopping in Puerto Viejo: an additional duffle bag, which got us thinking about our next trip and what we need to take that we haven't in the past:
At least one, better yet two, empty travel/duffle bags.
Larger primary suitcases for every trip more than a week (Our carry-on bags are just not big enough).
Our small point-and-shoot camera for convenience as well as a back-up to the larger one.
A detailed map for trips with multiple destinations: a good road map or hiking maps.
A small backpack for day use.
Foot powder.
Start taking echinacea 7-10 days before the trip. (Hey, it can't hurt.)
That afternoon we left for the El Tucano Resort and Thermal Spa near the village of La Marina between Quesada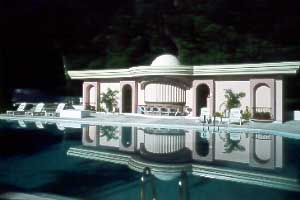 and Agua Zarcas. After the simple pleasures of Selva Verde we found ourselves in a resort setting on a river where the water is heated by underground thermal springs. We were, in fact, in a volcanic area, the most famous of which is Volcan Arenal, two-hour drive away. El Tucano is a pretentious four-star hotel with formal dining room, pool, steam sauna, hot springs, exercise gym (extra cost), tennis courts (extra cost), mini golf (extra cost), and massage, aromatherapy, mud facials, and a host of other make-me-look-and-feel-better services (some included in our trip package, but otherwise lots of extra cost). We much preferred the charming and less stuffy Selva Verde Lodge.
We enjoyed the hot springs in the river for soaking, as well as the pool and the whirlpool. Hughes did play some tennis one afternoon (poorly, but the better players desperately needed a fourth for doubles; each had to play one set as his partner!)

VOLCANO COUNTRY
The next day we traveled two hours to La Fortuna, the gateway town for Arenal Volcano and Parque Nacional Arenal. The area we traveled through was flat and rich in agriculture: oranges, coconuts, sugar cane, dracaenas, guavas, rice (though not at this time of the year) and pineapples.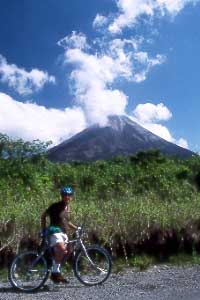 La Fortuna is trying to capitalize on the volcanic activity; the volcano itself is active and there are several thermal hot springs resorts in the area. There are a number of eco-tourist/adventure tour companies offering fishing on Lake Arenal, rafting, horseback riding, guided hiking in the area of the volcano, etc.
We drove on to the National Park and bicycled about five miles (older folks are thought to be weak and to tire easily!) to a trail head from which we walked perhaps two miles through rain forest, across the lava flow on the northwest side of Arenal, back through the rain forest and grassland to the bus, only to learn that our bus's ignition had broken and a local driver was dispatched from La Fortuna to pick us up (thank goodness for cell phones). We lunched in La Fortuna and walked the town for about an hour, during which time our driver (Rico) fixed the ignition well enough to take us back to El Tucano by about 5:00. We relaxed before dinner in the whirlpool, the pool, the steam sauna, or in the river where the thermal water seeps into the stream and heats the river water.
However, the big event of the day was witnessing the eruptions of Arenal: at least 4-5 rumblings with steam hissing from the crater and some lava boulders spilling down the side of the cone. Perhaps at night it would have been even more spectacular, but the noise and what we could see through the clouds was quite impressive.
The weather continued to be spectacularly splendid: warm sun, though not nearly as hot and humid as we anticipated; the only precipitation was a very light sprinkle/drizzle this evening, but hardly anything at all.
While at El Tucano, we were indulged with with an hour of "therapies" at the spa. Judy and I chose a full body mud wrap followed by a "therapeutic" relaxing massage. Both were a pleasant diversion, but no one in the group said they would choose to pay the going rate of US$85 for the treatments.
We followed this with some serious pool lounging until lunch. Though I had planned to bicycle for 2-3 hours this afternoon, the bicycle transport truck driver was called away to some other place, so the biking was out. Judy had gone horseback riding with Edith for the afternoon, so I walked with Bill and Muriel Campbell to a small but impressive local/private zoo established to rehabilitate injured or abandoned animals at the tiny village of La Marina a little over a mile from the hotel. There for 1,000 colones (US$3) we saw nearly all of the large animals we had unsuccessfully searched for in the rain forest: tapirs, peccaries, jaguars, coatimundis, jaguarundas, spider and capuchin monkeys, etc. In the cages next to the jaguars (which we thought were pretty good sized) was a huge Bengal tiger that had been rescued from a circus or other zoo. There were also a pair of ostriches (momma sitting on eleven eggs!), several peacocks, and local birds: macaws, lories, parrots, king vultures, etc. It was a great find.

BAHIA SALINAS/BOLANOS BAY
We left El Tucano and traveled to La Fortuna, past Arenal Volcano, around the north side of Laguna (Lake) Arenal (man made for hydroelectric power), on to the Pan American Highway at Canas and north to La Cruz, within a dozen miles of the Nicaraguan border. The fabled Pan American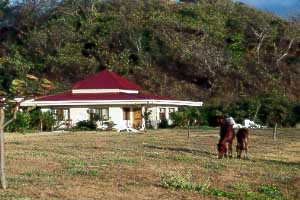 Highway was a straighter, better maintained two-lane road, but still quite bumpy and noisy. There is no shoulder until about 150km from San Jose. We bicycled the last ten or so miles from La Cruz to Bahia Salinas (sometimes called Bolanos Bay), where Isla Bolanos, home to thousands of great frigates, sits a mile offshore. Our destination was Bolanos Bay Resort made up of two huge palapas and 36 duplex units along the shore that faced north and east to Nicaragua. This all-inclusive resort is quite isolated, quiet, and comfortable. We arrived in time to have a drink, unpack, have another drink, eat dinner: plenty of fresh seafood, rice and beans, fresh fruit that was always ripe and sweet, and flan that was excellent each night. We watched the local entertainment, had a last drink, and went to bed with the ocean breeze and sounds of the surf.
The next morning we visited the rural, isolated farm of Julio Lora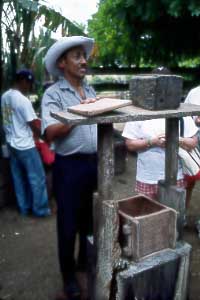 who tends his 50 diary cattle on his 500 acre ranch, and makes cheese which may be his family's sole income source. Though his home is very basic (diesel generator, dirt floors, etc.), Sr. Lora may potentially be worth a good bit; we heard a story that his sister sold her half of the farm (how many acres??) for "millions" and moved to Mexico!
The water was too rough to kayak over to Isla Bolanos and a motorized boat was not part of the program. So, we spent the afternoon kayaking at a beach on the Pacific side (near our beach on the Bay, but "behind" where we were located). Most of us kayaked enough to satisfy ourselves, though our time there was unexpectedly cut short.
While walking in the surf, David Pearson stepped on what turned out to be a small sting ray (not the "manta" our local guide thought it was), which gave him a very painful cut and sting on his ankle. After having spent some time earlier that morning looking at three quite deadly sea snakes that had washed up on our beach (bad bite, lots of toxin, no antidote!), we were quite concerned that the attack might have been from such a snake. It probably crossed David's mind. The most troublesome aspects of the situation were an inadequate first aid kit, uncertainty about the cause, and a distant medical clinic or doctor. At last a doctor in La Cruz was contacted who said take some Tylenol PM and call him in the morning!! (It's the same all over). It turned out that David seemed fairly recovered the next day, though it was quite a scare.
We drove to Santa Rosa National Park the next day, stopping at the entrance near the Pan American Highway to get on our bikes and ride the first six miles on a paved road (for a change) to the hacienda La Casona, where Costa Rican militia won their final battle against William Walker's Nicaraguan mercenaries. In fact, on the three occasions Costa Rica has been invaded in its history, it has been at La Casona that the invaders each time were turned back. Above the 300 year old buildings there is a modern Memorial to the heroes of Costa Rica who have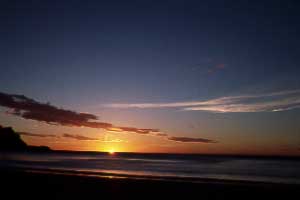 defended the country.
The afternoon snorkeling trip to a third beach behind the Bolanos Bay Resort on the Pacific side was nowhere near as fine a snorkel experience as we've had in the Caribbean, Hawaii, Fiji or Australia (poor visibility, little coral, cooler water, fewer species of tropical fish). However, our efforts were not entirely unrewarded: we saw more fish than we'd expected and a good sized green see turtle. It was as good as snorkeling at Puerto Vallarta: about a C+. David, however, stepped on a thorn in the beach sand (same foot that the ray had stung) and the thorn went through his rubber dive bootie and swelled his foot up pretty bad. He ultimately got some antibiotics and a tetanus shot, and began to feel better. We watched a lovely sunset and came back for dinner and packing for our departure for the all day return to San Jose in the morning.

SAN JOSE AND GOOD-BYE
We left at 7:30 a.m., shot down the Pan American Highway for lunch at the Pacific port of Puntarenas. Our one-hour stop at the town of Sarchi, famous for native crafts (pottery, wooden oxcarts, jewelry, furniture and T-shirts), was disappointing, considering the build-up in the travel books. We spent the last night at Hotel San Gilder in suburban Escazu. Our farewell dinner was pleasant and we took lots of group photos.

REFLECTIONS
This was the most congenial Elderhostel group with whom we have ever traveled. Nice people everyone, and everybody had a good time and helped others to do the same. We seemed to enjoy each other's company throughout, avoided cliques and hard feelings. We look forward to traveling with any of them again.
Although this particular trip was not Elderhostel's finest moment, we enjoyed Costa Rica immensely (as most folks who have been there have told us they did also). The diversity of, and access to, plants, animals, diverse geography, and the mild climate were a delight to our senses. The food everywhere was generally quite tasty, the water was always safe to drink, at least everywhere we went, and the people friendly, though it would be understandable to find an undercurrent of cynicism toward travelers from the US. We were told, "Don't call yourselves Americans. Everyone in this hemisphere is American." In any case, we're ready to return on our own terms for some real hiking, rafting, biking, and traveling. The country has lots to offer those seeking activity and adventure that is close to the land. We will keep in touch with news from Costa Rica via the internet.

Now, if they could just smooth the roads.....
Can you pick out the five Canadians?