May 1, 2002
Dear Family and Friends,

The hummingbirds came early this year. Mid–May is their usual time,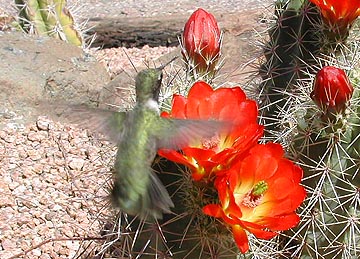 but they've been flying around for a week asking that we put out the feeders. They are prolific already, though at most they have probably made nests and perhaps laid their eggs. Their arrival is a harbinger of warmer weather which, with a few notable exceptions, has been the norm for most of the time since last October. I reread what I wrote last year at this time and for at least the second year in a row, winter has gone elsewhere, leaving Nederland in a sort of tepid funk: just barely enough snow for the skiers to have a short season on the slopes but required that we burn no more than a cord of wood. Our woodpiles are good for another two or more years. And at our age, as Martha Stewart would say, that's a good thing.
These past few months have not been without some notable changes. Hughes began receiving social security. Not much to be sure, but like a drivers license, taking a first legal drink, voting for the first time, or saying good–bye to the last pimple, it marks a rite of passage from one stage of life to another. On his birthday, we drove to Rocky Mountain National Park and plunked down a ten dollar bill for a Golden Eagle pass, a lifetime of free entrance to national parks, monuments, and other federal sites. That and 25¢ coffee at MacDonald's and lower airfares on some airlines are but a few of the small compensations for hanging on for 62 years.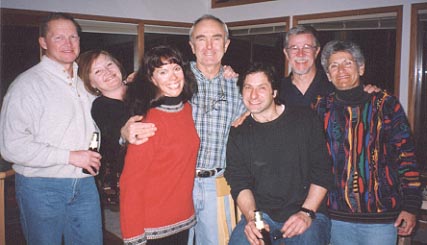 Judy's birthday ended in a zero this year, which meant that she not only became the youngest in a new runners age group at races, but she was also entitled to a surprise birthday party which neighborhood friends pulled off. All Hughes had to do was get her to the party place on a plausible pretense and sneak the cake in. She was truly surprised, at a loss for words for a while, and spent the evening grinning a lot.
We both spent a good deal of the winter helping the Chamber of Commerce create and produce the first Frozen Dead Guy Days festival. Though many of you read about it in your newspapers or saw a brief report on the news around March 9–10, the underlying significance of the event may have escaped the analysis of your local reporters.
Here's the real scoop: Yes, Bredo Morstel is safely ensconced in a metal coffin surrounded by large blocks of dry ice inside a 8' x 10' Tuff Shed on the hillside property still owned by his grandson, Trygve, who hopes that someday medical technology will be able to restore "Grandpa Bredo" to his former self and thus gain a measure of immortality. (If you think that's crazy, then Walt Disney and a host of others are similarly "tetched."). Grandpa Bredo has been on ice in Nederland since 1990; he is considered the best of neighbors: never complains, avoids loud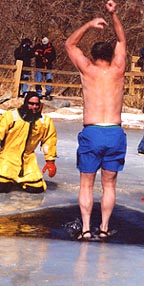 parties, has few visitors, never utters an unkind word about anyone, pays his taxes and minds his own business. Folks kind of forget about him most of the time.
Given that winters in the mountains can be hostile and not inviting to travelers except those hardy souls who like to ski and snow shoe into the teeth of fierce winds, and given that businesses generally see a decline in revenue during the winter, the Chamber decided to encourage folks to enjoy our fair city during the winter, drop a few bucks around town, and pay honor to a fellow who never saw Nederland (Grandpa was born, raised, lived, and died in Norway; it was his Grandson who brought him over), and have a good time on a March weekend that could have had three feet of snow and blizzard–like conditions. Such was not the case this year: we had clear deep blue skies, temperatures in the low 30s and winds over 50 miles per hour. An enterprising fellow could have paid for a Caribbean vacation selling knit hats and scarves to the out-of-towners if he had planned ahead.
What folks also witnessed were coffin races, fools who jumped through the hole cut in 16" of ice in the town lake (Yep, on the right that's Hughes about to make the jump with Judy in her fire department dry suit ready, if necessary, to rescue and resuscitate him), a Grandpa Look Alike contest, an all-you-can eat pancake breakfast, and a special showing of the movie classic "Grandpa's in the Tuff Shed," winner of several awards at film festivals around the country. The two days warmed the coffers of most businesses and the hearts of visitors who knew they were right about the quirky nature of the residents of Nederland. Who the hell in their right mind would jump into icy water in freezing weather and a wind chill of well below zero? Grandpa, the frozen dead guy, gets to have the last laugh.
Speaking of cold, one of our winter trips was to Elko, Nevada, to attend the National Cowboy Poetry Gathering, sponsored by the Western Folklife Center. It's sort of first cousin to the National Storytelling Festival we often went to in Jonesborough, Tennessee. The weather, as you might imagine, was cold; we knew it would be cold; we prepared for the cold; but we didn't know it would be so cold: 10° below zero at night was the warmest, 25° below was the worst. It never got above 20 during the day, and the sun often shown.
All the events were either in the town's convention center or across the street at the junior high school gymnasium. It was four days of great cowboy poetry and music (not country, not bluegrass, but pure cowboy stuff) that we came to thoroughly enjoy. We looked forward to some favorite performers we'd heard before: Ian Tyson (of Ian and Sylvia, a popular 60s folk duo), and Baxter Black and Waddie Mitchell, two buckaroos who brought cowboy poetry to a national audience. But every day, every performance, we heard fine performers we'd not known before who rivaled those three, including two award–winning Australian performers who reminded everyone how similar Australian cowboy traditions and narrative poetry are to what we have in this country. (You can hear many of this year's performers online by logging on to The 18th National Cowboy Poetry Gathering and clicking "Listen"). The event and what the performers honor represent a slice of American culture of which we had only a tiny notion before going. It's worlds apart from Boston, the midwest, the West Coast and other places we've lived. If you've not attended, it's a fabulous experience. Unless you've been, it's hard to understand why thousands of folks come from all over this country and Canada (and Australia) to be part of it.
Last month we drove to Sedona, Arizona (about 30 miles south of Flagstaff) for a week of winter R & R. We'd planned the trip back in the fall in anticipation that April, one of our snowiest months, would be a good time to escape to a warm, dry area. We did have warm dry weather the whole time we were gone. We planned not only to hike and relax in Sedona, but we knew that the area was very much like the Moab, Utah, area: red rock formations, slickrock biking trails, great scenery, etc.
On the way, we spent the first night in Moab, Utah, where we biked briefly on parts of the Kokopelli Trail and in the Fisher Towers area. The next day we stopped at
Edge of Cedars State Park in Blanding, Utah, and saw a surprisingly beautiful display of contemporary Mata Ortiz pottery from Mexico (it's the equal of pottery by the Hopis and from the pueblos of New Mexico). Later in the day we stopped at the Hubbell Trading Post at Ganado, Arizona: a National Historic Site run by the National Park Service and still doing business as a traditional trading post. The second night we stayed in Holbrook, Arizona, once an important stop on US 66 that still retains much of the 1950s flavor of that historic highway: Joe and Aggie's Cafe and the Wigwam Motel still are doing business as they did when US 66 really was the "Mother Road."
The big draw, of course, is the nearby Petrified Forest National Park and Painted Desert area to the east of town. We'd not been before and the half day we spent hiking through and around the fallen mineralized trees was an amazing experience. Fortunately the temperature was nothing like the heat of the summer when most tourists come to this area. There are no trees, no shade, and often folks spend little time really hiking this desolate but stunning desert area.
But Sedona was out main destination so after the Petrified Forest stop and another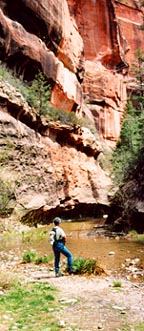 brief one in Flagstaff, we drove the 28 miles down beautiful Oak Creek Canyon to Sedona and Los Abrigados Resort and Spa, our destination for the next week. Though we had not seen the resort before, we could not have selected a nicer place to stay. It features several restaurants, two pools, a comfortable suite with a tiny but adequate kitchen, fishing in Oak Creek, fitness and spa facilities for Judy's massages, tennis and miniature golf (which we didn't use) and a short walk to fine galleries. More important were the terrific hiking and biking opportunities.
The area around Sedona is red sandstone formations with pinon and juniper vegetation, along with yucca,
cactus, sage, and other grasses associated with high desert areas. Red Rock State Park seems to surround the town and offers a wide variety of recreational opportunities, as well as being home to a number of vortexes that are the destination of new age believers. (A recent study by Northern Arizona University reported that 64% of visitors to Sedona came "seeking some kind of spiritual experience... Vortex sites are some of the most visited and impacted sites in the Red Rock Country of Coconino National Forest." No wonder, then, that several of our hiking and biking destinations were, coincidentally, to a vortex where we commingled with individuals or groups meditating. We hiked the West Fork Trail, a slot canyon (see photo on right) at the northern end of Oak Creek Canyon until we couldn't go any farther without hiking through the creek, and we hiked the Boynton Canyon Trail on the north side of town; both of these are quite popular, both are easy to moderate 5 to 6 mile hikes, and both offer spectacular views (that's the view from Boynton Canyon Rim on the left). With over 60 trails within the region, we'll have plenty of new trails to try out on our next visits.
Bicycling in the Sedona area is as popular as hiking, though you'd never know it from the lack of bicycle lanes and narrow shoulders along the roads. To be safe, you need to cart your bike to a trail head and return to your car when you run out of trail. We especially enjoyed the 15–mile loop we took from the village of Oak Creek, just south of Sedona, that followed the easy Bell Rock Pathway north to the Big Park Loop and Little Horse Trails. What started out as a hard packed two–lane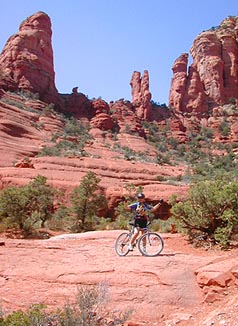 pathway, went through paved neighborhoods, to jeep roads and finally a fairly challenging rocky single track that was steep enough is some places that we walked (or flopped) until we came to less challenging stretches. That's Judy on the right posing on the edge of Chicken Rock, the beginning of a two–mile stretch of tough (we thought) single track and the site of Hughes's headfirst flop into an area thankfully without snakes, cactus, or yucca. Like our hikes, we had sensational weather: April temperatures 65° to 70°, clear skies, and light breeze. At the end of each, we returned to Los Abrigados for rest, a massage, a swim, and even some fishing.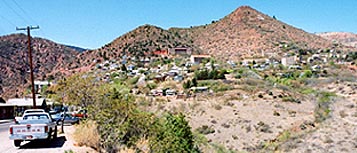 One of the nice things about Sedona is that is is relatively close to quite a few other interesting spots: the Grand Canyon is within a couple of hours (we didn't go). The old mining town of Jerome that sits atop Cleopatra Hill a mile from the Gold King Mine (copper) was once the territorial capital, and is within an hour's drive of Sedona. Tuzigoot National Monument, Montezuma's Castle National Monument, and Montezuma's Well (all built and inhabited by the Sinaguan people, contemporaries of the Anasazi) are also within an easy drive.
Any description of Sedona would not be complete without some mention of jeep trips through the Red Rock Country, particularly in pink jeeps, one of Sedona's best known "landmarks." There. I've mentioned them.
We spent a February week at our favorite Mexican resort, The Krystal in Puerto Vallarta, with daughter Debra, son-in-law Dan, and grandchildren Griffin and Julia. We swam in the resort pools, won tequila and other prizes playing bingo, took a day trip to see whales and to snorkel, read lots of books, and ate at some of our favorite restaurants and discovered one new great place to add to our list of favorites. Dan and Hughes went to a bullfight—read James Michner's Mexico to understand why—and left before the end. We really enjoyed being with both Deb and Dan, and we especially were glad to be with Griffin and Julia who grow before our eyes, though we see them too little because of distance. It was a wonderful family vacation week together. We added a brief "Postcard from Puerto Vallarta" to our web site.
So, spring is here, the hummers have returned from their winter homes in Mexico, the snow has melted below 10,000', and our pasqueflowers and daffodils are in bloom. It's a nice time of the year to clean the garage, wash the windows, and work in the gardens. We leave in a couple of weeks for Boston to stay with the grandchildren while Debra and Dan vacation in Ireland (They're staying at Ashford Castle in Cong, County Mayo, where John Wayne pretended to be Irish in "The Quiet Man."). When we return, we'll have just a couple of months to get ready—especially physically—for our Kilimanjaro climb in July and August. If we make it, we'll write another Friends and Family letter then. Wish us well!