POSTCARDS FROM PUERTO VALLARTA
FEBRUARY 16—23, 2002
It's funny how things turn on some unforeseen event.
In 1996, Hughes returned alone to Toledo to teach the winter quarter at the University of Toledo. In the past, Judy had gone with him, but that year she decided that she no longer wanted to leave home in Nederland. She was involved with the Fire Department and, truthfully, the winters here beat Toledo by a mile. So, Hughes drove out, lived in Waterville, taught 12 weeks and came back. As a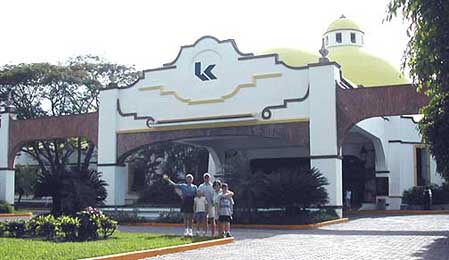 "reward" for the effort and separation, we planned a week's hang-the-cost getaway to a Mexican eco-adventure resort, Costa Azul, about an hour north of Puerto Vallarta. We looked forward to hiking, biking, snorkeling, running, sea kayaking, swimming, and lots of relaxation at this out of the way all-inclusive facility near the tiny village of San Francisco (a.k.a. San Pancho).
Of course we had to fly into Puerto Vallarta and spend a night there before heading on up to Costa Azul. We had a pricey dinner next to our hotel (the Buenaventura Hacienda; we recommend it as a reasonably priced very nice place to stay) at a place called Bogart's. After dinner, feeling full and content, we walked for a while and discovered we had wandered onto the grounds of a resort hotel that was quiet, lush, beautifully maintained, spread out over 35+ acres on the beach. No high rise building here; a verdant self-contained village like setting. We knew it was someplace special. We asked a woman sitting on a bench what the place was. She said it was the Hotel Krystal and would we like to find out about a time share there? What the heck, we thought.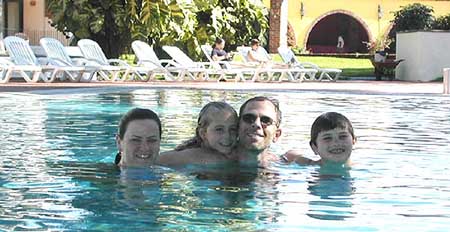 We found out, and to get to the end of that part of the story, we wound up with a fabulous week at Costa Azul—and a timeshare at the Krystal.
We don't go every year. In fact, our recent trip is only the fourth or fifth time we've stayed there. [Other years we've used the week(s) to go other places.] We've gone by ourselves, we've taken Michael and Cindy, and we've taken a family vacation there in 1998. This year we invited Debra and Dan and the grandchildren to spend the week with us. We looked forward to lots of time by one of the 50+ swimming pools (though the kids have their favorite), some great dining, some shopping, and generally relaxing with a book or two or three. Debra and Dan played tennis, Hughes and Dan went to the bullfights, and we all took a day's cruise to look for whales (saw quite a few) and dolphins (saw none) and to snorkel briefly near the Marietta Islands, a couple of hours from shore. The pictures below were taken on the boat on the way back from the Mariettas.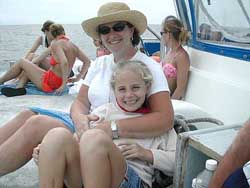 We did all those things at a relaxed pace. After all, we'd all been there before and didn't feel the need to try and do everything possible in one visit. We left lots to do for another time. We've come to like the city (about 250,000) that's fun and easy to get around by bus (4 pesos per person gets you almost everywhere you'd want to go). We like the people there: they seem genuinely friendly and, as a cab driver told us, they're glad to see us because we help their economy. They want us to have a good time, feel safe to walk the streets any time day or night, to drink the water anywhere in town, and to have lots of opportunities to spend money, whether it's at the downtown central mercado or at the new Super Wal-Mart that's due to be completed next year.
There are also really good restaurants for the occasional times we ate out (with a kitchen in our unit, we don't eat out as much as other tourists). We always go to Tino's in the adjacent town of Pitallal. Their seafood is so outstanding that we overlook the traffic noise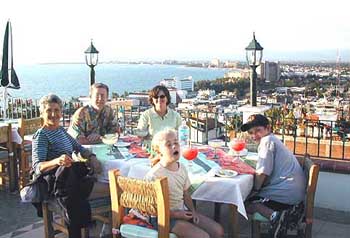 and occasional fumes from outside. We have always gone to Pipi's in PV for the best margaritas anywhere (we'd love to get their recipe) and their fajitas. We "discovered" Ah Caramba, a wonderful rooftop restaurant downtown overlooking the city and Bahia Banderas (Bay of Banderas). It's not cheap, but the food, service, and views were as good as it gets, and their selection of tequilas was extensive. It's a great place to watch the sun set and the crowd doesn't get there until after dark.
Puerto Vallarta is understandably the second most popular tourist destination in Mexico (Cancun is likely the most popular). It has fine weather (the rainy season is June through September), fine beaches, plenty of hotels and restaurants for a wide range of budgets, and scenery. About the only thing it lacks for is good diving and snorkeling. There is a thriving English speaking community (mostly from the USA and Canada), yet the town remains a place where real people live and work and shop and go about their various businesses.
We've been a tourist in Cancun (too glitzy, though close to lots of Maya sites), Cozumel (fabulous diving, but watch out for the drinking water), La Paz (more suited to folks with yachts, though some great beaches are nearby; Cabo San Lucas is not far), Copper Canyon (exotic and remote, for the non-tourist tourists), and Mazatlan (huge city with a tourist area). And there are some places we look forward to sampling—e.g., San Cristobal de los Casas. But we feel very much at home in PV. And we love sharing it with our family. They seem to enjoy it as much as we do.