Dear Family and Friends,
This year we're sending holiday greetings to you from our winter home in Arizona, ten miles west of Tucson. As you may know, we purchased a fifth wheel trailer last spring so that we could enjoy a warmer desert winter with more space (half again as much) and more comforts than our smaller motor home gives us. As the weather gets cooler and, occasionally wetter, we can stay inside warm and comfortable in a more spacious environment. It really does feel like (a) home.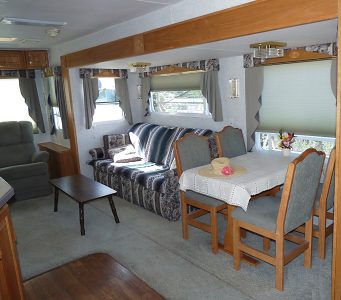 This past year was marked by other changes and memorable events. You can find more details by exploring our
home page
.
Winter
. We spent most of January preparing for a two-month "vacation" in Arizona: medical appointments and packing the motorhome for the trip. We hitched our Rav4 to the motorhome and headed south, arriving at Desert Trails RV Park west of Tucson by the first of February. The trip down featured high winds and the return trip found us nearly stranded by snow in southern Colorado. The two months in between were terrific. You may have already learned about Judy's surprise 70th birthday party, Sonoran hot dogs, Fred's, the 8th annual Desert Trails Dog Show, and other events that kept us busy and entertained during the winter on our
Winter 2012 Newsletter
. Anyway, we enjoyed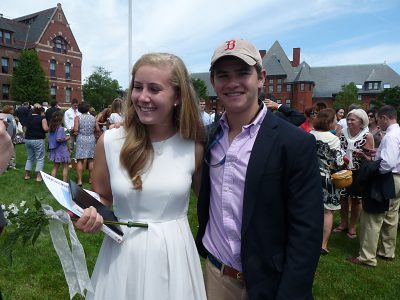 ourselves so much that we decided to return this year for four months. That's why we bought the fifth wheel.
Spring
. Hughes got his shoulder repaired (rotator cuff, et al.) as soon as we got back in April and had PT for about six weeks. Judy began a more regular running regimen in preparation for the Bolder-Boulder on Memorial Day (she won her age group again). We ran the Father's Day Race (a 4K family event); Judy won her age group and Hughes limped along as fast as he could and finished his last race. We also returned to regular bridge dates with neighbors, as well as weekly volunteering at the carousel and Backdoor Theater. Judy's mountain ladies hiking group began weekly day trips to the Indian Peaks.
In June we attended granddaughter Julia's high school graduation in Massachusetts (shown above her brother, Griffin) and celebrated Judy's brother's 50th wedding anniversary the same weekend. We hosted a mini-reunion of Desert Trails folks who live or work in Colorado.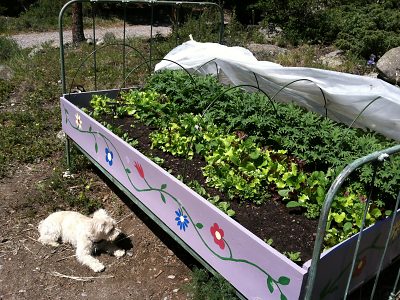 Bella and Lucy played host for a week to Maggie, a neighbor's dog whose folks headed back east for a wedding. The dogs had a grand time. Judy planted a real veggie garden.
Summer
. We decided this summer we would stay at home, enjoy fresh lettuce from Judy's veggie bed, split and stack firewood which Hughes had cut last fall, and remind ourselves that we had resettled in Colorado 20 years ago because it's one of the most beautiful places on earth.
Walt Terry from Desert Trails stopped by on his way west, and college friend Hedy Bressler spent a day while visiting her son in Beaver Creek. The Barker Dam Brass Band performed again in Nederland's 4th of July parade (Hughes played trombone), and McGinty's Wake played the Carter Lake Yacht Club's annual "Hillbilly Night" (Hughes played guitar and pennywhistle). Lots of neighborhood potlucks and get-togethers, bridge dates, and out of town dining (high on the list were Jenny's strawberry shortcake in Empire and Beau Jo's pizza in Idaho Springs), ladies hiking, and volunteering filled our days this summer, which was one of the driest and warmest in many years. We're glad we stayed close to home.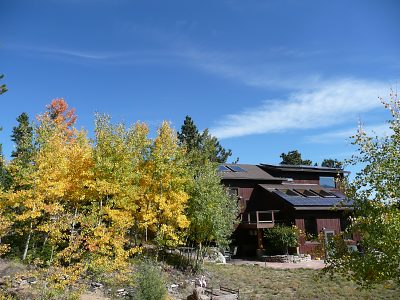 Fall
. Our autumn was truly golden this year. The aspens were unusually bright and folks came from miles to witness the glories of the season. However, it was the driest November in our history, and the ski areas and fire districts across the state continue to worry about drought.
In September Judy ran in her fourth long distance relay: Red Rock Relay, about 200 miles from Brian Head, Utah, to Zion National Park. We followed that with a week working with the animals at Best Friends Animal Sanctuary in Kanab. We spent the rest of September wondering through Utah and western Colorado. Details can be seen on our
Postcards from Utah
trip report.
October and November were filled with neighborhood socials, bridge, and volunteering in town. As she has for twenty years, Judy cooked a turkey for the community Thanksgiving (always the Sunday before Thanksgiving). Michael and Cindy hosted our official family Thanksgiving dinner at their house. Cousins Ken and Carol joined us, as did college friend David Delo. Most of our time and energies were spent preparing for our "escape" to Arizona just after Thanksgiving: choosing what to take and hoping everything would fit the car and rooftop carrier. It did—just! We left in beautiful weather, visited Anna Marie in Albuquerque on the way and arrived at Desert Trails the last day of November.
Our fifth wheel weathered the summer just fine where it sat in storage at Desert Trails. When we arrived, fellow camper Russ Peterson offered to move the rig just a bit so it fit better on the site, helped get us level and hooked up. (He and his wife Pat have a rig similar to ours, plus he's an incredibly handy—and generous—person.) It took us most of the first two weeks to do all the shopping for food and other necessities we didn't bring with us, and to organize everything so that we felt at home.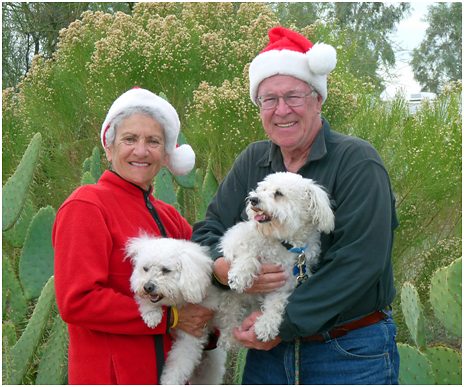 Of course this all took place in an atmosphere of nightly card games (pinochle and something called "Wizard" seem to be the games of choice at the moment), evening concerts sponsored by the park (the Dusty River Boys were outstanding, as was local legend Lisa Otey, plus the local high school mariachi group, "Mariachi Aztlán de Pueblo High School"), and, until we got the TV hooked up, early bedtimes.
We anticipate that next year about this time you'll receive another end of the year newsletter written from Tucson. We love the desert almost as much as we love the mountains. We are enjoying our Desert Trails friends almost as much as our Nederland friends. We hope to continue to count you among our circle of friends wherever you are.
All good wishes for the new year—good health, family and friends close by, and hope for the future.
Judy and Hughes