April 21, 2012

Dear Family and Friends,
This winter has passed very quickly—too quickly. It was a very
eventful period, filled with surprises we could not have anticipated, many
new friends, new experiences, and a small life-changing decision that may
push us in new directions. It's nice to think that now that we have both
reached into our eighth decade(!), there are new possibilities to which we
can look forward. You may be as surprised as we are by what may lie
ahead for us.


But first a word from the mountains on the state of things at altitude.



WEATHER AND ENVIRONMENTAL UPDATES
Since we returned in early April we've been awaiting the arrival of
hummingbirds, but they are late this year. They are usually here by tax
time, often sooner. We're ready with nectar and feeders, but they may be
holding back or have made other plans.

The weather has been topsy-turvy. March, which is traditionally our
wettest month, was one of the driest on record. January and February,
usually fairly dry months, had several big snows, as did December. So far, no April showers
of note. In fact this may be the year that many Coloradans recognize we are
living in part of the Great Western Desert. The snow pack in the high
country is well below normal, which doesn't bring good news to the folks
in Arizona, Las Vegas, and southern California who buy Colorado River
water for drinking and keeping the golf courses green. Even Denver and
the populated Front Range corridor from Pueblo to Fort Collins are
affected. More immediate is the renewed threat of wildland fires all over
the state where dry conditions threaten existing trees and homes:
last
month at least one major fire southwest of Denver just an hour away from us killed three people,
destroyed dozens of homes, and torched over 4500 acres.

Folks in Vail, Steamboat, Aspen, and elsewhere in the central
mountains, where they rely upon surface water (as opposed to reservoirs,
etc.) for household use, are facing a severe water shortage that may show itself before the
summer is over. Further, the lodge pole pine forests continue to die from
pine bark beetle infestations, turning the green needles red and killing the
trees throughout the Rockies from here to British Columbia. (In the photo on the left, the yellow nodules on the trunk locate where the beetles have bored into the tree on our property.) The cause is
linked to long-standing drought (weakens the trees) and climate change in
the wrong direction: wherever the beetles attack, the surest way of killing
them is a long period—say, three weeks?—of minus 30° to kill the insects,
something not envisioned in the near future.


[

Those of you who live east of the Mississippi and have never visited the
West, must wonder at the thought of a red forest stretching for miles. You have all
the water in the world and trees that are forever green.

]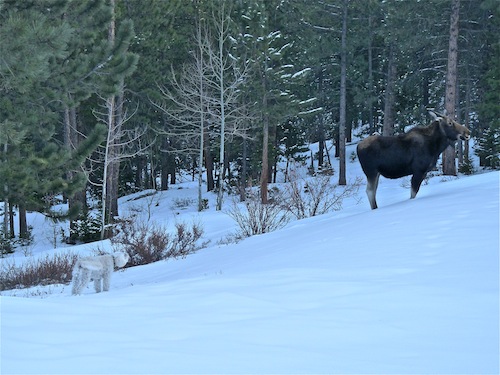 We've have some scattered beetle kill around here, but nothing like
the massive devastation on the western side of the Divide. But we don't
fool ourselves that the blight can't or won't spread here on the same scale.
Stranger things than that have occurred since we moved out 20 years ago:
this past January a moose spent some time in our back meadow. Who'd
have thought? And we always believed moose lived on the west side of the
Continental Divide. Not any more. They're moving to new territory. The
dogs were startled but welcoming, as you can see Lucy doing in the photo on the right.



ENDING 2011 AND BEGINNING THE NEW YEAR


Adios, Puerto Vallarta

: In 1996, we took our first vacation in Mexico as a
"
reward" trip after Hughes had spent his first solo winter teaching in Toledo. When he finished up and came home, we left immediately for a week in the sun at the all-inclusive beach eco-resort of Costa Azul, about an hour north of Puerto Vallarta in the tiny town of San Francisco (AKA "San Pancho"). We hiked, rode horses, mountain biked, snorkeled, sea kayaked, and enjoyed our introduction to Mexican culture, especially the food. While we were in PV (we had to spend a night at either end of our week at Costa Azul) we bought our first time share at the Krystal Vallarta Resort, and since have returned most years for a week of beach, fine dining, shopping, and relaxation. At various times we invited friends and family to share our appreciation of this vibrant city. Over the years we ran several races there (Judy won two of the three she entered), we witnessed the Day of the Dead celebrations, and the Festival of our Lady of Guadeloupe. We snorkeled Los Arcos and the Mariettas; we rode to San Sebastian, sampled lots of tequilas, enjoyed many fabulous meals, hiked in the jungle, spent a night in the town of Tequila, and watched the urban changes each year as the city responded to the increases in tourism. We never got sick, never felt threatened, always found the people welcoming.


After 15 years, we celebrated our last "required" visit to the Krystal Vallarta in early December. It is time, we decided, that we visit other areas and we had the chance last spring to trade our week-based time share for a points-based program beginning this year. While we were in PV, we went to as many of the restaurants we had enjoyed most over the years as we could fit in the week
(far more to choose from than we had time for)
; we enjoyed the festivities—parades, displays, food, music, etc.—surrounding the Festival of our Lady of Guadeloupe, and we looked back on all the wonderful memories of the past 15 years, and realized that it was time to move on to new adventures, though we are open to returning again in the future. In the meantime, we'll find some new Puerto Vallartas elsewhere.




A Family Gathering

: We
enjoyed a very pleasant "early" Christmas visit from our
daughter's family from Milton. Griffin flew out from North Carolina
(where he is in college), followed by Dan, who had been skiing in western
Colorado with his brother Jim, and finally Deb and Julia from
Massachusetts arrived. Michael and Cindy came up several days, but we
had too short a time with all of us together. It was fun and we realized it
may be some time before it happens again. Next fall Griffin is planning to
enter a National Outdoor Leadership School (NOLS) program in New
Zealand and Julia begins Boston University. Who knows what will happen
after that. It seems to get tougher to find a time to get us together for a
whole family visit. Thanks to Cindy for the photo below.
Getting Ready for a Warm Winter

. January was spent getting ready for our drive to Tucson: dentist and
doctor visits, a pre-surgical conference with the orthopod who would fix
Hughes's shoulder when we returned, and an OK for the procedure from
his cardiologist that he would not bleed out on the operating table. In the
first three weeks of January, we had 10 medical visits between us and one
trip to the vet (for Bella). Getting older makes more and new demands on a
person (and dogs).


[

Judy continued running in spite of some cold weather. By the time we left she
was well ahead in the Purple Runners standings among the women, though while she was away and not competing, her lead evaporated. She's working on getting it
back before the season ends.

]

We managed to load the RV and park it at the top of our road before
a big snow came, which would have made it impossible to get out to the
pavement. On January 20th we got a "go ahead" weather report from our meteorologist friend (recently retired from NOAA) and drove the car and RV separately down the
canyon to Boulder. We pulled over to hitch the car to the RV and
drove I-25 south to New Mexico and Arizona. We caravanned with cousins
Ken and Carol who were towing their house trailer and followed them to
the Phoenix area where we spent about a week near Cave Creek. They have
friends there and we knew from previous years the camping there is
excellent.

We arrived in Tucson on February 1 and checked in at Desert Trails
RV Park near Tucson where we had reservations for a two-month stay. We
first had camped there a few days in 2010; last year we stayed a month. This
year we planned a two-month visit, and we enjoyed ourselves even more.
We decided we had become snowbirds!



WINTER IN ARIZONA
We won't reiterate the reasons we enjoy the park. We wrote a detailed
account of our experiences there in 2011. This year we did a lot of the same
things with some the same people, but staying there twice as long gave us a
chance to do twice as much with more folks.

[

Note: While we take pleasure in sharing our experiences, an important
function of these newsletters is to create a written record to help us remember what we did, who we did it with, where we went, what we enjoyed or didn't, and what
we learned. What follows are the highlights we will remember

:]



HIKING

: Judy went on weekly group hikes that took her to some
amazing places within a few hours drive. Most of the hikes were 7–9 miles
and often rather challenging (see photo on left). She worked her way through the Tucson
Mountains west of town, the Catalina Mountains on the east side of town,
the Sierrita Mountains to the south, and Picacho Peak to the north. The
pictures she took show the beauty and diversity of plants and terrain across
southern Arizona. Hughes stayed with the dogs and rested his knees.



BIKING

: We joined the weekly Ride 'n Lunch Club for regular
outings. After two months of riding on different urban bike paths, we
have a better understanding of the length and complexity of the nearly
completed bike path that will surround the city when it's completed. The
projected Pima County Urban Loop is a 55-mile continuous, paved shared-
use path will encircle the urban area and provide a safe path for bicycles,
runners, and walkers. It will connect parks, golf
courses, sports parks, and public facilities.
In addition, Hughes biked with Ken, Frank, Joel, and/or Patty on
daily rides of one to two hours; sometimes we'd stop for a snack,
sometimes we'd check out local garage sales, sometimes we'd ride simply
for the mileage. He spent more time on his bike in two months than
altogether in the previous year. Of course, while Hughes biked, Judy kept
her daily running program going.
BRIDGE

: We do love to play bridge, but went without last year when
we couldn't find two other players. However, this year we managed to find folks who
also liked playing. Frank and Joel seemed to enjoy the game as much as we
do and joined us twice a week for games that got more competitive from
one week to the next. TJ and Walter substituted a couple of times. We're
very much looking forward to their return next year and we'll pick up
where we left off.



8TH ANNUAL DESERT TRAILS DOG SHOW

: Each year all DT dogs are invited to strut their stuff, perform whatever tricks or stunts they'd learned, run an obstacle course, and respond to certain commands. Seventeen dogs competed for prizes and bragging rights for the year. Dave's Jack Russell terrier, Brody, had won the three previous years and Dave agreed to "honorable mention" status, thus giving another dog a chance at first place. Brody (shown in the photo here just to the right of Bella) did perform several of the tricks that had won him high praise in the past. He probably would have won again. Lucy was awarded 5th place. She won a bottle of doggie stain remover. We couldn't be more proud.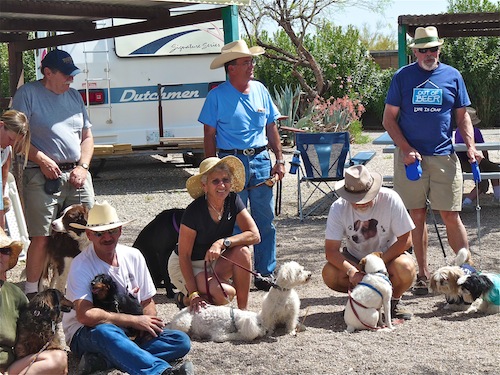 PARTY, PARTY, PARTY
First Annual Block Party

: The park has several somewhat separate
areas that are sort of like neighborhoods, and within these sections there
are often regular informal, impromptu gatherings among the campers who
stay more than a few days. Several of us decided we should try holding a
block party, though without closing the road to traffic. There was one
empty space that provided the place and opportunity to gather the
neighbors (and anyone else passing) for an afternoon of good food and
drink. We're sure it will happen again next year.


The Party That Went to the Dogs

: We believe (but are not certain)
that more DT campers have dogs than those who don't. The dogs generally
see one another sometime during the day, either as they take care of
business on their early morning walks, or as they pass by one another
during the day. They are always on leash and on the whole well behaved.
In March, someone had the idea of hosting a dog birthday party for Margo and invited all and
any to come for treats and good fellowship. Amazingly, the two dozen or
so dogs who showed were incredibly well mannered and seemed to enjoy
each other and a bounty of treats.
Park-wide Potluck Parties

: Folks at Desert Trails like to eat. The park
played host to a potluck for guests as a thank you for the successful
recycling project that was started last year. The owner bought the meat and
each guest brought a dish. A couple of hundred folks showed up and ate
their fill of burgers, delicious salads, side dishes, and desserts. Another potluck was
held after groups picked up trash along 2–3 miles of nearby Bopp Road.
Potlucks are also held monthly to honor all those who have a birthday.
Several breakfast potlucks were held irregularly on Friday mornings. It was
clear when we first began staying at Desert Trails that eating was a major
enterprise and a way to bring people together.


A Major Surprise Party

: Judy had no idea, on the afternoon of March
4, why she was suddenly called to help a fellow camper with a knitting
problem. But she went to help and in the 15 minutes she was away, some 30-40
people quietly rushed chairs, drinks, and snacks to our campsite prepared
to wish her a happy birthday. It was a great party and real gotcha minute.
EXTRACURRICULAR ACTIVITIES

: It is fairly easy to confine one's
activity to park-sponsored events. Last year, without benefit of having a car
with us, that's what we generally did. However, this year we


• Took in a Rockies spring training game (the only one played in Tucson)
The day was gorgeous, but the Rockies sent the B team from their new winter headquarters in the Phoenix area.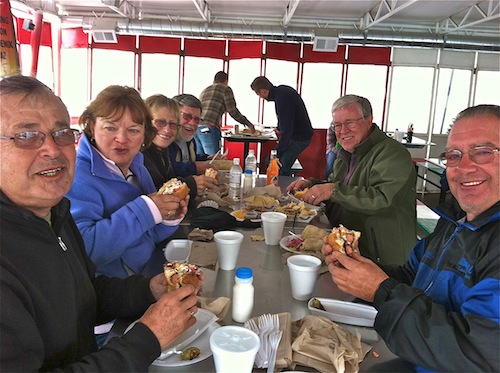 • Had an expensive (and disappointing) Mexican dinner downtown at
Poca Casa.


• On one of the few cool, damp days in Tucson, we sampled Sonoran Hot Dogs at El Guero Canelo, which were more tasty and far less
expensive than dinner at Poca Casa.


• Enjoyed a dinner theater performance of "The Two Amigos" at the
Gaslight Theater.


• Got tickets for another chance to hear Lisa Otey and Diane Van Deurzen
perform sultry, bluesy ballads in their "Wild Women" show (they
had performed at a DT concert a few weeks before). Lisa was also the
piano player at the Gaslight Theater. She's an amazing talent.

• Fred's Arena Bar and Steakhouse is located in the middle of the desert
some fifteen miles west of Tucson. You have to know it's there; it's not a
place you drive by unless you're hopelessly lost. We ate there twice: with
Nederland friends Sandi and Jim, and a few days later with a DT group
for dinner. Hughes said his steak was the best he's had in years!

• Toured different parts of the Tucson Gem and Mineral Show on two different
days. The show is spread out in many locations throughout the city and
really can't be "done" in a day or two. Judy bought diamonds to mark
our 50th wedding anniversary.

• Became members of the Desert Sonoran Museum and made several
visits to this world class facility just a few miles north of Desert Trails.
Sandi brought another Nederland neighbor Ann (who was visiting Sandi
and Jim) for a tour of the Museum as our guests. We'll renew our membership next
year so we can check on the progress of the hummingbird hatchlings we
saw on our last visit there.


• Hughes attended the annual Tucson Festival of Books, wandering through hundreds of exhibits, workshops, and booksellers. He scored a real bargain: a beautiful oversized two-volume boxed reprint of Joan Blaeu's Atlas Maior of 1665 in mint condition featuring hand colored maps of England and (combined) Scotland and Ireland, thought to be the most magnificent atlas of the 17th century published by Taschen in Germany. The price? $4.00!!


•
Drove to Gus Balon's to sample his famous cinnamon buns, described as
a "scenic wonder" by Jane and Michael Stern, the writers of

500 Things
to Eat Before It's Too Late: And the Very Best Places to Eat Them

. Patty
and Joel and had the book and convinced us, along with Frank, Carol,
and Ken to make the drive. They were delicious!!


• Met with Colorado runners David and Lada, and Barbara and John at
Elvira's Restaurant in the artsy town of Tubac an hour south of Tucson. Elvira's is
highly touted but we found it pretentious and we gave their entrees mixed reviews.
We enjoyed the occasion to reconnect with old friends.

• We were introduced to geocaching last year and did some
additional searches here in Nederland and in Sedona last year. We added
some new Tucson caches this year to our list during the group trips every other
Friday. We also went out on our own when we had the chance. In the left photo Bill is holding a rubber grasshopper cache we located about half a mile hike from the campground. However, the most satisfying find—after three attempts this year
and last year, plus some help from Joel—was locating the well disguised
but badly placed (inaccurate coordinates!) "Tucson Mountain Lover's
Cache" (GC19C8A).


• Other evening activities included

stargazing

(one of the guests has
enthusiasm, knowledge, and equipment to provide a lot of information
during an informal gathering one night a week); cash

bingo

(both of us
won once, which means we just about broke even for the two months);
and twice weekly

concerts

, the best of which were the two high school
groups—a jazz orchestra and a mariachi group—and an evening of songs with
Lisa Otey and Diane Van Deurzen).

SNOWBIRDS OR TRAILER TRASH?


We had been thinking about returning next year and beyond, but
we really were not comfortable nor enthusiastic about an extended period of
time living in our 24' motor home. Our 2006 Itasca Navion has met all
our expectations for travel trips, some even as long as a month (e.g., our
trip last year to the Canadian Rockies). However, two months is a long time
to spend in fairly close quarters—two adults and two dogs. Any longer
period is out of the question.

We knew that from time to time Desert Trails campers put their rigs
up for sale (5th wheels, motor homes, etc.), and we would casually "shop"
as we walked through the park. This year a 5th wheel had a "For Sale" sign
on the front of a 35' Excel with three slides that looked clean and well
cared for—and the price was attractive. We checked it out several times,
asked the very pleasant owners, Roy and Gail, lots of questions, invited
Carol and Ken, who are 5th wheel veterans, to look at it with us, and
comfortably came to the conclusion it would suit our needs very nicely. We
could store it on site at Desert Trails, use it for the winter furnished with
most of the comforts of home, and not have to drive the motor home 1000
miles each way, towing a car behind.
So we we decided to purchase the fifth wheel
from Roy and Gail,
who were in the process of purchasing and moving into a "Park Model" at
Desert Trails. We are happy to know that if we run into a question about
how things worked in the new rig that they were close by and willing to
help. The park owner agreed to have
our 5th wheel moved
this spring or summer
to a new site which we selected from among those not
already reserved for next year. When we arrive next season, we'll have our
clothing, dog supplies, and food ready to move in, plug in the water, sewer,
and electricity, and enjoy the feeling of spaciousness we've not had with
the motorhome. I suppose we'll have an open house soon after we get
there.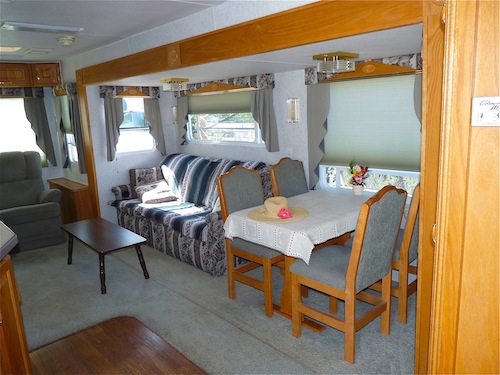 [

We've been asked several times whether we'll get rid of the motorhome. For
the time being, we plan to keep it for road camping and traveling. For example, Judy has a 200-mile race in Utah this fall and we'll use it to get there and then spend time in the area camping in some of our favorite places in the state. We still have dreams of making the trip to Alaska in it while diesel prices are not completely out of sight and the lure of the Alcan Highway, BC, the Yukon, NW Territories,
and Alaska remains strong.

]


Anyway, we're excited about spending more of our winters in a
warm place. We've made enough new and good friends at Desert Trails to
feel as though we have two homes now, two sets of friends and neighbors
we enjoy, a lively urban center, and fresh opportunities to maintain an active lifestyle in a warm
weather environment. Come winter in the north, some folks go to Florida,
some to south Texas, some to Hawaii or to other places, and a lot of folks
spend winters in Arizona. We've come to like and appreciate the desert,
especially in the winter.



COMING HOME


Our return trip in early April was marked by fierce winds and a front
range snow storm that threatened to hold us hostage in a campground just
south of Pueblo. On the last morning we risked what might have been a
seriously slippery ride home only to discover we were a mere twenty miles
from dry pavement that continued the last five hours of the trip to Nederland.
Hughes had scheduled shoulder surgery for April 11 and we had
much to do beforehand, primarily cleaning and washing the motor home in
preparation for storage until summer or beyond and getting the taxes done.
Both were accomplished and Hughes went in on the afternoon of the 11th,
spent the night comfortably in Boulder Community Hospital so all his
vitals could be monitored, and was dismissed in the morning. Judy has
been the perfect nurse, and Hughes has made surprisingly rapid, drug-free,
and relatively pain-free progress ever since.

What's ahead? Some shoulder rehab for sure, and time to catch up
with Nederland and neighborhood friends before we fly to Boston for
grand-daughter Julia's high school graduation and Judy's brother's 50th
wedding anniversary party. Summer plans are up in the air and fluid, but
we'll try for some short, in-state camping before heading to Utah for Judy's
race and some volunteer time at Best Friends Animal Sanctuary in Kanab.

We will welcome your visit most anytime this summer. We can offer you the
beauty of our mountains, clean sheets on the guest bed, and the cleanest air
in the country. Call ahead for reservations. We'll leave the light on for you.



All our best to you,
Judy and Hughes