NEW ZEALAND
January 21–February 20, 2004


The Big Picture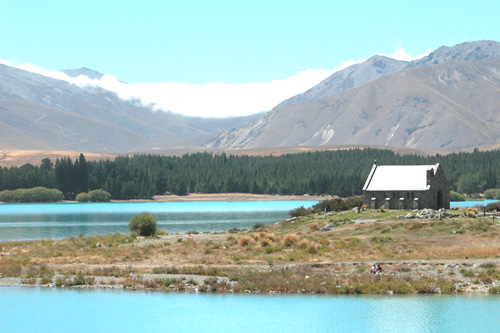 In case anyone asks, it took us about 17 hours of flight time to get from Denver to Auckland: Denver to Los Angeles (2.5 hours) to Papeete, Tahiti (8.5 hours) to Auckland (6 hours). This did not include waiting in airports between flights. From Auckland we flew immediately to Christchurch (add another 1.5 hours) and the next day we rode a public bus that took eight hours to get us to Queenstown, our final destination. Along the way to Queenstown, we made our first stop at Lake Tekapo, the site of the Church of the Good Shepherd.

We met with Alan and Cheryl, our trekking companions, the following day. Together we went by bus to Te Anau and then by boat to the beginning of the Milford Track. Four days later we took a bus back from Milford Sound to Queenstown where we said good-bye to Alan and Cheryl, rented a car and toured the south island for 10 days, staying nights in Wanaka, Franz Joseph Glacier, Punakaiki, Hanmer Springs, Kaikoura, Picton, and Motueka, where we joined Alan and Cheryl again for our trek on the Abel Tasman Coastal Track. We spent three days on the Able Tasman, backpacking two days and kayaking the third before returning to the start of the Track by water taxi. The two of us spent one night in Havelock before returning the car to Picton and boarded the ferry to the north island.

In Wellington we rented a campervan for a ten-day driving tour of the north island where we visited Napier-Hastings, Taupo-Tangoriro, and the coast of New Zealand's Northland region including the Bay of Islands. On February 20 we returned the campervan in Auckland and boarded the plane for the return trip the way we came, arriving home more than 17 hours later on the same day ("gaining back" the day we "lost" on the flight to New Zealand).