POSTCARDS FROM BELIZE
February 14–23, 2003



Our first trip to Belize (April, 2000) is posted on another web page. On that trip Judy and I spent a week on an Elderhostel Service Trip to Spanish Lookout Caye and additional time at Hidden Valley Inn in the Mountain Pine Ridge area on the western side of the country. We so enjoyed the country and the people that we thought it would be a perfect place for a family vacation.

We began planning a year ago: four days in the jungle near the western town of San Ignacio, about 10 miles from the Guatemala border, and five days in San Pedro on Ambergris Caye.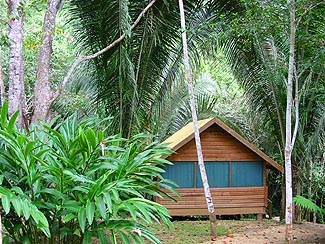 MACAL RIVER JUNGLE CAMP
We were picked up at Belize International Airport and driven a long 75 miles on the Western Highway to San Ignacio, then south a few miles to the Lodge at Chaa Creek Lodge which also runs the Jungle Camp on the Macal River, a half mile from the main reception area.

We stayed in four of the ten screened "casitas"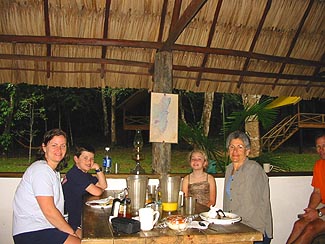 amidst thick jungle just above the river. (Michael and Cindy's casita was the one you see "behind the palm fronds" on the web site for the Camp.) We ate breakfast and dinner each day in the open air dining area and enjoyed a campfire each night. The flush toilets and hot showers were a greatly appreciated touch of civilization. We were very comfortable, ate well, and drank very cold sodas and Belikins. Dosio, his wife, Francelia, and a small staff provided for our every comfort and helped make arrangements for our daily activities.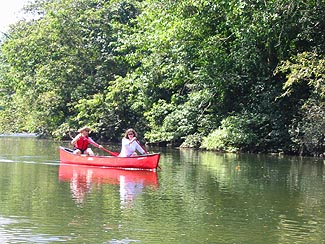 Day 1: Canoeing the Macal River to San Ignacio
Saturday, our first full day, was market day in San Ignacio. We rented four canoes and set off (with the current) for the six-mile trip downstream to see the town. We had been warned the night before by a departing guest of an occasional "highjacking" of visitors canoeing along the river. Dosio confirmed that it does happen, but he said we shouldn't worry about it; let him do the worrying.

We were, I suppose, wary when we saw folks along the river during our trip, but there were no incidents—unless you call tipping over a canoe an "incident." It happened at the very beginning when Hughes tipped over a canoe upon getting in. It did get Griffin wet, since he was already in, and our digital camera also got soaked, though after 2-3
days, it dried and continued to work as though nothing had happened. (Nikons really are good cameras!)

The river ran smoothly with only occasional ripples and low overhanging branches to maneuver around. We saw few signs of wildlife: a few birds, no monkeys, jaguars, or other large mammals. No bugs at all. After a full day of sitting on planes and vans, the exercise was a welcome change.

We tied up between bridges in San Ignacio and walked through town and the market. The weather was, as expected, hot and humid. The market was largely local produce and we bought only some peanuts (cashews grown locally were not yet in season) and some limes. We had a good lunch at Hode's across from the park. It must be good: it's where the buses stop.

When we were done, we took a cab back to the Jungle Camp where Griffin and I took a swim in the river followed by sodas and Belikins before dinner.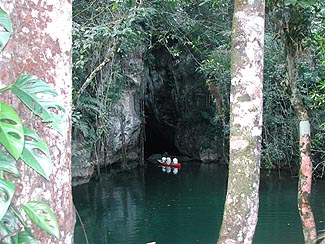 Day 2: Barton Creek Cave
The Cayo District has many caves, both dry and wet, that can be explored by visitors. Some are challenging and others are quite accessible. The Barton Creek Cave is one of the most popular wet caves because the first mile or so of the 4.5 miles can be accessed by canoe.

While we were in San Ignacio, we made arrangements for a half day trip to Barton Creek, which is an hour of combined paved highway and really rough dirt road to reach the cave entrance. The road took us, as I reminded Griffin, to the middle of nowhere.

Along the way, we passed through an old order Amish settlement. We knew that there were several successful and prosperous Mennonite communities who had come to Belize generations ago to farm, but we had not anticipated the more conservative Amish down here living in such an isolated area.

Several miles off the highway (at Georgeville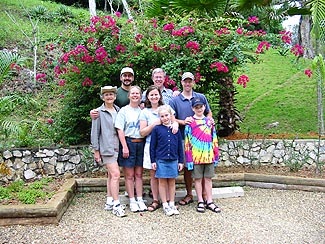 east of San Ignacio) we passed through a huge citrus ranch (oranges and grapefruit) and drove through a community of small, self-sustaining farms with horses and buggies out front. In the middle of the farms was a church holding services for families in traditional dress that you expect to see in the Amish areas of Pennsylvania, Ohio, and Indiana. In the jungles of Belize, it was surprising.

At the end of the road was a house, some cars (one with Ontario license plates), and a hut where we got our canoes, paddles, life jackets, and flashlights. Our "guide," a pleasant and experienced fellow, but not particularly chatty, led our three canoes into the quiet of the cave, under low overhangs and through narrow channels to where we couldn't go farther (we were not prepared to swim or scuba beyond). We saw many formations of stalactites and stalagmites—and bats—but, unfortunately, we learned little about the Maya's ritual use of the cave and their beliefs about the underworld.

On the return trip, we stopped at the Maya Ranch, a restaurant run by the Janus Foundation, for homemade ice cream (including a sundae called "Hot Love") and bakery items. Like the Amish community, this business operates in an isolated area south of Georgeville. It was another pleasant surprise along the way.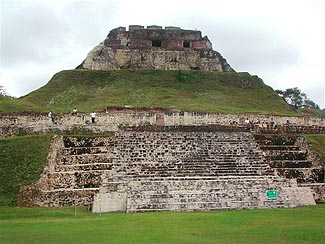 Day 3: Bicycling to Xunantunich and More
Not more than 5-6 miles from the Jungle Camp is Xunantunich, an imposing Maya site near the village of San Jose Succotz. We thought it would be a reasonable destination for a group bike trip. There were, unfortunately, no bikes to fit the grandchildren, and we did not count on hilly terrain that was more challenging than most of the adults wanted to attempt. The result was that Dan and I made the trip, while the others relaxed at the camp.

The trip combined three miles of hilly dirt road from the camp to the paved highway, two miles south to San Jose Succotz, a river crossing via a hand-cranked ferry, and a challenging uphill ride to the site of this Mayan ceremonial site. Dan and I walked the small area of four main buildings that are still undergoing reconstruction. From the top of the 130 foot high "El Castillo" (The Castle) we had an uninterrupted view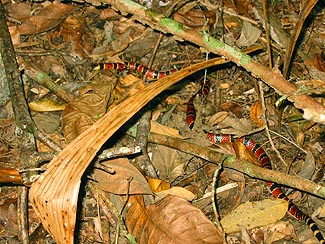 of Guatemala and nearly back to San Ignacio.

After lunch at the Chaa Creek Lodge restaurant/bar, we hiked the trails on the grounds of Lodge to visit their Natural History Center and Butterfly Farm, where we saw how they raised spectacular Blue Morpho butterflies that are native to the rain forests of Central and South America. (You can take a virtual tour of the property at Chaa Creek by clicking here. The Jungle Camp is identified as "campground.")

Did we see any dangerous critters? How were the mosquitoes? Did anyone get sick? The answers are yes, didn't see or hear any, and not really. Specifically, Michael and Cindy caught a good sized scorpion in their casita and, while hiking, managed to see and photograph this two-step coral snake (two steps after he bites you, you die—or so goes a common saying). Whatever the length of time is, coral snakes are highly venomous and the scorpions are big (4"-6",) and the one they caught was big. We didn't see or hear or get bitten by mosquitoes. There were some no-see'um like biting insects along the beach in San Pedro; Judy came back with the itches. As for sickness, read the account of the diving on Day 8.


Day 4: The Belize Zoo and a Boat Ride to Ambergris Caye
We left the Jungle Camp mid morning and drove about an hour to the Belize Zoo which is on the Western Highway about 30 miles from Belize City. It is small, yet it is home to most of the mammals, reptiles, and many of the larger birds that are native to Belize. Each is there because it was abandoned, injured, donated, or orphaned. The tapir, (that's April, snoozing in the photo on the left) is the national animal of Belize. It takes perhaps an hour to see animals that one rarely is able to see in the wild (e.g., jaguars, peccaries, tapirs, et al.). The hand-lettered signs are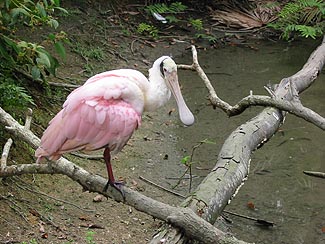 worth the price of admission. Nearby are two restaurants worth stopping at for lunch: Cheers (with scores of T-shirts hanging from the ceiling) and JB's where we stopped.

On to Belize City where, with the help of Ian, our driver/guide, we were able to get on a fully loaded water taxi for the 75 minute ride from Belize City to San Pedro. The rain we had during the trip from the zoo to Belize City began again half way to San Pedro. Because the water taxi was an open boat, the captain called for a large tarp brought out to cover the 50 or so passengers who had to hold the tarp down against the wind of the moving boat. The rain was over by the time we reached San Pedro and we arrived at the Banana Beach Resort fairly dry, though the streets of town, none of which are paved, were puddled and muddy.


Day 5: Exploring San Pedro
Banana Beach is a little over a mile south of downtown San Pedro, the only town on Ambergris Caye (population about 7,000). Almost everything in the town and on the island is focused on water sports. Diving the second longest reef in the world is world class, and the snorkeling is equally good. The local fishermen have discovered they can make many times more income from leading sport fishing trips as they could from catching fish themselves. Windsurfing, sailing, manatee watching trips, and cruises are also popular.

The beaches vary from very narrow strips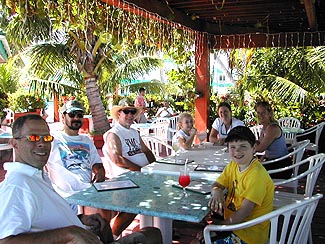 of sand like the one in front of Banana Beach to wide, clean white sand beaches like those in front of isolated Captain Morgan's Retreat, the posh Victoria House, and the good looking Villas at Banyan Bay. However, narrow beach or wide, we were able to walk to town along the shoreline, passing more diving docks than I've seen on any beach anywhere, some restaurants on piers over the water, large resorts and small hotels, and private beach front homes all the way to town. We looked through shops in town and did some food shopping for breakfasts and snacks.

We split up on the way back; Judy and I did some grocery shopping and had a light lunch at Jerry's Crab Shack (tasty crab cake sandwiches and cold beer). We spent the afternoon on the beach and, later, we played some serious Shanghai rummy. (Yes, we had 4 TVs, one in each bedroom and a fourth in the living room, but only the kids did much TV watching.)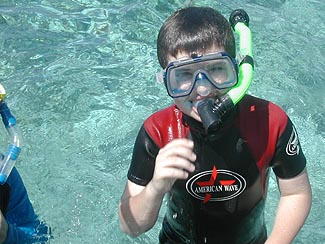 Day 6: Water Play
We've almost always planned our family vacations around a beach where the diving and snorkeling are great. Coming to San Pedro was no exception. We signed up with Barefoot Diving for a half day snorkel/dive combo trip to Hol Chan and Shark Alley. At Hol Chan, which is a national marine park, Dan and Hughes did a dive with Adolpho and everyone else snorkeled. After an hour or so, we moved the boat to Shark Ray Alley where everyone snorkeled. We all saw plenty of southern sting rays with a "wing" span of 2'–4'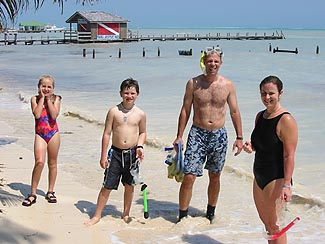 and at least one spotted ray. Michael got a photo of a huge eel and a small nurse shark, as well as barracuda and schools of smaller fish. Years of fishermen cleaning fish in this shallow are just inside the reef and throwing the unwanted parts overboard attracted the rays and sharks who have made a habit of coming for food here. The same happened in Cayman Islands to create Sting Ray City.

We had a late lunch at Rico's just down the beach from us (moderate prices, great location, and decent food). After some pool and beach time, we snacked our way through dinner and played more Shanghai rummy.


Day 7: Bicycling the Island
Unlike the hilly terrain in the San Ignacio area, Ambergris Caye is flat and the road surfaces are comfortably sandy. We rented bikes, including one that fit our granddaughter, each with fat tires, one gear, soft seats, and coaster brakes. Some had baskets. I'd forgotten how pleasant and easy-going bicycle rides could be. There are a few cars, taxis and trucks on the island. Folks either ride bikes or drive (licensed) golf carts. The pace is slow; no one is in a hurry and anywhere you want to go is close by.

We rode north through downtown San Pedro, took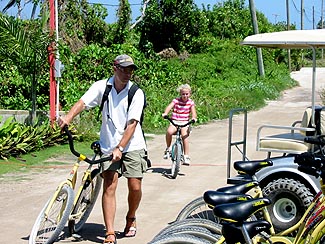 the hand-pulled ferry across a lagoon inlet to the "north side" where the number of homes and businesses thin out dramatically. We rode about three miles to where the road led to Captain Morgan's Retreat after which there's not much more to see and the road slowly deteriorates.

On the way back, we split into two groups: the Colorado Moirs stopped for lunch at Papi's Diner where we had one the best meals on the trip and for half the cost of most other places. Like yesterday, after some beach and pool time, we walked to dinner at Moncado's (formerly El Patio; highly overrated and pricey). Shanghai rummy before bed.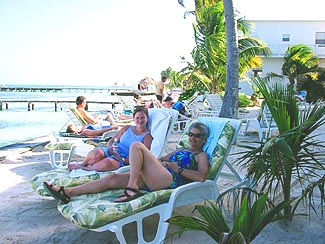 Day 8: Golf Carts and R&R
Dan and I had hoped to get in another dive before we left. We had scheduled a two-tank dive for this day, but the winds had turned during the night and the swells outside the reef were strong, too strong to go out. So, the Buddes decided that the kids would enjoy a morning cruising town in a golf cart. I don't know where they went, but they had a great time for about two hours. The rest of us stayed close to the beach and pool.

About one o'clock we got word from Barefoot Divers that the seas had calmed enough that diving outside the reef was possible. Dan and I got ready and went out to a spot called Cypress Canyons. The sea still treated the boat roughly in the 6'-7'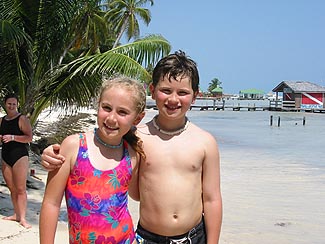 swells, but we got down and had a good dive (saw the biggest southern sting ray I've ever seen—a span of seven to eight feet!). Coming up, both Dan and I succumbed to the effects of the malaria medication we'd been taking: nausea hit us both and by the time we got back to the dock for our interval rest between dives, we both agreed that going out again would be the end of us. (Fellow divers: This is the second time I've been nauseous from diving. It's the second time I've taken malaria medication. I won't do both again on the same trip. I'll bet many of you out there have had the same experience.)

We walked down the beach to Ramon's Village for dinner (underwhelming, though a nice setting. Is there no place on Ambergris where the food is something to rave about and someone knows how to make a good margarita??). We finished off the evening with more Shanghai rummy.

Day 9: Good-Bye to Belize
The airport in downtown San Pedro is home to two airlines (Tropic Air and Maya Air). We packed leisurely and piled into an overstuffed taxi to catch our noon flight to Belize International Airport. The flight over the water and surrounding cayes was a sweet way to end the trip. From there, it was a short hop to Miami and a long flight to Denver where we found the temperature 80 degrees less than when we took off from San Pedro. We were back to the reality of winter in Colorado.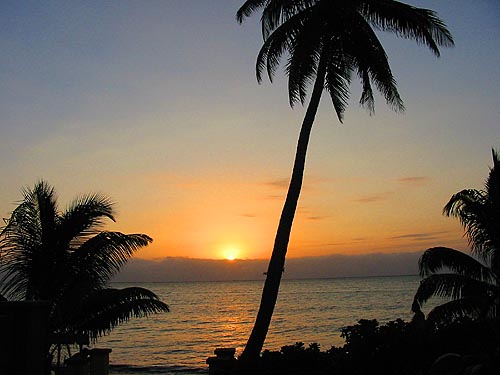 Sunrise at Banana Beach. What a way to start the day in Belize!