April 15, 2015


Dear Family and Friends,


It's been months since we last wrote, not because we've been unusually busy, but we've been in Arizona for the past four months and away from the computer that "publishes" the newsletters and trip reports. Our daily routines are quite different during the Tucson winter than they are here in the mountains; we're programmed differently here in Nederland where the pace is slower and less scheduled. We like both routines: when we're in Arizona, we enjoy being rather busy socially (see picture from one of the almost daily happy hours), physically active, and almost always engaged; on the other hand, we also enjoy the quieter, less frenetic laid back pace of life in the mountains. The change each season seems to agree with us.

Today is tax day, which means the first hummingbirds should be here. However, in spite of a fairly dry, warm spring none has arrived at our house yet. We're watching. Elk have been grazing occasionally in the back grassy area, deer have been seen throughout our neighborhood, and while we've not seen them, and a pair of moose (a mother and juvenile we're told) is making their presence known nearby. We watch carefully when we hike in the woods.

As you know, we use these newsletters not only to keep in touch with family and friends scattered around the country (and Canada), but also these pages are a record for us of where we've been, what we've seen, how we've spent our time, who we've encountered, and important events (to us) over the nearly two decades we've been compiling these cyber diaries. They help us remember.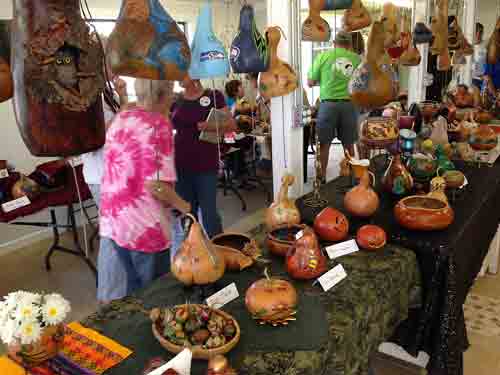 This was our sixth winter at Desert Trails RV Park ten miles west of Tucson. We go the weather, activities, and a core of very likable friends we've made during that time. Here's what we'll remember about the winter of 2014–2015.




Gourds

. This was the year of the gourds. Decorating gourds became the latest pastime of many of us—mostly women, though it's safe to say a few men were also seen cleaning, polishing, and decorating gourds of all sizes and shapes throughout every day. Judy showed her artistic talents through her designs and techniques using paints, wood burning tools, stucco, special crayons, seed pods, pine needles, and other specialty materials and tools. We attended the 12th Annual Gourd Festival in Casa Grande (a hour north of Tucson) to see how others have taken gourds to unimagined artistic heights, to purchase specialty supplies, and to visit the nearby Wuertz Gourd Farm to purchase gourds. Desert Trails hosted a well-attended and impressive show of gourds (photo on right) created by park residents, Judy's included.


On the way to Casa Grande, we visited the world famous Rooster Cogburn Ostrich Ranch near Picacho Peak State Park. We fed the ostriches, ducks, goats, donkeys, and other large animals, but the highlight was visiting the lorikeets that flocked to us for food when we entered their aviary. The ranch is right on I-10 between Phoenix and Tucson. You can't miss it.



















[

Note: Our Nederland neighbors Rick and Pat visited us for a week and this was one of their highlights. Nederland neighbors Jim and Sandi, who spend the winter in nearby Marana and who first alerted us to the pleasures and delight of this tourist attraction joined us.

]




Bicycling

. Tucson is a popular destination for cyclists of all abilities, especially in the winter months. There is an active group of mountain bikers among Desert Trails residents. You can identify them easily by their very fat tires, body armor, scabs (from falls) and cactus spines (from accidents encountered riding among the cactus and cholla). There are many miles of trails in desert adjoining the RV Park, as well as other locations in the region. There are even some mountains to traverse, but not many.

Road biking can be no less risky, though the results of carelessness on the roads and bike paths can be more serious. When completed next year, the 131-mile bike "Loop" will create a traffic free paved path around metro Tucson that will link Marana, Oro Valley, and South Tucson with a smooth, safe, and mostly level surface for riders of all abilities. The road bikers from DT use portions of the bike path for their weekly outings. Others go for longer distances (up to 50 miles) at other times. There are excellent routes along local roads, though Tucson and Pima County have put their energies and money, it seems, into bike paths rather than shoulders along county roads. Judy, who rides more often and at least twice as far as Hughes, rides several routes north and west of Desert Trails through Tucson Mountain Park and Saguaro National Park, as well as south of Tucson along Mission Road through the Tohono O'odham San Xavier Indian Reservation toward Green Valley. Our experience cautions us to ride defensively on the roads, though most drivers we've encountered have passed us with plenty of room.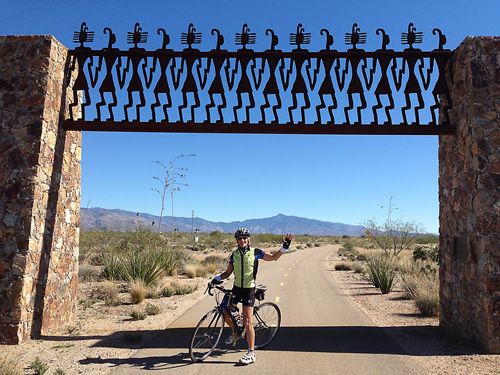 However, two accidents occurred that make us even more cautious: Pericles Wyatt, the owner of Desert Trails and an experienced road biker, was involved in a fluke accident while riding in a group, one of whom made a sudden and foolish turn at a corner along a back road that caused a crash resulting in Pericles breaking his shoulder, an arm, and several ribs. A nearly exact accident occurred during a group ride sponsored by GABA (Greater Arizona Bicycling Association), which we joined: Judy a metric century ride, Hughes a half metric century. At one of the few corners on the route, a lead biker in a group of about six riders missed the corner and made a sudden effort to make the turn. He was the most seriously hurt: he suffered serious road rash on his face and could not get up (broken bones?) An ambulance was called and we don't know how that turned out. But both crashes sent chills up our spines.




Hiking

. Judy had previously hiked most of the scheduled routes organized by the park's hiking group so this year often chose to stay with the dogs and work on her gourds. Hughes went on several hikes and especially liked the 7-mile to Madera Canyon about 45 minutes south of Tucson where we actually climbed high enough to leave the desert and walk among pines, wildlife (though not much on the day he went), seasonal streams, and a lovely picnic area at Josephine's Saddle. Other few other hikes we took were less strenuous jaunts through the desert adjoining Desert Trails.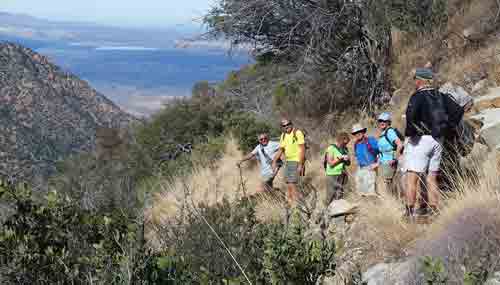 Yoga. Judy has, off and on, used yoga as an exercise, but until this year she did not participate regularly. However, a few weeks into our stay at Deserts Trail, Susan Davy and he husband, Kip arrived from Michigan planning to stay a short time. In fact, the park was so filled that they had no guarantee they could stay more than their scheduled few weeks. Susan is experienced and, according to all accounts, an excellent yoga instructor: encouraging, supportive, and very pleasant. She offered her services for free, scheduled three sessions a week, and her classes filled every day. She was so popular that space "opened up" and they were able to extend their time to nearly three months. Judy attended every Wednesday, Thursday, and Saturday morning classes and came back rejuvenated and felt stronger than ever. They also often joined us on road bike trips, including the GABA group ride mentioned earlier. Judy and many others hope they return next year.




Ghost Towns

. Last year we joined with DT friends Christine and Bill to locate and poke through ghost towns in the area around Patagonia south of Tucson: primarily the mining towns of Harshaw and Ruby. This year the four of us took two separate trips.




Trip #1

. The first excursion took us to

Fairbank

, a railroad town, in the process of restoring school, hotel, gas station, and other buildings, with easy access off the road between Tombstone and Benson. Judy and Hughes had been there several years ago and had explored the cemetery just north of the town site and hiked another mile or so to Contention City, site of three mills that processed ore from
Tombstone.

After walking through Fairbank, we drove south through Sierra Vista and a few miles west to the

Ramsey Canyon Preserve

, not a ghost town but rather a tranquil scenic area well known to birders and to folks seeking cool relief from the desert heat. We saw just one bird of note in the parking lot, but it soon became clear the hummingbirds that give the canyon its fame hadn't arrived yet from Mexico. We did enjoy the short two-mile hike and the quiet of the canyon and clear stream. We later drove south near the Mexico border and made a brief stop at the small, remote

Coronado National Memorial

that commemorates the Coronado Expedition in 1539–40 and pressed on over Montezuma Pass in hopes of finding the ghost town of Sunnyside.

With Bill driving his 4Wheel drive pickup, we made our way slowly over a rough and not well-marked dirt track and finally located the site with the help of our GPS.

Sunnyside

was founded by followers of Samuel Donnelly a religious convert who established a mining commune, making it the most unusual mining town in the west: no bars, no brothels, no slackers, no outlaws; everyone worshipped and shared equally in the proceeds from work. Sunnyside remains way off the beaten track and still difficult to reach. Many buildings are still standing though in rough repair.




Trip #2

. We stopped first at Kentucky Camp located about six miles off SR 83 west of Sonoita. It's sometimes knows as the Ghost Town With Accommodations (there is a "B&noB," a place to sleep but there's no breakfast, run by the Forest Service for a small fee). The forest service owns the property and is restoring several of the buildings. There is easy access to the Arizona Trail.

From there we drove south through Patagonia towards Nogales and turned east on a good gravel road through

Washington Camp

(not much left here except a mine dump with good cooper ore specimens),

Duquesne

(several residents, some buildings in good repair, visitors not particularly welcome), and

Lochiel

, (a former border- crossing town to Mexico. The steel fence has cut off access either way, the few residents (reportedly seven) really do not welcome visitors—stay out, everything's private, we really don't want you here). It was a long day but we still had time for dinner at out favorite restaurant in the area:

inter photos

in Patagonia.


Entertainment. Desert Trails offers two performances each week by musicians of all sorts, most of whom are really quite good. We missed Lisa Otey and Diane Van Deurzen, favorites over the past years, but we enjoyed Mariachi Aztlan from Tucson's Pueblo High School, gifted guitarist Gabriel Ayala, folk singer William Florian, Ronstadt Generations who represent five generations of southwest music traditions (yes, Linda is a member of the family but not of the group), an up and coming band Run Boys Run; who blend traditional and modern sounds; and a mighty fine blue grass group, The Sonoran Dogs. These performances are free to Desert Trails residents (though the hat is passed to help support the performers). We paid much more dearly to hear Paula Poundstone perform at the Fox Theater downtown, but left disappointed with what must have been an off night for one of our favorite comics.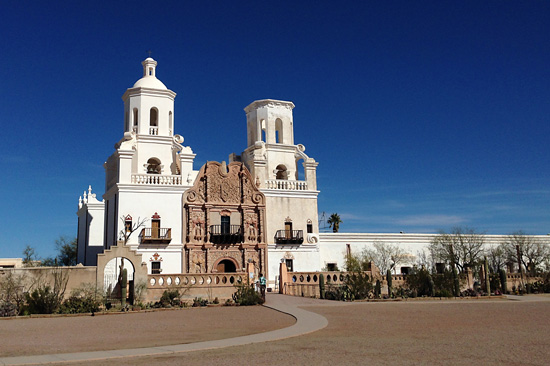 Hughes rehearsed Monday evenings with the Arizona Choral Society in preparation for a March 8 concert at the Catalina United Methodist Church. The group performed works by Beethoven ("Hallelujah" from Christ on the Mount of Olives, Op. 85, and portions of the Mass in C Major), Mendelssohn ("Hear My Prayer") and two short songs, "Where is Love?" and "You Raise Me Up." Hughes had not performed with a choral since his years with the Toledo Symphony Choral, but enjoyed a chance to perform choral music once again. The greatest challenges, however, had nothing to do with the music: he was fighting off a cold that weakened his voice, and he shopped area thrift stores for a complete tuxedo one piece at a time (pants here, shirt and jacket here). The total cost was about $15 for everything including the requisite black bow tie and cummerbund).


Nederland Neighbors Come Visiting. As mentioned earlier, we hosted Nederland neighbors Rick and Pat who drove down to escape Nederland's winter cold, at least for a week. We kept them busy and, we hope, properly entertained. In addition to a trip to the Gourd Festival and a side visit to Rooster Cogburn's Ostrich Ranch (followed by dinner at other Nederland neighbors Jim and Sandy who fixed barbeque for us all), we toured the beautiful and historic San Xavier del Bac Mission just south of Tucson; we spent a day at the extraordinary Arizona-Sonora Desert Museum where we witnessed the raptor free flight, nesting hummingbirds up close, and samples of every desert plant and animal of the area; and we toured portions of the annual Tucson Gem and Mineral Show until we couldn't walk any more. We spent a leisurely shopping trip to the artsy-fartsy town of Tubac where the shopping was quite good and the lunch at Shelby's Bistro was as good as we remembered. Rick and Pat returned the following day to finish their shopping experience and returned with a beautiful wall hanging that had caught their eye the day before. During the week they were in Tucson, we hosted several happy hours to introduce them to our Arizona neighbors and to experience one of the relaxing pleasures of Desert Trails.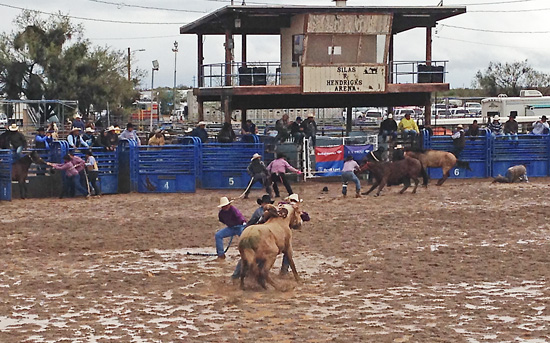 Indian Rodeo. We heard good reports from other DT folks about the rodeo in Sells, a small town about an hour west of Tucson: the 77th (75th?) Annual Tohono O'odham Nation Rodeo and Fair. We went on Saturday of this three-day affair and watched an entertaining parade down Sells' Main Street followed by the All Indian Rodeo with the usual events (calf roping, steer wrestling, bull riding, ladies barrel racing, etc.). However, we thought the star event was the Wild Horse Race, a team event where a dozen or so wild horses were turned loose in the arena and teams had to lasso, saddle, mount, and ride one of the horses. The winning team had the shortest time. On that day only one team was able to lasso a horse but never got a saddle on it. The other half dozen or so teams never got their rope around a horse's neck. To be fair, conditions were horrible: a rain the day before turned the arena and the entire grounds into a muddy slippery mess. We'll go again next year if the weather is dry like it's supposed to be in the desert.




Birthday Party

. It happens that both of us celebrate our birthdays in early March so we host a party for about 40 friends at Desert Trails. This year because of the possibility of high winds, we held the gathering in one of the park buildings. Three years ago, Judy was honored at a surprise party since her birthday was significant: it ended in a "0." This year Hughes's birthday ended in a "5," but that seemed less significant. Besides he couldn't talk or sing or give a speech due to a cold and sore throat. So he just took pictures and Judy gave the speech thanking everyone for coming. However, she didn't sing.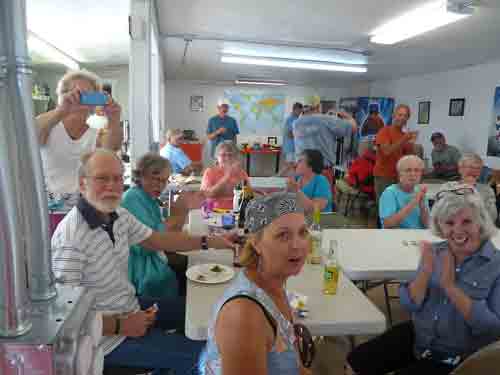 Pack Rat Invasion. On a less attractive note, 2014 will be the year we'll remember the pack rats that moved into our rig over the past year. Though they did not destroy anything, they built a pretty complete nest in the bathroom vanity: we opened the door beneath the sink where there is a switch for the bedroom slide out and faced a storage area fully packed with seed pods and cholla buds. We found the same in the two drawers next to the area under the sink. When we opened the storage area in the "belly" of the fifth wheel, we discovered more seed pods and buds of cholla along with lots of droppings. We spent the better part of the first month ridding ourselves of any sign or smell of the pesky rodents.

To make matters worse, while back flushing the sewer a few weeks later, Hughes had left the water unattended long enough to create enough pressure on the black water holding tank that it burst and flooded the area around the tank and sewer lines, including the insulation and the excess dripped out. While we knew we had a problem that required the services of the RV Doctor (Robert Rudd), when he cut the covering beneath the insulation and tanks and removed the insulation (in order to replace the tank, fix the connecting pipes, and install new insulation) we discovered the carcasses of several more pack rats in addition to the two or three we trapped with conventional mouse traps. In the end, we are left with new insulation, a new holding tank and pipes, and a more secure, pack-rat-resistant underbelly. We should be safe for a while longer.



There are other small things to remember:

•Though it's no small thing, the highlight of this winter for Lucy was winning her first Best in Show in the 2015 annual Desert Trails Dog Show. She was ran the obstacle course with little hesitation, did a long wait and came when called, and performed a few routine (for her) tricks, Most important, she acted like she knew she was "on stage," practically prancing as she did her runway parade in front of the judges. As we awaited the judges's decistion, the other 13 dogs who entered must have felt that they were competing for 2nd place. We could not have been more proud!

•This was the year we really learned to enjoy sushi even more than we have in the past. Sushi Ten became our particular favorite place to eat sushi, not only because their food is fresh and tasty, but also because they have a variety of items on their menu, they serve sake with a bomber of Japanese beer for $3.75, and they have about 30 items that are half price any time before 7:00 pm. We could eat there at least once a week if we wanted.

•For the third year Hughes attended the huge Tucson Festival of Books held outdoors on the mall of the University of Arizona. Authors of all genres, illustrators, booksellers, libraries, publishers give talks and sell their services and publications. Performers, seminars, demonstrations and good food are all a part of the attractions of this event. In only seven years this gathering of book lovers from across the country has grown to over 130,000 visitors in the two-day event.

•We discovered the beauty of Tohono Chul Park, a privately owned botanical garden in the middle of town where the street sounds are dampened by plants and fountains, where a walk becomes a stroll through flowers and shrubs. Best of all, we unwittingly arrived on a day when the $10 entrance fee was waived.
75becomes routine, though not boring. The rules and play don't require as much thought or decision-making as bridge. Shanghai rummy becomes a pleasant change of pace.





PASSING OF A DEAR FRIEND


Sadly, this was the year that Bella, approaching her 15th year with us, joined Sophie and Gordie at the Rainbow Bridge. She left us quietly when we returned home and, as she did everything, she did so without complaint. She was loyal, loving, and often made us smile. She was always game for whatever adventure might come: she had put her feet in both the Pacific and Atlantic Oceans. She has stood at 12,000' above those oceans and 282' below. She hiked in the heat of a Utah desert and across the sharp stones of the Rocky Mountains; she tunneled through 8' of mountain snow, rode confidently in Hughes's backpack on a bicycle, and slept peacefully at his side in a campground sleeping bag. She never started a fight, yet would warn us loudly of unseen dangers in the woods with a loud bark. The pictures we have gathered together show she had all these qualities as much or more than any dog who has been part of our family. Who could ask for more? We buried her next to her best friend, Sophie, where she is at peace. We visit her regularly. While we mourn her passing, we are grateful for the memories, which help to fill the hole in our hearts.



All good wishes to you and your family,


Judy and Hughes