April 8, 2014

Dear Family and Friends,



Four months is a long time to be away from home—unless you have found a new, temporary home that fills the need for friends, activity, comfort, and a sense of neighborhood. And warm winter weather, without snow, without below freezing temperatures, and without heavy winds. We think we have found all that ten miles west of Tucson at Desert Trails RV Park, where we arrive around the first of December and settle into our home away from home, a 5th wheel trailer that is permanently parked in site M-39.


[

Gary Gardner, a very talented wood craftsman from Nova Scotia and his wife, Linda, designed and carved this attractive welcoming sign that indicates who lives here

.

]

After coming to Desert Trails in our 24-foot motor home for a brief stay in the winter of 2010, we returned the following year for a month; the next year we stayed for two months. As you might suspect, two adults and two dogs in a 19-foot (inside dimensions) enclosed motor home was a test of patience and comfort. We liked where we were so we made the commitment to turn snowbirds when we purchased the 35-foot trailer three years ago. Now we drive down from Nederland to Tucson in a car, open the door, hook up the electricity, sewer, water, connect the satellite TV, turn on the propane and we are ready to set up housekeeping for the next four months.

[

Setting up takes more time than one would think. Granted you want to make sure everything is done properly: water connections are tight and not leaking; the same for the sewer hook up; once the electricity is connected, we move our three slides out, hoping everything moves smoothly; we open the propane tanks and check that the stove and hot water heater are working; the satellite TV antenna needs to be properly positioned—this takes the most time and some welcome assistance from veteran RVer Russ who has the know-how and the satellite finder and positioning codes. All this should take no more than an hour or two. But it took us 4–5 hours due to all the folks who stopped by to welcome us back and talk about the past eight months. As usual, settling in is a leisurely and comfortable process, not one you really want to hurry

.]

We have described the schedule of activities in previous web sites. There have been few changes since that was written three years ago. We continue to do the weekly group bike rides and hikes and geocaching trips, we play cards 2–3 nights a week, play bingo (though we gave it up after not winning anything for two months) and enjoy the twice-weekly entertainment (more on this below). The Christmas and New Years dinners brought most everyone in the park together for some fine food, as did the potluck lunches. We still feel like we're "on vacation" while we're there.



However, we had some new experiences that highlighted the past winter:


Kitt Peak Observatory

About 40 miles west of Desert Trails is the largest collection of research telescopes in the world—26 in all—most privately owned, others government operated. We joined three other couples to take in the Nightly Observing Program at the National Observatory. We were told to expect cold temperatures, in spite of the balmy +65° daytime high and an altitude of only 6,900'. We wisely took their advice and layered in polar fleece, down, wool caps and gloves. It did get cold at the top of Kitt Peak, especially sitting in an outside observatory with windows open to the skies waiting our turns at the telescope. Every thirty minutes our group of about 20 moved back and forth between the chilly telescope experience (which was disappointing for the amount of time we had to peer through mid-size telescope) and the warm, inside discussions/demonstrations about viewing the night sky.


[

A whole range of other programs on a wide variety of topics pertaining to astronomy are available throughout the year appealing to both adults and families. The night program is but one of over a dozen

other opportunities

visitors have at Kitt Peak, including picnicking and enjoying the desert views

.]

Upon leaving, we were asked to drive with our lights out for the first mile down the hill so we would keep the ambient light to a minimum in deference to the researchers who were working at night. The headlights on some cars, we learned, could not be turned off and a flap of cardboard was placed over them by staff. We also learned that on some cars (e.g., Judy's Subaru) pulling the hand brake back one click turned off the lights and did not interfere with driving. So, all in all, we learned more than we expected that evening.


Ghost Towns

We discovered that fellow DT RVers Christine and Bill are as interested as we are in poking through ghost towns and old mines. We thought we might even bag some geocaches along the way to and from our destinations. The two closest ghosts of greatest interest were

Harshaw

and

Ruby

, each about an hour's drive to the south.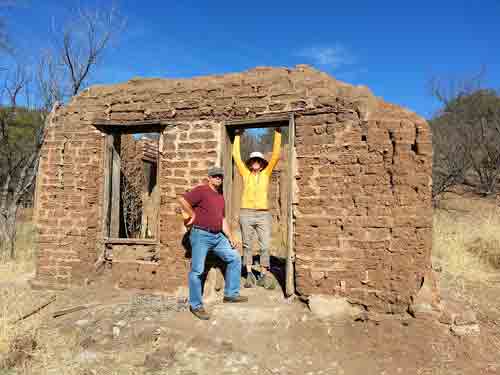 Harshaw's

remains lie in a small swale of sycamore trees about eight miles south of Patagonia. Its history as a major silver producing area is well documented and, though the town boomed in the early 1880s—the population reached 2000 and the silver ore was rich and seemed unlimited—looking at it today takes some imagination to think of this area as once home to a railroad station, newspaper, Catholic church, post office, saloons, shops, a school, boarding houses, and a hotel along a mile-long main street. After just a few years of strong production, fire, a drop in the quality of the ore, and falling silver prices caused most folks to move on to more promising areas: Harshaw's boom and bust is a story typical of western mining in the 19th century. There was a brief attempt to reopen the huge Hermosa Mine and other mines in the area by a Tucson businessman James Finley, but further decline in the price of silver, Finley's death, and the closing of the post office left few residents. Most of those few who remained left in 1929 following a forest fire that swept through the area, though Harshaw was spared. By the 1960s, squatters were finally kicked out of the dilapidated buildings in which they were living and the Forest Service began to clean up and reclaim the town site.

Very little remains of Harshaw as of this winter of 2014. We saw one derelict building remaining (and it looks like it won't be standing very long unless someone steps in and does some reconstruction—or at least props it up as Bill and Christine are doing) and there are few foundations or remains of other buildings along the town's main street. No Trespassing signs warn travelers to "stay out of town," though there is no indication of who owns the land (and no town). Reliable web sites seem way out of date in picturing Harshaw, and visitors who drive the dirt road from Patagonia will be disappointed if they expected to see what their books and web sites depicted.


On the day we visited we were drawn to the small and surprisingly well cared for cemetery on the side of a hill opposite the townsite. Sources maintain this is "essentially" a family cemetery maintained by members of the Soto family whose ancestors once lived in the area. Their house once stood nearby and was used until recently, but there was no sign of it on the day we were there. (It may have been well hidden.) However, there were plastic flowers everywhere that brightened many of the graves, the weeds had been cut back, and there was little sign of vandalism. Shaded as it is with a magnificent stand of healthy sycamore trees, this final resting place for those buried here offers beauty and tranquility—until the ATVs come roaring down the back roads!

Attempts to locate Mowry, the next ghost eight miles south of Harshaw were again frustrating (we had looked for it two years ago). It was founded a few years before Harshaw and was similar to Harshaw in size, production, and length of existence. Maybe next year we'll find it, and push on further south to Washington Camp, Duquense, and Lochiel, where Fray Marcos led Coronado into what is now the US and was once the stomping grounds of Pancho Villa (and today's reportedly unfriendly residents).


We ended our day with an excellent lunch at the Velvet Elvis Pizza Company who served us homemade soup, crisp delicious salads, and the tastiest pizza we had all winter. Bella and Lucy joined us at a table on the shaded patio and, not long after we sat down, owner Cecilia San Miguel sat at the next table to enjoy her own food and tell us a bit about the restaurant. This is the place to eat in Patagonia without question. We almost lingered too long over lunch: we just made it across the street for ice cream cones to the Gathering Grounds before they closed at 4:00.




Ruby

is, unlike Harshaw, a well intact town that is owned by a "private group" and attempts are being made to restoration. A guard/caretaker who lives on "snob hill," the section of the town where the well-to-do folks lived, collects a fee of $12 per person, offers an poorly designed map of the town, and sends you on your way (though other visitors had reported that he was particularly chatty on their visit and offered a bit of history and local color to their visit).


Ruby began in 1877 as Montana Camp, named after the productive Montana Mine where men mined gold, silver, copper, lead and zinc. In fact, by the 1930s it was the leading producer of lead and zinc in Arizona. The original postmaster renamed the town after his wife when the post office opened in 1912. The Eagle-Pitcher Mining Co. took over the mine in the late 1920s and the Ruby became a company town, with a school, jail, gas station, houses, a pool hall (according to the map, but never found) and a company store. The mine closed in 1940 and within a year Ruby went ghost. Nevertheless, along with the Vulture Mine near Wickenburg, Ruby is one of the best preserved mining ghost towns in the state.

In addition to buildings, the head frame, and other paraphernalia pertaining to mining activity that remain to be seen and walked through, the three-room school house stands in remarkably good condition, a memorial to the 150 children who studied and played there up until 1940. The metal slide looks as precarious today as it probably was then, the outhouse stands tall and sturdy (two doors, one for him and one for her), and the outdoor basketball court has been taken over by weeds. Inside, the classrooms are large, (150 kids divided by three rooms suggests overcrowed classes by today's standards), the blackboards preserved, and in an area that may have been a cloakroom or storage room there stands an upright piano with most of its ivory keys remaining though few work. Sitting at the picnic table on the "playground" you could almost here the kids laughing, squabbling, and talking with each other in the cool mountain air. In fact, Ruby is one of the few ghost towns we've visited that evoked the sounds of human activity so strongly.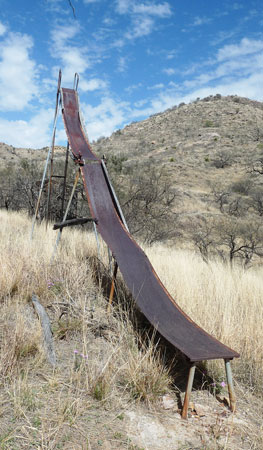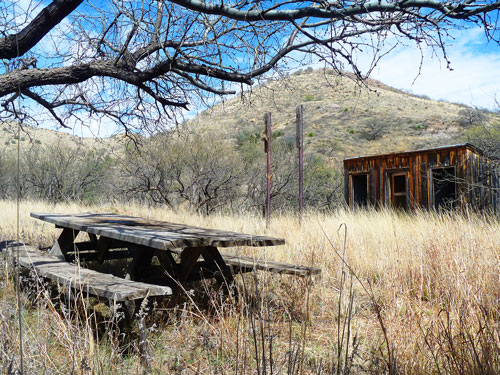 Bill and Hughes looked hard to find the mine entrance as per the map, but without success. However, the day was clear and warm, the dogs got plenty of exercise, and we enjoyed the sense of a real town of real people living a hard life in an isolated area on the edge of the Mexican border.

We came to Ruby from the east off I-19 from Rio Rico to Arivaca over SR289 that brought us over a pretty good dirt road for about ten miles to Pena Blanca Lake, good for fishing, picnicking, and light hiking in cool quiet surroundings. We stopped there to exercise the dogs and bag a couple of geocaches. Ruby was another 20 or so miles from there. Leaving Ruby, we drove another dozen miles to Arivaca (surprisingly listed as a ghost town in many sources, when in fact it's merely a small ranch town that has seen better days, and may be on its way to become a true ghost). We had hoped to find a place there for lunch, but had to push on another half hour to Wisdom's just outside Tubac. Wisdom's is one of our favorite Mexican restaurants in Arizona, but it's closed between 3:00–5:00 and the wait would have been too long. So we drove in to downtown Tubac where we luckily found Shelby's Bistro, with a welcoming patio and wait staff (especially to dogs), good margaritas, and excellent food. It was a tasty ending to a long day. We'll go back again.





Wings over Tucson



When we stood on the top of Kitt Peak, we saw the lights of Tucson, but also of many surrounding communities and neighborhoods we didn't really know existed, at least to the extent that clusters of lights in the desert represented. When the ground is flat and the vegetation about eye level, there is a lot you don't and can't see—except if you get up higher. Hughes and Bill decided that an airplane ride over the city and surrounding area would be a great way to get a more complete understanding of how the region is laid out and how many people are scattered over the desert and where. An opportunity presented itself and the two of them headed for Ryan Field, six miles west of Desert Trails.

We made reservations for a morning flight and hoped for good weather and little wind. We arrived early so that we could have breakfast at Todd's, a terrific restaurant on the edge of the airfield with an especially good breakfast menu, including homemade corned beef hash, waffles with pecans, and the friendliest waitresses this side of Mulberry Street.

When we got to the offices of Kelly's Aviation, we met Kelly (the owner/boss) wearing a University of Toledo sweatshirt! What a bunch of surprises: the owner was a woman (not really very surprising, but our expectations were more along the lines of a old grizzled Alaskan bush pilot who got tired of cold weather and longed for a warmer climate); Kelly was wearing a sweatshirt in Tucson midday in February—it's hot for goodness sake; and she is a fairly recent graduate of the College of Education at the University of Toledo (Kelly Stites earned a master's in secondary education) and taught English in the Toledo area for several years before chucking it all, relocating to Tucson, and combined her interests in flying and teaching. She also has a really cute dog (Tell me the dog isn't Lucy's twin! Compare her with Lucy's picture at the end).


However, it was one of her pilots, Cathy, who gave us the flyover of the greater Tucson area: the city, the foothills where we often hike (Sabino Canyon, the Catalinas, the Tucson Mountains etc.) and the desert area west of town where Desert Trails is located. We had a very smooth ride, took lots of pictures, and landed gently.




Hiking and Biking



We have usually joined the group rides and hikes, but this year we extended our efforts. Hughes tested his knee shortly after we arrived at Desert Trails. Last year, before the knee replacement, he didn't go on the group hikes, which typically were 6–9 miles in the area mountains. Thursdays Judy went hiking and Hughes stayed with Bella and Lucy. This year, Hughes went on the first two hikes: to the summit of nearby Wasson Peak (4687'), about 7 1/2 miles and an elevation gain of about 2000'. It is not nearly as scenic as hiking around here, but a good test of how his knee was performing seven months after surgery. The second week he hiked to Seven Falls in the Sabino Canyon area north and east of Tucson. The Seven Falls area is very scenic ("Everyone who lives in Tucson should make the trip at least once," says one guide) and generally easy with some climbing. The last mile on the return was on a paved road that seemed to last forever. The eight mile hike seemed to push his limits and he decided not to go on hikes longer than five miles. He climbed relatively easy and fairly scenic Brown Mountain (a five mile hike) just before we left for home, along with one of the many Jims at DT, a fellow RVer who had partial knee replacement a couple of months before and who wanted to use Brown Mountain as a test of his recovery. They both did just fine.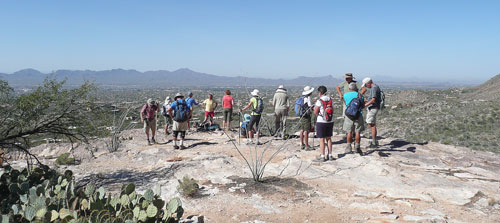 Judy continued to represent the hiking Moirs the remainder of the winter. However, she did take a larger interest in biking, especially longer rides either by herself or with one or two other riders. We both usually went on the Monday morning group rides of 10–12 miles ending with lunch. In addition, Hughes rode solo or with another person for 6–12 miles, whereas Judy rode 20–35 miles as often as she could find a partner. And if she couldn't find a partner, she go off on her own for about 30 miles through Saguaro National Park (West) and Tucson Mountain Park to the north. The challenge of these rides is the lack of a reasonable shoulder to ride on (and often no shoulder). More to both our liking was riding the bike path that partially surrounds (and will eventually completely surround) the city. We would occasionally drive to an access point and ride 25–30 miles out and back; not particularly challenging nor scenic, but we could ride safely and get in whatever distance we wanted.

We also watched a professional bike race in downtown Tucson, a multi-category event that featured amateur riders, professionals, teens, and a men's and women's event. Being right on the course, close to the riders in a circuit (criterion) event, was exhilarating; we could feel the wind they created and hear the sound of the tires on the pavement. It was quite different from watching the riders in the Colorado Pro Challenge last year as they past quickly through Nederland. Just once on their way to Boulder.



[

Scattered throughout the rest of this letter are desert flowers and animals that caught our eye, and friends who gathered for potlucks and happy hours.

]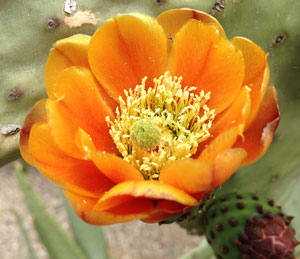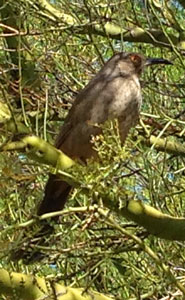 Evening Entertainments



Tuesday and Friday evenings the park provides entertainment by local and traveling musicians playing a variety of music, from jazz to folk to mariachi to bluegrass to soft rock, and everything in between. There is usually no charge but a hat is passed and donations are expected. This is not a new feature of life at Desert Trails, but we thought several performers are worth remembering:

•

The Appleseed Collective

is a group of six musicians from Ann Arbor who play and sing a style of blues/folk that was a highlight of our winter. We even bought CDs of their music and continue to find it playful and joyful with a high degree of musicianship.

•

William Florian

is a former member of the New Christy Minstrels in the 1970s. His easy style of singing and choice of familiar works by Peter Paul and Mary, John Denver, Pete Seeger, and other 60s folkies was a highlight for most of us who sang along.

•

Mariachi Atzlan de Pueblo High School

(Tucson) plays at least twice a season and always to a packed house. Get there early to get a seat. The music is of highest quality: they sing and well as play instruments, their director John Contreras describes the style and locale of the pieces, and they often dance (sometimes with members of the audience). Their confidence and stage presence as high school students is amazing. And they're still in high school!


•

The Ronstadt Generations

share music that has a long tradition, especially in the Tucson area. Michael Ronstadt (Linda's brother) is the eldest of the trio and learned the music of his southwestern and Mexican heritage from his father and extended family. His sons Michael and Petie help carry on the tradition. Alex Flores, Sam Eagon, and Aaron Emery join them to make up an ensemble that is innovative while keeping within the traditions of their heritage. They are terrific and polished performers.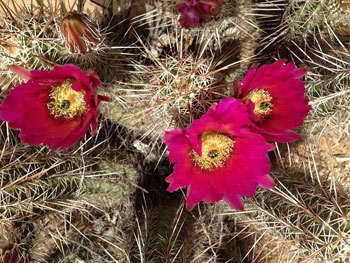 •Lisa Otey and Diane Van Duerzen are well known performers in the Tucson music scene as well as around the country. Lisa plays keyboard as though she has 16 fingers and sings with gusto equal to her playing. Diane teaches elementary school by day and is a bluesy, sultry, slightly flirtatious torch singer at night. Together they offer an evening of gentle, romantic music that brings a smile.

One group we will remember for a long time:

Desert Sun String Band

. Charlie Sides organized this group and was well known and respected in the Tucson music community. The group was not 20 minutes into their first set when Charlie simply collapsed at the end of the song and lay on the stage to the dismay and horror of all—except Judy who knew a heart attack when she saw it, and from the second row moved swiftly to the stage and began CPR and kept it up until the local fire department arrived and relieved her. Charlie was declared deceased that night or the next day. We attended a concert at the Fox Theater a few weeks afterwards where he was remembered publicly by the performers who praised his contribution to the Tucson music community.


[

There was one performer we were much impressed by, a guy who gave a history blues music through the songs he introduced and sang. His voice and playing were authentic. We have forgotten his name. If you remember it, please RSVP. Please. He was too good to forget, and yet.....

]


Food and Eating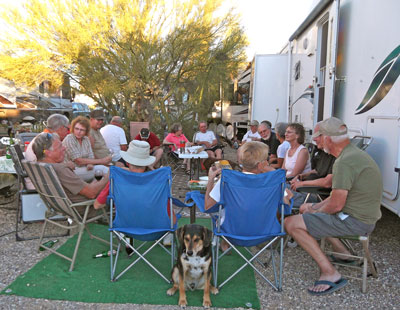 It isn't easy to lose weight at Desert Trails, though Judy managed to return home lighter than she left it. Amazing. Even so, we ventured to some tasty places we'd like to remember, though for different reasons:

•

Gus Balon's Restaurant

, though it's on the other side of town, remains the place to go for breakfast, which is generally ordinary except for the cinnamon rolls (One reviewer on

yelp.com

said "These things are bigger than your head, people." Hughes received one in the place of a birthday cake! Thanks, Bill.

•We finally got a hamburger at

Tiny's

, a nearby roadhouse/biker bar. Well, Hughes got one (actually two), but not vegetarian Judy. They really are as good as most people say, though we did not have any at The Original Hideout this year and Hughes's memory of them is that they are as good.

•On the other hand, we had Sunday brunch twice at

The Original Hideout

and for $6.95, it cannot be beat: omelets to order, pancakes, waffles, french toast, meats (including ribs), fruit, Mexican breakfast foods, and deserts. We went with friends and lingered over our food and coffee.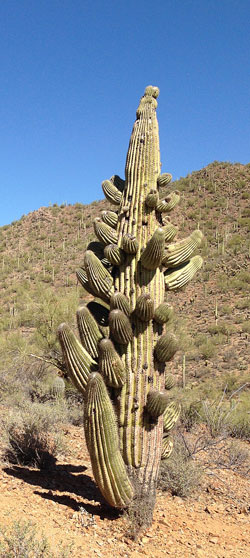 •We tried the highly rated tamales at the

Tucson Tamale Co

. Next time we'll go strictly take out, like lots of others did while we sat there next to the cold drink refrigerator by the entry door. Great tamales but the ambience does not lend itself to "going out" for dinner.


•A hankering for Thai food sent us searching for

Char's Thai Restaurant

for delicious dinners selected from one of the most comprehensive menus we've seen: e.g., choice of eleven soups, an extensive list of vegetarian dishes, etc. all at very reasonable prices. We'll see them again next year.

•Yes, the

Texas Roadhouse

is a chain (over 400 in nearly all states: none in Hawaii and only one in Alaska). Yes, it's noisy and the servers are busy all the time except when they join in the line dancing. But you know you'll get a good steak every time just the way you ordered it. And we did.

•We always look forward to

Desert Trails potlucks

. The burgers are always done to order and this year, by popular demand, veggie burgers from Costco were on the menu and we both learned to really enjoy them. Add to the taste of burger or hot dogs, there are deviled eggs, great baked beans, ambrosia, wide varieties of potato salads and other sides, topped off with desserts from the time tested recipes from good bakers proud of their creations. You know you're going to eat well. Bring your own setting and drinks.


[

There are also monthly breakfast potlucks which we did not attend this year, though Hughes is determined to attend regularly next year. The pancakes, eggs, and sides are always a very welcome and tasty change from his usual oatmeal.

]

For the first time this year there were food trucks welcomed into the park, different ones each on Wednesday and Sunday nights: Chinese, Mexican, beefsteak and burgers, ribs, and BBQ. We were glad one was there the night we arrived (we had not food shopped) and the food tasted good. The second time we tried another food truck, it was mediocre. We did not try a third one.

Happy Hours are something of a tradition at Desert Trails, though their popularity and number seemed to be on the rise this year. They are usually spontaneous and quite informal: you bring your chair, your drink, and, if you're inclined, a snack. They generally start at 4:00 pm and folks tend to wander off sometime after 5:00-5:30; some stay as long as 6:00 or even later. This is not to be confused with dinner, though it's been known to take the
place of dinner.


In our west side neighborhood at DT, we credit Canadians John and Donna with initiating the increased awareness of this pleasant end-of-the-day respite. They hosted happy hours almost daily: at 4:00 they sat outside by their rig with their wine glasses and a bowl of snacks. Folks seemed to gravitate there and suddenly their narrow space would fill. The consistently pleasant, dry weather also encouraged the rise of happy hours. They probably went on in other neighborhoods of the park, but the fact that folks outside our neighborhood showed up indicated that there were probably fewer opportunities elsewhere.

Occasionally happy hours were organized and word of mouth invitations put out. In fact, we hosted three: one on our birthdays where we served cheesecakes to about 40 folks and at the end of the evening lit a campfire to warm those who wanted to stay on. The other two we hosted were to bid farewell to friends who were leaving for season. We had an equally large turnout for those. Still, folks brought their own chairs, drinks (though we had a backup supply for those who ran out), and snacks.




So Good to be Home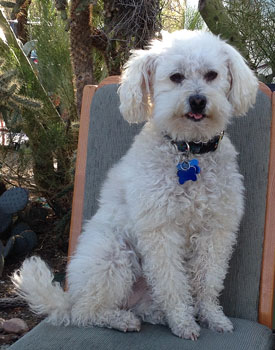 Leaving Desert Trails this year was bittersweet. We enjoyed the new people we met and renewed many past friendships. Our social life was like our weather: warm and inviting, affording many good times. The people and the weather encourage us to return again. However, we were made painfully aware of some health hazards that are endemic to living in the desert, and in a somewhat close environment where coughs, sneezes, and other mild diseases can spread quickly and often. We have been fortunate for the years we've been living there to have escaped these contagious maladies that have laid up many of our friends for days. Accidental injuries aside (like Judy's wrist injury from a fall off her bike), we have been able to enjoy every day.

Lucy was not so fortunate. There is a widespread fungal infection found in the southwest and especially in Arizona's Sonoran Desert called Valley Fever that strikes both people and animals. It is caused by breathing in spores of the fungus

Coccidioides

that are carried in the dry, dusty air that we all breath. There are few practical ways to avoid breathing in the fungus and early detection can avoid improper medications and can lessen the length and severity of the disease. It's not contagious and the symptoms get confused with the flu. In short, Lucy got it and Bella did not, nor did we. Prompt diagnosis by Dr. Mary Callahan, a competent vet at the nearby Mission Pet Clinic, put Lucy on an appropriate medication (verified by the vets at CSU's outstanding Veterinary Hospital in Fort Collins when we returned home) and she has begun to show strong signs that she's past the worst. Coming back to familiar surroundings, getting rid of the leash, and breathing truly clean air have also helped immensely. She still has an occasional "barking" cough, but less often now, and her energy level and interest in her surroundings are noticeably higher. She's recovering nicely for which we are grateful.

[

Note: Compare Lucy's likeness with that of Kelly Stiles' pooch shown earlier in section "Wings over Tucson."

]

Bella is also responding well to being home—increased energy, more active, and curious—and her cardiologist said she's doing well following her scheduled six-month check up.

The stress we both have felt because of Lucy's condition is easing as we return to our normal Nederland routines. We can take long walks with the dogs off leash in the woods (at least in places where there is little or no snow), the taxes are done, our drivers licenses are renewed, we are getting checked out by our respective medical teams, and getting together with our cribbage and bridge playing friends (no one seems to play pinochle up our way!). Hughes will rejoin his book club and he continues making music in preparation for a birthday party gig next month. Judy alternates running and biking, weather permitting. She is also knitting up a storm and will begin the big project she brought with her from Arizona: finishing a beautiful quilt that was given to her by our DT neighbor Carole. Both of us are gearing up for a much anticipated trip to Italy with our daughter's family later this spring.

We are also attempting to introduce the concept of "happy hour" to folks up here. We enjoyed that part of Desert Trails life. However, up here it's a challenge since "dropping by" is difficult and not customary because of the distance between houses: carrying chairs, drinks, and maybe a snack for half a mile may be asking too much. We may have to bend the "rules" to fit the mountain setting. Any suggestions will be most welcome.