May 22, 2005



Dear Family and Friends,


Does it seem to you that the past five months have been a drag? Barney, our bus stop bear who greets visitors, will tell you it's been far more gloomy, cold, gray than is typical in sunny Colorado.

Tres midwestern

!

This has seemed like the longest winter we've had since we left Ohio (where the gray skies and the cold damp air made winter a six month long event). At first we assumed that it was just us who thought the time passed slowly, but we heard the same thing from friends and neighbors also. We still have a few lingering patches of snow in shady areas and along north facing slopes, perhaps the remains of a two-foot storm last month. I think we've burned more wood this winter than ever: maybe four to five cords? However, today is about 80° and the weekend promises to be warmer yet.

The pasqueflowers shot up on schedule in April despite the snow. Our few daffodils braved the snow. The hummingbirds surprised us the last week in April and we put out feeders in spite of below freezing temperatures at night. Crossbills, grosbeaks, finches, pine siskinds, and juncos have joined our year round nuthatches and chickadees. Even the grasses in our "meadow" have begun to green up. Judy runs in shorts in the mornings, and we've cleaned out the wood stove. We might have some spring after all. Or maybe we'll just skip spring and go right to summer. Of course, we've had snow here every month except August since we moved here, so we won't be very surprised if the weather does an about face.




Dead of Winter Project



We were home most of the time since our Christmas trip to be with Dan and Debra and the grandchildren in Milton. Our inside project this winter was to paint the rest of the main level (guest suite, office, and hall), which we did easily enough. After 12 years of white, white, white, guests now can rest more easily in rooms that are a relaxed sage. The office and halls are a warm beige that matches the great room (in truth, we had several gallons of both colors left over from painting our bedroom and the great room last spring, and we liked them both).

The most sweat came from scraping the "popcorn" ceilings and applying three coats of white: a primer, textured/knockdown paint, and a final coat. Removing the old ceilings was messy and dusty, but the difference is startlingly attractive by comparison and was well worth the effort. We should have done it years ago. (How often have we said those words!) I wanted to move on down to the rec room and redo the ceiling there, but Judy wanted a break from the mess and dust. Perhaps this summer or fall.




Late Spring Project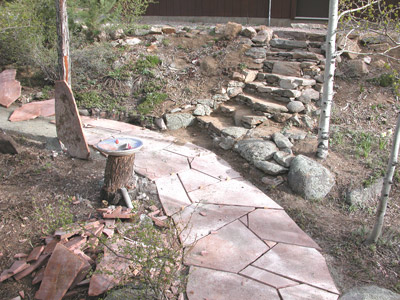 After living here 13 years, we finally decided that we would like to spruce up the outside yard—the path to the front door (before on the left, partially done on the right) other paths on the west side of the house and the back "patio" area. We enjoy being outside, but we've not had a real patio. On top of that, the flagstone I laid during our first summer/fall here has begun to shift and heave and crumble. So, we've been working with a local landscape designer, a group of Nepalese stone masons, and our favorite carpenter, Fred, to design and build a real patio, replacing the flagstone paths around the house, and enlarging the deck off our living room.

Work began a week ago, and in a short time Lhakpah Sherpa, his brother, his cousin, and his 60-year-old mother have already made an encouraging transformation. They have another 7–10 days of work, but the old material is gone and there are enough new stones in place and low walls built that we can tell we're going to love having our sundowners outside on the new "pah-tee-oh."

When they finish and cart away all the scrap stone and gravel, Judy and I are planning to stain the house with the help of a very tall ladder. With that done, only the removal of the popcorn ceiling in the lower level/rec room remains as our last project in this go around. After 13 years, maybe we will relax (except for the continual cutting, splitting, and stacking fire wood for the next winter).




Other Winter Activities



•Interspersed with the remodeling projects, we continued to work the Visitors Center on Saturdays (though we are going to be switching to Thursdays); we meet with our monthly book clubs (feel free to write for suggestions); we enjoy neighborhood dinner club each month; I make music every other week; Judy has been cross-country and back country skiing at least a few times a week. Captain Judy retired from the Fire Department at the end of last year, so she doesn't go to training meetings, officers meetings, nor does she respond to the pager anymore. And doesn't miss it.

•Judy continues to run 5–6 times a week, and I've gone back to running on an irregular regular basis. To get ready for the upcoming Bolder-Boulder 10K on Memorial Day, Judy has joined a training group headed by ex-Olympic runners Colleen De Reuck (recently set the masters mark in the 25K), her husband Darren, and Mark Plaatjes, part of the cream of Boulder's racing community. Her goal is to shave at least two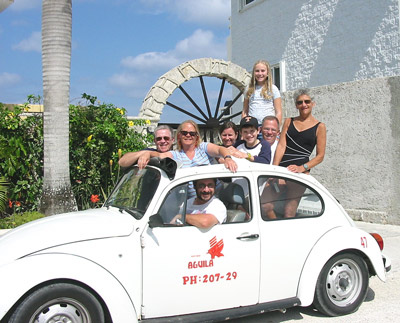 minutes off her last year's time. You can find out how she did by going on line sometime in June when the results are posted. Go to <http://www.bolderboulder.com/results.cfm> click "2005 Age/Gender Category Results" and look under 63-year-old females. She should be the first one.

•We've also been preparing for our trip this fall to Bhutan, with side trips to Cambodia, and Bangkok. We've been to several organizational meetings and started to sort through the equipment we have to take with us and decide what we might need. In addition, I volunteered to organize the "side trip" to Angkor Wat. We thought that after two weeks of trekking/camping in the Himalayas and two glamorous days in Bangkok that we should spend at least three days touring the ruins of this incredible site. I'm sure you'll hear more about the entire trip in the fall.




Family Vacation in Cozumel



In mid-March we took what is probably our final family trip that we're paying for. We chose Cozumel because it was where we had our first family trip in 1994, and we all had good memories of our week there: snorkeling, diving, pool time, card playing, great seafood, and being together with our kids, their spouses, and our grandchildren. We had a grand time as you will see in the photos and write up online.




45th High School Reunion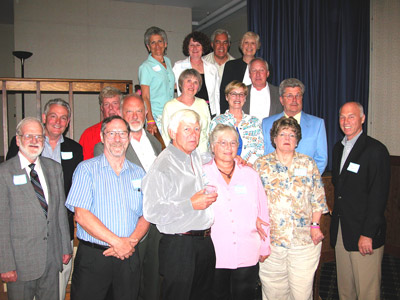 Judy graduated in 1960 from New Hope Solebury High School in New Hope, a small town in Bucks County, Pennsylvania, less than an hour north of Philadelphia. Judy and her two girl friends, Pat and Irene, decided last year that they would like to celebrate their 45th high school reunion in grand style. Since the fall, the three have been working the phones and the internet to locate each of the 48 graduates and urge them to attend. They found most of them: six remain unaccounted for and two are deceased. In all 16 attended the dinner, several with their spouses; three others came to the afternoon cocktail party but skipped the dinner—and so didn't get their faces in the group picture taken that evening. A more complete report on the day's events can be found here.

While we were there we visited the one-room school Judy spent her first two years with Mrs. Fitting in a split 1st and 2nd grade class. The small school was built in 1755 and rebuilt in 1810 and 1870. Unlike buildings in Colorado that are revered if they have survived a century, many buildings—barns, houses, schools, et al.—are still in use 300 years after they were first constructed. Today the one-room school sits just across from the "new" elementary school where Judy finished grades 3–6. The building serves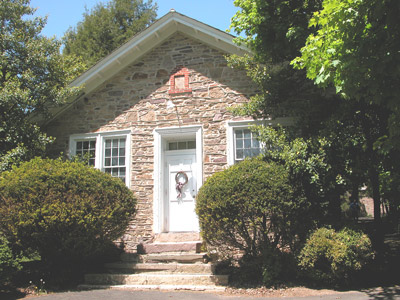 as a facility for computers and for their gifted and talented programs. We also visited the newer and much expanded middle school and high school complex.

We took pictures of the first house Judy lived in on Lower York Road (Rte 202), across from the Best Western Motel. On the west side is the former Bud Schulberg estate (the main house survives) where Judy's dad was caretaker for a while and, on the east side, the site of the Bucks County Motel her dad later built which is now a posh housing development off Shire Road. Lots of good memories.

We walked the streets and shops of New Hope and crossed the bridge to Lambertville (New Jersey). Many of the New Hope shops that had once been art galleries or antique shops have been converted to gift shops that now cater to the tourists throngs that clog the narrow streets and sidewalks daily. Parking is limited and parking tickets seem to be an important source of income (read the information on the meters carefully; we did and still got two tickets in three days!) Even Peddler's Village in Lahaska, once an attractive complex of antique stores and upscale shops seems less interesting than even the factory outlet stores that have gone up across the highway. Lambertville, which was once a blue collar, working class town, has gone upscale and may be more interesting than New Hope is. Another sign of changes.

We drove up to Centre Bridge on the Delaware River and saw the effects of last month's devastating flood. We returned the next day to run the four miles back to New Hope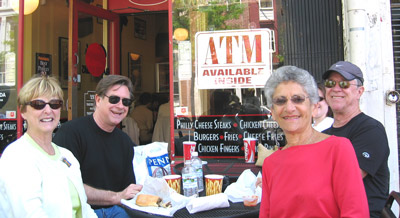 along the towpath that parallels the Pennsylvania Canal. It's a beautiful area with lush woods, no traffic, and smooth surface, and enough room for runners, walkers, and bicycles. If we lived there we'd be on it every day.

Sitting at breakfast at a local restaurant one morning, we had another "it's a small world event": I was greeted with a kiss at the table from a former student and old friend from our Ohio days. Tom and Mary Ann (she did the kissing!) Stibbe, who still live in Sylvania, were in the area visiting friends and just happened to come to the same place for breakfast at the same time. I didn't really see her coming. I didn't have a chance to see the looks on the faces of the others at the table, but no one was more surprised than I!

At the end of the trip, we walked through the streets of Philadelphia to see the Liberty Bell (a free and informative tour), Independence Hall (by reservation only, and we didn't get there in time), and Betsy Ross's house (the legend of her sewing the first flag has as much truth as Washington cutting down the cherry tree). We topped off the day with a genuine Philly cheese steak from Sonny's, a grand treat that's still made with Cheeze Whiz!


Irene, Lee, Judy, and I missed sharing the trip with Tom and Pat who, because of illness, was forced to miss her 45th high school reunion as well as our 10th annual trip together. The pictures and the stories they'll hear will have to suffice for now.