August 23, 2008



Dear Family and Friends,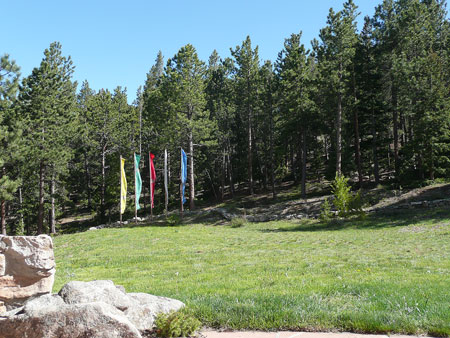 I'm writing this on our patio during the last week of summer we're still home. Our plane to Vancouver for the start of our Alaska trip is this Wednesday, and I'm guessing that when we get back in the middle of September the aspens will be golden and the air much crisper. So, while we still can, the dogs and I are basking under a clear blue sky, enjoying gentle breezes and perfect temperatures. (Judy, unfortunately, has errands in Boulder where it's closer to 90°) It's the kind of day that makes us appreciate that we live where we do. We're very fortunate. We have abandoned the notion of moving down below, where it's warmer, flatter, and nearer to "things." We've stopped looking at the real estate ads and are thinking more about what we might do to make our lives here even more comfortable. So, there. That's where we stand for the foreseeable future: at 8240' on our ten acres of pine, spruce, fir, aspens, and, in the early spring, a glorious meadow with Bhutan prayer flags that send wisdom and power and good luck to each of you with every time the breeze blows. And it's paid for! Why would we want to leave?


I. THE VISITORS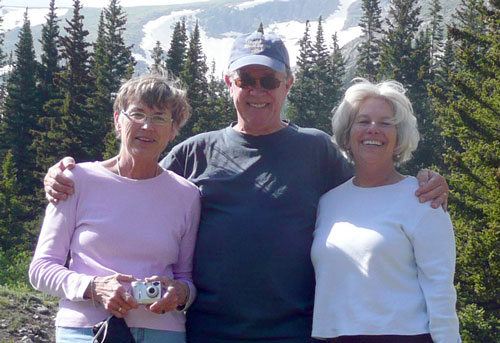 At my high school reunion last fall, I had invited several high school friends to see for themselves what a beautiful area this is. Two members of the class of 1957, Darla (Grainger) and Cynthia (Quam), decided to take us up on the invite and spent four days with us over the Judy 4th holidays. They watched and listened to the Barker Dam Brass Band play in the town parade, and watched the fireworks from a house overlooking the reservoir hosted by a fellow member of McGinty's Wake. Several folks brought instruments that evening and we had a small house concert to go along with the food and fireworks. Both Darla and Cynthia said they were well entertained during this very musical holiday and saw our townsfolk for who they are. I think they had a good time.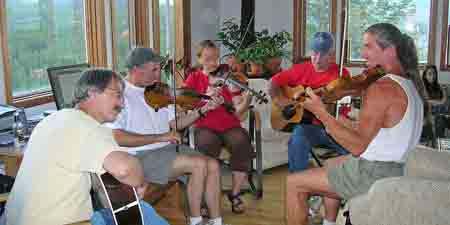 We also hiked along the headwaters of Middle Boulder Creek at 10,000' where the 4th of July Trail takes off for the high country. There was still an abundance of wildflowers along the creek, in the meadows, and alongside the road. My low altitude friends handled the elevation without getting giddy or dizzy. Another day we shopped Boulder's farmers market and an outside art show, and had a lunch

al fresco

at the historic Chautauqua Dining Hall. We capped off an evening with a private showing of the original movie, "Grampa's in the Tough Shed," a short film that chronicles another event in the varied and colorful history of our little town. They even got up early to watch Judy finish the Trespass Challenge 5-mile race and followed up with breakfast together at the Pioneer Inn.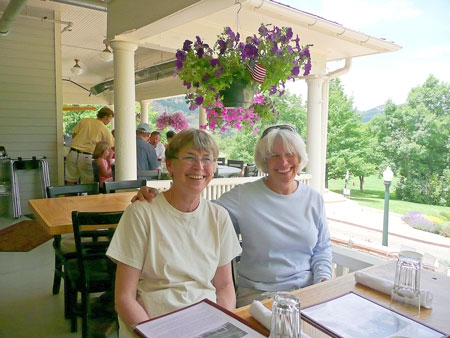 In their thank-you notes when they returned home, they each sounded sincere when they said they had a great time. I have to take them at their word; I know I enjoyed seeing them again after 50 years. (I had "married" Darla in the Senior Play,

Our Town

; Cynthia and I had worked for two years together on the yearbook, the high school newspaper, and the town weekly newspaper: she did high school news and I wrote sports.) Judy met them at the reunion last October and enjoyed spending a longer and quieter time with them again.



Hedy and Don Bressler came for a too short visit from their home in Florida. Hedy, with whom we went to college, has come several times in the past (her son and his wife life in the Vail–Beaver Creek area west of here), but Don had not come with her before. They are both bright and delightful to be with, and we used the few hours we had to catch up on the past year, talk computers (Don is a cyber-guru), and enjoy some food and drink. They promised to come for a longer stay next time.


II. THE SUMMER RACING SEASON

What a varied and interesting series of races Judy ran this summer!


• Trespass Challenge 5 Mile (Nederland). Judy's run this one before and knew to expect tough hills, rough trails, and an overall grueling hour of demanding running. The number of runners is usually less than in races "down below," but those who enter run with fortitude and a desire to challenge themselves at altitude. She won her age group but, more important, ran nearly five minutes faster than last year.

• Shambhala Peace Day Trail Race (Shambhala Mountain Center near Red Feather Lakes). This was the first time this isolated Buddhist center has sponsored these races (a 5K and a 15K) and the setting was in the mountains west of Fort Collins and north of the Poudre River. We camped a few miles away at Bellaire Lake and drove over to the site of Great Stupa of Dharmakaya we had wanted to visit for quite a while. The race attracted more people than we anticipated (it's on a series of dirt roads not close to anything and accommodations are limited) and Judy not only won her age group but was the fourth woman overall. (A few days later I met a fellow runner who chuckled about the results he read in the paper, noting that the first three women were either in their late 20s or early 30s, followed by a 66-year-old coming in fourth!)


However, what completely surprised us, in an uncomfortable way, was the army camp atmosphere within the retreat grounds. Unarmed military-clad men and women "greeted" us at several points upon entering and were prominent among the spectators and competitors everywhere on the grounds. There were no inspections, no shakedowns, but the climate was not welcoming. Very non-Buddhist, we thought. I talked with one "guide" (as they refer to themselves) who explained that their religious leader, Jamgon Mipham Rinpoche, who inspired the races and in fact ran in the 15K race, had had threats made against him while he was in England and the bodyguards/"guides" (some of whom ran with him as well others who accompanied and catered to his wife at all times) grew out of that situation. The whole effect was weird and created a very cult-like atmosphere (to us). We did not feel encouraged to return. And we're not likely to.


• Pearl Street Mile (Boulder). Up 14th street, a block east on Spruce, right on 15th street, and east on Pearl to 19th street; then north a block to Spruce and west back to 14th street and the finish line near where she started. One mile through the heart of Boulder's business section. As usual, thousands of folks came down on a Thursday evening to run or watch the runners. There were five races: a kid's half mile race (if they can walk they can compete), a "citizens" race (anyone who wants to enter can enter), a masters race (for runners over 40), a men's elite and a women's elite (neither of which require qualifications, but it's presumed the really fast runners will enter these, though it didn't happen this year: the fastest woman was in the master's group!) All the times are compiled together and age group winners can come from any of the races.

• Wild West Relay (Fort Collins to Steamboat Springs). Perhaps the most memorable race Judy's run is the 195-mile Wild West Relay in which the twelve runners on her team for about 30 hours in individual sections of varying lengths beginning the morning of August 1, through the night, finishing mid-afternoon of August 2. If you wonder what the experience was like, Judy writes about it in her own words at <www.pigseye.com/hj/USA/WildWest/>.


III. SUMMER CAMPS

Where Judy ran, the dogs and I tagged along. The races gave us the excuse to camp in nearby areas—some new to us, others familiar.


• Bellaire National Recreation Area. For the Shambhala Peace Day Race we tried to find a site in one of the two popular national forest campgrounds nearest Red Feather Lakes: Dowdy Lake and West Lake. Both were filled the days we would be there. Instead, we found an equally appealing and very comfortable campground—one that was even closer to the Shambhala Center—at Bellaire Lake. Our site was near one of the spotless bathrooms with flush toilets, and just a short walk from a gorgeous fishing lake. Though the fish showed great disdain for expensive flies or snappy lures, the sunsets were magnificent and the hiking gentle. We would choose to return to Bellaire any time we are in that area.

I biked from the campground up to the town of Red Feather Lakes (about six miles) to hunt down some minor fishing gear and to visit the library, whose librarians were an inspiration eight years ago when we were attempting to establish a community library here in Nederland. The Red Feather Lakes library hasn't changed much in that time, nor has the town, which suggests the planners looked ahead and built what they thought would provide good service for the future.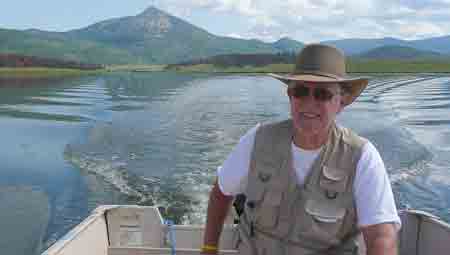 • Steamboat Lake State Park. Twenty-six miles north of Steamboat Springs along the Elk River is one of the most popular state parks in Colorado: Steamboat Lake. Campers find electric hook-ups, sweet water at the taps, plus fishing, boating, swimming, hiking, and biking. We were assigned a site away from the lake shore and while we tried, unsuccessfully, to transfer to another site while we were there, we enjoyed what turned out to be a very quiet and relaxing five days. Judy did a morning run most days, and I fished (in "No Fish" zones) both at Steamboat Lake and at Hahn's Peak Lake, a smaller lake just four miles up the road. We even rented a fishing boat and bought a dozen imported (from Waterford, Michigan) nightcrawlers. I tried my luck along secluded coves of Steamboat Lake and in deep water, but without success, though we saw the park and Hahn's Peak (which we climbed last year) from new perspectives. We bicycled over to the smaller and quieter Pearl Lake State Park five miles away to scout the best campsites if we wanted to do some dry camping on what appears to be a good fishing lake.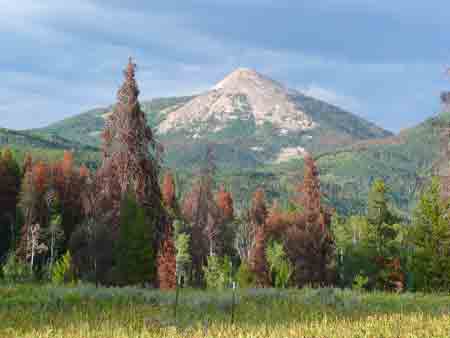 It's a beautiful area of the country where the pine forests are, sadly, being decimated by an infestation of mountain pine beetles that are killing the trees, leaving patches of red-needled trees that will have to be cut down before they burn. Only the groves of hardy aspens keep the mountainsides attractive.

We spent most of our time doing what we tend to do best when we camp: relaxing, reading, listing to cowboy and Irish music, walking the dogs, and maintaining our nightly gin rummy game (with cumulative score. Email for results).

• Stillwater Lake CG (Lake Granby). On our way to the Granby/Grand Lake area on the west side of the divide, the skies darkened and the first period of rain threatened. Our campsite at Stillwater gave us an uninterrupted view of the lake: all the trees that once grew within 100 yards of the shore were beetle-kill and had been cut. Neat piles of what someone or some group would turn into fire wood could be found everywhere between Granby and Grand Lake. Piles of slash have been cleared in some areas, and campers flocked to it for kindling and to start campfires.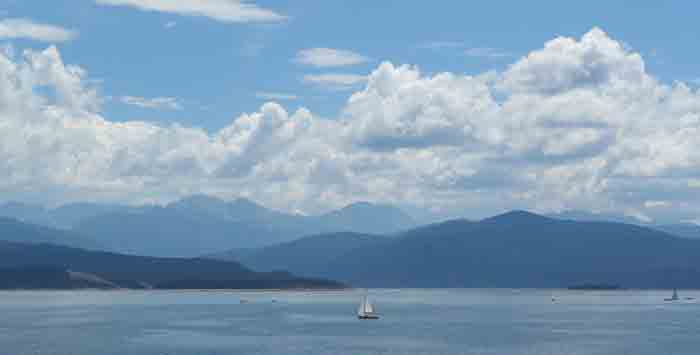 In spite of the gray skies and occasional bursts of rain, we really enjoyed ourselves while we were there. We spent some retail time in Granby at a farmer's market and the local thrift shop (Judy can always find near-new designer clothing for pittance, and I will spend a dollar for a useable long sleeved dress shirt to protect against mosquitoes at evening campfires and fishing.) We spent part of an afternoon in Grand Lake at an outdoor art show; there were not many artists showing, but it only took two jewelers to get Judy's business. Judy got a run in every morning and I put a total of 50–60 miles on my bike. And, miracles of miracles, a 13" one-pound trout wandered into my usual "No Fish" zone and was seduced by one of those Waterford, Michigan nightcrawlers. I was as surprised as he must have been, though for different reasons, when I landed him, filleted him, and turned him over to the camp chef who pan-fried him with olive oil and onions for a delicious early lunch.


Rainy weather, however, kept us close to camp where we read, continued the gin rummy game, listened to some Ian Tyson and Cherish the Ladies CDs, and relaxed between drops by the campfire. Finally, a day earlier than planned, we decided to unhook, unplug, and pack it in for home, just a few hours away. We had been gone only ten days, but it felt like a month and we returned home relaxed and refreshed, ready to pack for Alaska.


IV. ODDS AND ENDS

• Potlucks and Get-Togethers. Summer is the season for hosting friends over good food and drink. We enjoyed the company of mountain friends and those "down below" (Boulder area): significant birthdays, social group dinners, and other excuses to catch up with each other. I don't know why it doesn't happen as much during other times of the year, but summer seems to bring folks out. We always come home saying we should do that more often.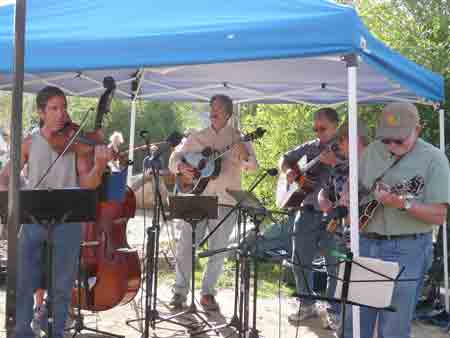 • Music. McGinty's Wake had four gigs scheduled this summer, but travel kept me away from all but one: a couple of hours of entertainment at an annual celebration at the local Presbyterian Church in honor of long-time residents, Lois and Brownlee Guyer. We've played each year since the church built a memorial garden and we refer to the occasion as the "Guyer Garden Gig."

• Volunteering. Judy and Sophie are making a popular reputation for themselves at Boulder Community Hospital, especially at the Cancer Center where Monday mornings they spread cheer with all patients and staff. Sophie has begun to show some weight gain from the treats she expects and receives when she shows up. I continue to tell visitors where to go and where to get off when they stop in the Visitors Center in town. And Judy is actually working for pay (Can you spell j-o-b?) in the county's Senior Workoff Program designed to get inexpensive first class help completing short term tasks in return for a small deduction off their real estate taxes. She works from home a few hours here and there when we're not traveling. Pretty nice.


V. AND SO ON TO OUR NEXT ADVENTURE: ALASKA

Judy's packing as I put the finishing touches on this. We have our tickets, itinerary, side trip plans, necessary phone numbers, maps, guide books, cameras and batteries, and a journal. We'll find ways to share with you all the many stories and lots of pictures from The Last Frontier when we return. In the meantime, we surely hope you will enjoy the rest of your summer as much as we will.



All good wishes, Judy and Hughes