September 10, 2007



Dear Family and Friends,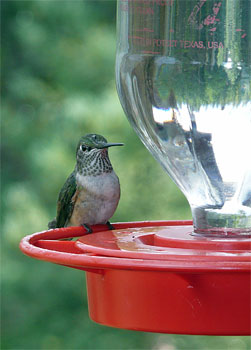 Where has our summer gone? There are some subtle seasonal changes taking place here in the mountains that suggest summer is waning and autumn is not far off. Though our days remain warm (70s to low 80s), the evenings are cooler lately which makes good sleeping weather. A bit of rain here and there keeps the dust down and the fire danger thankfully low. Most of our hummingbirds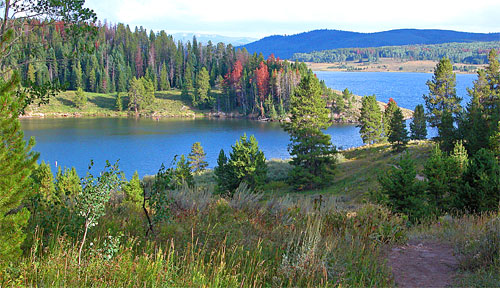 have started their long migrations to Arizona, Mexico, and points south, and some aspen leaves are showing tips of gold. We expect more bear activity as they furiously forage for fattening food. Fall is one of the loveliest seasons up here: warm days, cool nights, dry weather, and always the possibility of snow. We've spent the spring and summer cutting, splitting, and neatly stacking up row upon row of firewood in preparation for the first snow, which could come anytime now.

Most of our summer has been spent road camping. We've already reported on our road trip to Utah during June and July. We were home for the last half of July and most of August, though we did take a camping trip to Steamboat Lake State Park, a comfortable and beautiful area 26 miles north of Steamboat Springs and just a little over three hours from here (see photo on right). The weather there was near cloudless and gently warm—Colorado perfect. We hiked with the dogs around the lake each day. We biked to the nearby former mining camps of Columbine and Hahn's Peak Village as well as on the trails and roads within the park. We spent one afternoon soaking in the warmth of the pools at funky Strawberry Park Hot Springs, a few miles north of Steamboat Springs. We read and relaxed a little each day. We washed down some good enchilada and taco dinners with ice cold Pacificos at the friendly Hahn's Peak Cafe just a couple of miles down the road from the park. We even tested the
DVD player for the first time: we watched

The Illusionist

, an entertaining romantic mystery. We now know that if we run into a stretch of rainy weather, we can put our books aside for a while and watch a movie if we want.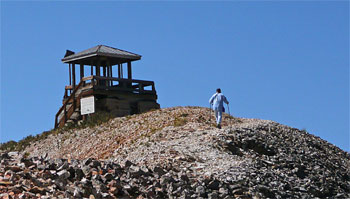 Our "big" outing was a hike to the top of Hahn's Peak, a 10,800' cone that stands tall above the rolling hills in this area. The remains of a former fire lookout tower are still perched at the summit. To get there, we drove to Columbine, parked the dogs in the RV at the Columbine Cabins General Store (thank you, Cindy and Chuck, for your hospitality), and rode our mountain bikes up the first mile of the route, and then hiked the remaining two to three miles to the top of the mountain. The views were incredible though blurred somewhat by the smoke and haze from the many wildfires burning in Montana, Idaho, and Utah. However, it was a lovely half-day venture and one of the few hikes we've taken all summer.




In the weeks between our return from Utah and preparations for our trip west (i.e., the last half of July and all of August)…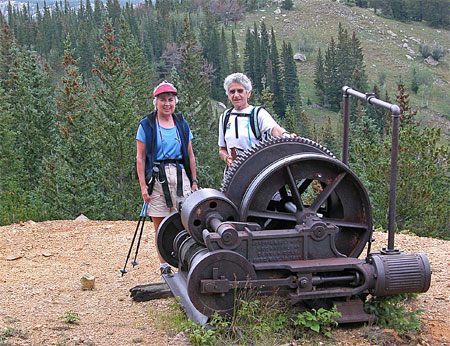 •It has been 15 months since Judy's surgery and the quarterly scans and tests have always been a period of concern and apprehension for us until she gets her results back. When the tests come back negative—i.e., no changes in the past three months—we breath a huge sigh of relief. This past week we were delighted that Judy passed her quarterly tests and scans with flying colors.

•On a local hike with Judy's hiking buddy, Betsy from Boulder, we discovered the remains of a mine operation and several miners cabins a mile or so above nearby Lost Lake which we've hiked to many times since we moved out here. However, we had never ventured beyond the lake and therefore missed poking through a bit of local history we knew nothing about.

•Hughes made three trips to the Winnebago dealer in Denver for service on the RV, trying to get a few repairs made before our fall road trip. He exchanged a dead TV for a new one; the thumping noise from water pump was softened somewhat (does anyone have an RV water pump that doesn't sound like a woodpecker?); a frayed decal announcing the brand/model of the RV (Navion) was replaced with a new one which makes the RV look a bit more dashing coming down the highway; the fresh water level indicator now shows full when it is full; and all four speakers now work with the TV and DVD as well as the radio and CD player as they're supposed to. In addition to replacing the OME turbo resonator with an after-market version, Hughes also installed swivel seats so that the driver's and passenger seats now can swing around and face the back of the coach area, giving us lots more usable (and comfortable) sitting space. The RV should be just about complete for the upcoming road trip.

•Judy ran and won her age group in (1) the lung-busting, quads-burning Trespass Trail Challenge, a 5.4 mile run over dirt roads above Nederland; (2) the "crown jewel" of Boulder's downtown summer race series, the Pearl Street Mile; and (3) our hometown favorite, the 26th running of the Neder-Nederland 5K, which Judy used to direct. It was a very successful race
season for her. Judy's next scheduled race will be in Puerto Vallarta this coming November.

•Hughes returned to volunteering at the Visitors Center for the month of August.

•McGinty's Wake performed for the Carter Lake Yacht Club (in Loveland) for the fourth straight year. They loved us even more than ever—maybe we've gotten better? We'll be asked back again next year. A few weeks later, the two of us attended a concert by a group of really fine musicians, Cherish the Ladies. We look for them anytime they are in the area. If we were twentysomethings, we'd probably travel the country as CTL groupies. There are few whistle players the equal of Joanie Madden, and the group's mix of jigs, reels, hornpipes, vocals, ballads, and Irish step dancing is always first rate.

•College friend Ken Andrews (Class of '61) from Atlanta and his son Jeff, who lives in the Vail/Beaver Creek area, paid a short, but welcome visit during which we analyzed and rehashed the demise this summer of our alma mater, Antioch College (Hughes: Class of '62. Judy: Class of '65).

•Weekly neighborhood dinner parties and potlucks throughout the summer made the social scene in the mountains a busy time for visiting with neighbors. For a special occasion, members of the Rocky Mountain Team Survivors, a group of cancer survivors who meet regularly to walk and exercise together, came up (most from Boulder) to Nederland—along with some spouses—for an afternoon hike at the Caribou Ranch Open Space followed by a potluck and drinks at our place. What an energetic, positive, and supportive group of women! They're
great to be around. Finally, yesterday, the day before we left on our road trip, we hosted a post-race brunch after the Neder-Nederland for our running friends in Boulder who made the trip up for the run.


We are really looking forward to seeing Montana and Idaho before they burn away and my sister Pam and her family in the Spokane/nothern Idaho area. Afterwards, we'll drive the Oregon and California coasts before we arrive in Ojai for Hughes's 50th Nordhoff High School reunion. We also have former neighbors to visit with on our way home. The RV will certainly turn 10,000 miles before we return home in mid-October. That's a lot of miles since we bought the rig in February.

We will take our laptop with us and stay in touch through email as much as possible. We look forward to hearing from you.

Best wishes to you all. —Judy and Hughes