Labor Day Weekend, 2005

Dear Family and Friends,

Summer in the Rockies is terrific, and so is autumn. Autumn is two weeks off, but there are lots of early signs of the change from one season to the next. Aspen leaves are turning to gold earlier than usual. Mullein is especially tall. The squirrels are in a frenzy. Hummingbirds are almost all gone. Lots of very woolly caterpillars are chewing like crazy. Like the squirrels and caterpillars, Judy and I have been busy cutting and splitting more wood than in the past. Our winter will be toasty.

We stayed at home this summer for the first time we can remember and spent our time putting in new landscaping around our house and hiking the nearby Indian Peaks Wilderness area in "preparation" for our trek this fall in the Himalayas. What follows are some snapshots of what did this summer.


LANDSCAPING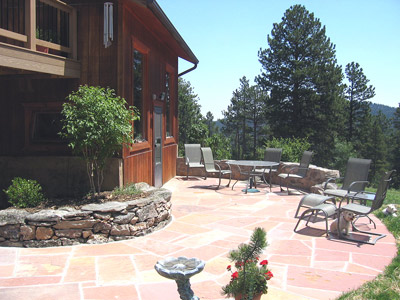 We had the stone walks that Hughes laid down 13 years ago torn up and new flagstone walks and a patio put down by a crew of folks who knew what they were doing. Professionals. The guys (Lhakpa Sherpa, his brother, his cousin, an uncle, and his mother!) from Nepal did a lovely job and we have enjoyed being outside even more than before. We removed the old deck off the middle level and had a new one built in its place, one about the same size but more sturdy and safer.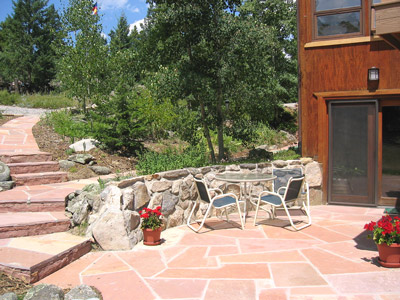 When it was all done, Judy organized new gardens and rearranged old ones; we planted a small bit of lawn (mostly for the dogs' pleasure) and some trees; and finally we had the house re-stained to complete the transformation. I think, after more than 13 years of living here, we may be "done" with the house, both inside and out, though Judy says we're never done!
We liked the final outcome so much that we hired George Blevins, a local artist and newspaper cartoonist, to create a pen-and-ink drawing of the back area which we made into note cards. You'll no doubt get one before the year is out.

HIKING
We thought we'd seen most of the nearby Indian Peaks Wilderness Area, but we discovered less traveled trails, small lakes, expansive vistas, and signs of forgotten human activity we never knew existed. We had promised ourselves some backpacking trips, but we never got that far though we have all the equipment and the desire. Next year for sure. The pictures show off the mountains just west of town. If you like to hike, it just doesn't get any better than Nederland in the summer. Why go anywhere else?
Our first hike of the season was to Diamond Lake in June. It's beautiful destination for anyone with about three hours for a fairly easy hike. It sits about at 10,800', has great camp sites, is stocked with rainbows and browns, and is an easy two miles from the trail head. Our snow was so good this past winter and spring that we found the last half mile quite snowy with areas up to three feet deep.
We went on a "training" hike to Devil's Thumb Pass with Linda and Jean-Pierre, who are going with us on our next big trip. This was a fairly strenuous 13 mile round trip hike with some steep grades to the summit. [That's Linda in the bottom center of the photo making the last steep grade as it approaches the pass on the Continental Divide.] In the left background is Devil's Thumb Lake, also a good fishing lake. Except for one day of our trek where we'll hike 19 miles, the Devil's Thumb hike was more challenging than we'll experience on our upcoming trek. We stopped along the way to Devil's Thumb at Jasper Lake (not shown) which is also a premier high mountain fishing lake just a couple of hours from the trailed. A few weeks later we hiked a new (to us) trail that connects Diamond and Jasper Lakes.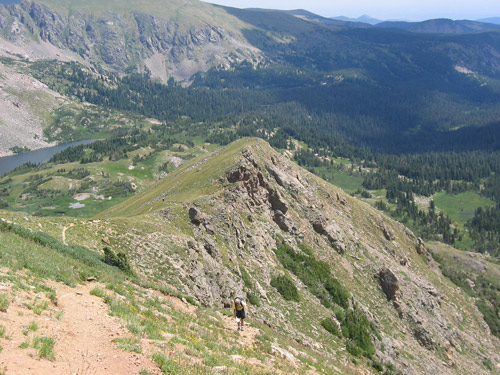 We also "discovered" a trail we'd only heard rumors of from a couple of old timers. Neighbor Scott, who's lived up here for over 25 years and hadn't heard of the trail either, came with us as we picked our way across a small plank walking bridge, up a very steep canyon face, and finally spread out in a beautiful meadow and creek valley where the trail simply peters out. We bushwhacked our way in the direction of a known trail, following two different maps, both of which were inaccurate. Map makers really should do field work. No matter. We were never lost and enjoyed the adventure.
Just five miles from Nederland is the site of old mining town of Caribou, now a ghost and a great starting point for hikers and 4 Wheelers. We can take the dogs there and give them all the running and sniffing they want. Judy and I went on our own one morning, and I returned a few weeks later with Alan and Cheryl and their two dogs to climb the ridge well above the town site to an overlook above the areas we had hiked throughout the summer.
We took a dozen hikes in all and felt stronger and recovered more quickly each week. We feel we are quite ready for whatever we face in the Himalayas.

IN ADDITION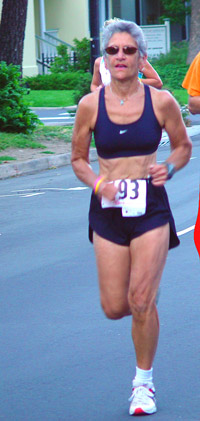 • Judy continues to be active competitor on the area running circuit. She shaved a minute or two off of her last year's times in the same races which made her spring training program worthwhile. Alas, a youngster who just turned 60 won three of the races Judy had previously dominated, which just goes to show that whether you win or come in second depends upon who enters. However, Judy won her age group for the 12th time in this year's Bolder-Boulder 10K (two minutes faster than last year; she's quite happy to know that, like fine wine, she's improving with age.)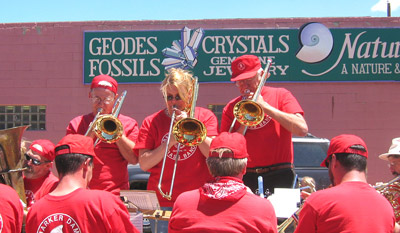 • Musical Highlights: We never tire of Gilbert and Sullivan and saw CU's excellent production of "The Mikado" for the umpteenth time. We also saw two of our favorite groups in concert: The severn Irish-American women, Cherish the Ladies; and, in a separate show, Southern Exposure, a local bluegrass/country group with Michael and Cindy. Michael and I celebrated our 7th or 8th years of playing in the Barker Dam Brass Band in the 4th of July parade. [Michael is sitting with his back to the camera on the right while the trombones stand for a solo shot in "Tiger Rag," a perennial crowd favorite.] In another musical venue, I played (guitar and pennywhistle) my first bluegrass gig with four others: it was an annual sailing club party near Loveland, about an hour away. We played some bluegrass and Celtic tunes for about an hour in exchange for potluck dinner fixings and a chance to go sailing on Carter Lake (though it rained the whole time and we fair weather sailors stayed warm and dry in the clubhouse).

JUST AHEAD....
The reservations are made and the tickets are all in hand. We've read a half dozen books, bookmarked a dozen or more web sites, and watched several movies, TV shows, travelogues. Hughes reread Hermann Hesse's 1960s classic Siddhartha and spent an evening at the Shambala Center in Boulder to learn about meditation and Bhuddism. We have prayer flags fluttering outside. We've purchased last minute clothing and gear. We've charged the batteries for our cameras. We've been training in the high country all summer. In short, We are ready!
On the 25th we're off for two weeks of trekking in Bhutan, the last Bhuddist Kingdom in the world. Plus a side trip to the temples at Angkor Wat in Cambodia.
We'll check in with you when we return next month.