September 14, 2004



Dear Family and Friends,

Fall snuck up on us earlier than usual this year: two-foot drifts of snow shut down Trail Ridge Road in Rocky Mountain National Park over this Labor Day weekend. The road to Mt. Evans (the highest paved road in North America) has closed for the season. Most of the hummers left last week and the few that remain really ought to get a move on. Aspens on our property are turning yellows and oranges, as well as those on the higher hillsides. They will peak a week earlier this year.

September has always been a favorite month for us: the days are usually sun-warmed in spite of air temperature: even at 45 degrees, the sun keeps us plenty warm; daylight is long enough to permit a full eight hour hike; and there is less and less chance of an afternoon thundershower to drive us from the high country. Early fall is also the time to make sure there is a full winter supply of firewood and kindling (there is), to clean the chimney (we did), and to finish outside chores (still some to do). An added task this year is getting rid of as many mice as possible from in and around our house before the cute little darlings hunker down in our walls or wherever they nest for the winter.

Though we didn't seem quite as busy as in previous summers, we were.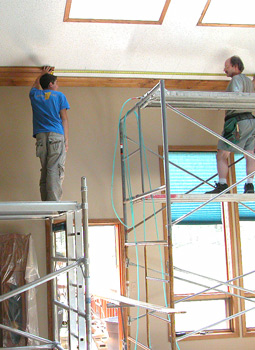 HOUSE REMODEL PROJECT



In the end, the remodeling project—begun in June—was, in spite of delays and rescheduling, a success! After weeks with scaffolding in the great room, we now have an upper ceiling that exudes the warmth of dark honey-colored pine. The walls in the great room can only be called different shades of beige; our bedroom and bathroom are sage to match the new carpet in those two rooms plus our closet. The new bathroom vanity was an easy install by H&J Plumbing, and other decor changes were completed by H&J Interiors. We did have help with the installation of a new closet "system," which certainly makes more efficient and attractive use of the walk-in closet. We still want to replace the bedroom sofa which we "discovered" was nearly 30 years old! It is pretty badly faded in several places, but remains quite comfortable and is Judy's favorite place to read. After shopping several "big box" and boutique stores, we may decide to have it reupholstered instead of replaced.

We are still not "done" with inside projects (more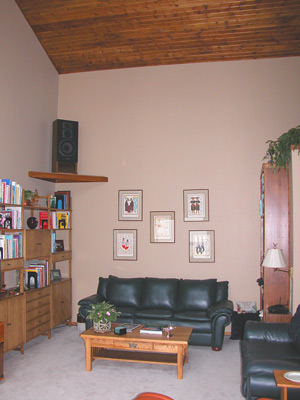 painting and perhaps other ceiling re-texturing), and we are looking at what needs to be done outside. We re-stained the garage, but have put off doing the house. In fact, we're at the stage in our lives when working overhead from a ladder 30 feet above the ground is not as attractive as when we were in our 30s. We're looking at options: hire someone to stain the house to match the garage (cheapest) or consider a stucco surface that would never need painting (rather expensive, but we'll see and weigh the options). The garage roof needs repair or replacement, something we'd hoped to have completed by this time: H&J Construction had the lowest bid on this but scheduling has been an issue.

We're also working with a landscape architect to propose an outside make-over: walkways, gardens, patios, ponds, rock waterfalls—we'll see what's possible, what's doable, what's financially feasible, etc. A friend gave us the idea of where to build an outdoor freshwater pond; it's an exciting possibility, but for next year. In the meantime, we know we'll enjoy being inside this winter.




HECTIC

JULY



Looking at the calendar of what we did in July, it seems more hectic than we realized. Hughes and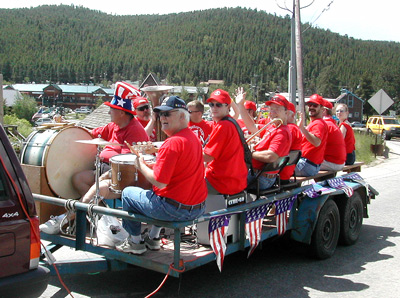 Michael played in the

Barker Dam Brass Band

again in the 4th of July parade while Judy helped local police with traffic control and, in the evening, with the fireworks program put on by the fire department. The following weekend, after the last of the remodel projects were finished (the carpet was laid and the closet installed), Judy ran in

The Trespass Trail Run,

a

new local 5 mile race that was as tough as any she's done anywhere. Fellow runners living in the area who did want to face the challenge called her "an animal" (a compliment among runners). She won her age group in spite of walking a short portion of uphill that took a lot out of many of the runners.

Two days later, a good friend from our college days (best man at our wedding, in fact) spent a few days with us, prompting Hughes's first hike of
the summer to

Diamond Lake

with our New Zealand trekking friend, Alan. Guys only that day, though we can't remember why. (The photo of Alan, Ken, and Hughes is one of Alan's special self-portraits.) We left at the end of the week for Montana on the 16th.




GLACIER NATIONAL PARK



Glacier National Park was the destination for our 8th annual reunion trip with Judy's high school girlfriends and spouses in the last half of July. We rented a condo at Big Mountain Ski Resort in Whitefish, about 30 miles from the west entrance to the park. Glacier is spectacular and we had a very brief but terrific time hiking, sightseeing, and rafting in the area. We drove a total of five days round trip for the four days we spent together. Even so, it convinced us that we need to go back next summer to spend much more time there, as well as some places on the way (ghost mining towns in Idaho and Montana) and nearby areas we've not been to (Banff, Jasper, and other Canadian Rockies destinations). The trip is described in more detail and with pictures on a separate web page where you can see more of what we did and saw in Kemmerer and Green River (WY), Polebridge (MT), and Waterton Lakes, Alberta, as well as Glacier National Park.




TIVO ARRIVES



We're not sure of how worthy it is to mention a new technology in the context of this letter, but for those of us who live in the mountains—those of us who came to the area when phones were on a 4-party line, when internet access was denied, when answering machines were

verboten

, when TV reception was limited either to fuzzy images from three of the Denver stations using conventional outdoor antennas or, if one had a "big dish" and an expensive receiver/descrambler, stations from almost anywhere by subscription—technological advances are not taken for granted. Last year we had high speed wireless internet service installed, and this year we've embraced Tivo!

We know, most of you have it already. But for us it's the latest electronic toy. Of course we had to give up our outdated "big dish" technology (which worked pretty well when there was no snow or wind or lightning) and purchase the "small dish" from Direct TV. Taking down the old dish was a challenge and created a pleasant visual gap that's been easy to get used to. We only made the change because we could use Tivo. If you're still among the few who don't have this device and you're tired of that incessant soft dog puppet yapping that anyone can get credit, "bar none" (or political ads and other noise from the wasteland), Tivo opens a new world of TV enjoyment.
•Tivo lets you skip over commercials; you can walk the dogs, go to the bathroom, hit the icebox, even wake up from a nap and go back to the program you were watching when you left or nodded off. Aren't you glad you had it during the Olympics?
•Of course you could program Tivo to record the Olympic events that came on a 2 a.m. or mid morning so that you could watch them at a real time—and you could skip the commercials shown during those recorded events.
•Do you have a favorite program you want to watch every time it comes on?
Monty Python? a daytime soap? Dr. Phil? Tivo can automatically record every program until you tell it to stop. It's called a "Season's Pass."
•Are you going on a three-week trip and don't want to miss something while you're gone? Ask Tivo to record the programs you want and they'll be waiting for you when you get back to town.
•Is there a movie you'd like to see but you don't know when it might be shown—next week. next month, whenever? Tell Tivo which movie(s) you want to see and Tivo will record it when it is shown and then tell you it's waiting for you to see it when you choose.
•Do you have a favorite topic or kind of program? Travel in Scandinavia? Chinese cooking? Kangaroos? Ask Tivo to record everything related to that topic whenever it comes on. (One of our neighbors is a huge race car fan; he simply programs Tivo to record everything that has to do with car racing and when he comes home from work, he sees what's been on that day and watches what he wants.) Check daily to see what's been recorded and decide if and when you want to watch it. Of course you can skip the commercials.

And folks thought sliced bread was a miracle.




BEST FRIENDS



Probably more than anything this summer, Judy had been looking forward to her trip with granddaughter Julia to Kanab, Utah, home of Best Friends Animal Sanctuary. This remarkable facility takes in animals that are either abandoned or abused and gently and lovingly cares for them until they are either adopted or live out their natural lives. Though dogs and cats make up the largest number of animals cared for there, rabbits, horses,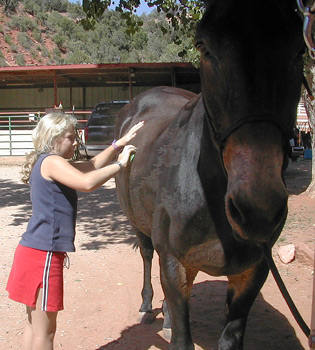 mules, pigs, birds, and other domestic animals have a home in their own particular compound on the grounds. We have long supported the Best Friends Animal Society and several years ago we stayed at the Angel Canyon sanctuary to see for ourselves what they do. We were amazed by what they accomplish and continue to be proud to support them financially.

This year, Judy and Julia decided to spend a week volunteering to help with the care of the animals. Julia flew from Boston and together they drove to Kanab, about 700 miles away in southwestern Utah. They stayed in Kanab rather than at the Sanctuary (air conditioning and a swimming pool provided a few luxurious amenities, plus there was a festival in town that week honoring western and cowboy movies, music, poetry, and culture). Each day they would have breakfast, drive out to Angel Canyon to feed and groom horses and mules, feed, walk, and socialize the dogs, groom and cuddle the cats, feed and groom the rabbits, and other necessary and routine chores, like mucking and poop scooping. They worked until noon, had lunch with the staff, and finished up around five in the afternoon.

Among the folks Judy met there was Monty Python's Eric Idle who like us, she learned, has been a long-standing and enthusiastic supporter of Best Friends. This helped to make up for not seeing Ian Tyson in concert one night during the western festival. It was a late event, one she didn't think Julia would stay awake through. On the other hand, Eric Idle is probably much more interesting to be with than Ian Tyson—and he's just as musical.

Both Judy and Julia enjoyed the whole experience very much. Julia was a good traveler; she both amused herself and carried on conversation, never complaining "Are we there yet? When are we going to be there?" Judy enjoyed the private time with her and found that, at age 10, Julia's quite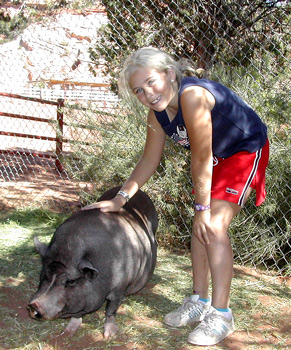 good company, willing to work, and really likes animals. They had a great time—so good in fact that the rest of Julia's family is very interested in coming next summer (along with Judy and me) to work there another week. We're looking forward to it already.




MISCELLANEOUS



We are still asked, "What do you do in your retirement?" Well, in addition to the travels and other things mentioned above, the summer calendar records that:

•We went to several concerts/performances in the area including a CU production of

HMS Pinafore

; a concert by the Mount Alto Motion Picture Orchestra who performed music written specifically for silent movies and played background music throughout a showing of Buster Keaton's silent film "The Camera Man"; and a show by Dean Martin's son Ricci at the Isle of Capri Casino in Black Hawk (we went with his sister, Gina, and other neighbors);

•We continued to attend our monthly book club meetings: the Mystery Book Readers discussed Niccolo Amaniti's

I'm Not Scared

(the movie was better); Phillip Gooden's

Sleep of Death

(Shakespeare fans take note); and Boris Kunin's

The Winter Queen

(the first of Kunin's ten very popular—in Russia—mysteries set in victorian Moscow). Judy's lit-er-a-ture group discussed Khaled Hosseini's

Kite Runner

,

Beast in the Garden

by local writer David Baron, and Jane Hamilton's

Disobedience

. Next month's selection is

Reading Lolita in Tehran

by Azar Nafisi.

•We helped a friend's campaign for county commissioner. We got signatures to get him on the ballot and worked the phones on the eve of the election, but he lost anyway.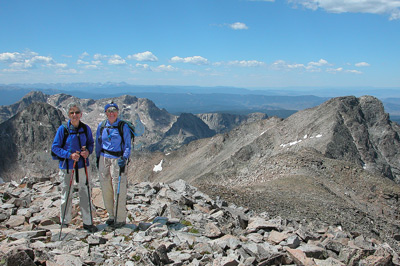 •We have had, so far this summer, only one hike together: along with Judy's hiking partner we climbed Mt. Audubon, a favorite nearby 13er with a great view of the Indian Peaks and beyond (see photo on left). While Judy was in Kanab, Hughes was set to climb a couple of nearby 14ers with our New Zealand trekking friends, but the trip was canceled at the last minute due to an injury to one of other climbers.

•We attended our first "Kitty Shower" on the occasion of friends' adopting two special kittens. It was much more fun than some of us anticipated.

•We attended or hosted at least ten dinners/barbeques/pot lucks in July and August. We don't eat "out" much, but we eat often and well.

•Judy defended her title of "The Fastest Old Lady in Nederland," winning the 60+ women's age group in this year's Neder-Nederland High Altitude 5K Race with an 8.03 minute per mile pace, finishing a full minute faster than last year's winning time! She was the 4th overall woman. It is her 10th win in ten races (she missed running in 1999-2001 due to travel).

•We continue to do our weekly four-hour shifts at the Visitors Center, Judy does fire department duties, and Hughes makes music (Celtic and bluegrass) every other Thursday nights.

•Thanks to Tivo, we watch more TV and fewer commercials.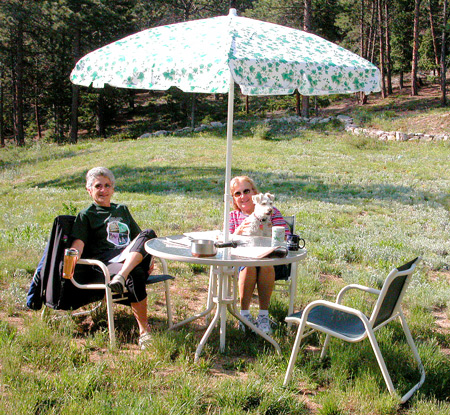 We are currently taking care of Michael and Cindy's dog, Penny, while M & C are on a road trip to Montana, Idaho, and other parts of the northwest. They saw our photos of our Glacier trip and agreed the area looked spectacular. They've not had a vacation together like this for some time. Fortunately, Penny gets along well with Sophie and Bella: they chase the same chipmunks, pee on the same spots, eat and sleep at the same times, and enjoy walks to get the paper in the morning, the mail in the afternoon, and trail walks in the area anytime.

In spite of all the activity, this summer did not feel particularly busier compared to other summers. We had time to read, do routine maintenance—trench the road, clean the windows, cut and stack firewood, and all the myriad of things that keep anyone going. We try to stay in touch with friends via phone and emails. Sometimes we have visitors drop in from Florida to enjoy breakfast in "the meadow" followed by some casual shopping. Hedy (on the right with Judy and Sophie) is another friend from our college days who comes just about every year for a brief but pleasant stay at the Moir Mountain Motel. You could do the same. Maybe this year you will.

Autumn is a wonderful season. Schools started here in mid-August—too soon by my pedagogical clock, but none too soon for some parents. Leaves are turning gold and rust. Football has started, baseball is winding down, and we aren't sure about hockey. Elections at all levels will be over in a couple of months, for which we'll all give thanks. Fall is joyous season filled with many holidays for people of all faiths and outlooks. We hope your next three months are filled with many happy holidays.