October 1, 2002
Dear Family and Friends,

Our summer has been very warm and very dry. A state-wide fire ban was put in place in early June and still has not been lifted in Boulder County. The water in our local reservoir did not spill over the top for the first time since we moved here in 1992. The 4th of July fireworks show was canceled. Temperatures in Boulder and Denver have regularly been in the 90s, while here at 8500' we've seen 80 degrees or more quite often. Most cities in the front range have had water restrictions, and some farmers in the county have sold their water rights to needy towns, likely making more money selling water than risking a crop that might fail from the drought. Of course, you heard our governor proclaim on national TV that "Colorado is on fire!" making reference to the dozens of major fires in all parts of the state. The tourist industry hated that outbreak of gubernatorial foot-in-mouth disease since it drove down the number of folks coming to Colorado this summer.
Here in Nederland, we've been lucky. We've not had water restrictions. The fire ban plus the quick response of our fire department to the several smoke reports have prevented any fires around here. Hiking in the high country (above 10,000') has been a blessing to get away from the heat. And we've done some good hikes this summer.

HIKING
Our big hike of the summer was to the top of Kilimanjaro, part of our three-week trip to Tanzania, which you can read about elsewhere in great detail. Given the very small area we covered in three weeks, we never say "we went to Africa." In fact, we saw precious little of Tanzania, just areas along the northern border with Kenya: Kilimanjaro, the Serengeti, and the island of Zanzibar. However, what we saw and did was an exciting and challenging adventure, a trip that we won't forget.

Preparing for the trip gave us the excuse to do more hiking than we might otherwise have done. Judy and a couple of hiking friends climbed regularly in the Flatirons near Boulder, in our Indian Peaks Wilderness Area, and in Rocky Mountain National Park. I joined in a few of those, but not all. We didn't summit any 14ers, but we both hiked above 13,000' several times. The picture on the left shows us standing on a rock on the edge of Isabelle Lake in the Indian Peaks Wilderness Area with the Continental Divide in the background.
Judy continues to run about 25 miles a week, which also prepared her for the Kilimanjaro climb. She took first in her age group in the Bolder-Boulder 10K for the tenth straight year, and she took her age group (10th woman, 59th overall) in this year's Neder-Nederland 5K. Her record in the Ned-Ned is 9 wins in 9 attempts. These are the only two competitive races she'll do this year. I've done a little biking but knee pain keeps me from regular activity. I still walk and clean my two miles of Ridge Road a few times each week, which is my excuse for regular exercise. It's not much, but the road's looking good.
VISITS
We took a week off from volunteer duties last May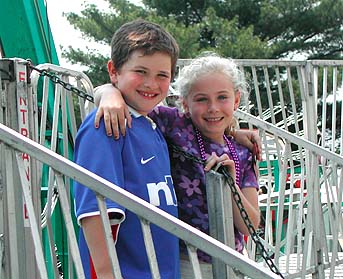 to be with our grandchildren, Griffin and Julia, while Dan and Debra spent a short week in Ireland (Ashford Castle in County Mayo) compliments of Dan's company. Much of the time with the kids was spent seeing them off to school and then to after school sports: baseball and lacrosse. On the weekend we biked through Milton and along Boston's south shore area on great bike paths. The kids, then 7 and 9, put in quite a few miles with us and seemed to enjoy being pushed a little to keep up with their aged grandparents. Griffin and I took in the "Spiderman" movie which was pretty good. Both Judy and I really enjoyed the week, and it made us wish we were closer and could see them more than 2-3 times a year.
We've had some visitors of our own this summer. Hedy Andrews came to visit her son and play golf in the Vail area and stopped here for a day on her way back to Florida. She goes back with us to our college days at Antioch in the very early 60s. Not long after, Ken and Anna Marie Peterson (neighbors from our previous lifetime in Ohio) drove up from Albuquerque for a long weekend and gave us an overdose of bridge and Shanghai rummy. We saw photos from their month in Fiji and took a first look at our pictures from Tanzania.
The elk in the back yard is one of several who visited us this year, along with more deer than usual, foxes, coyotes, and, of course, hummingbirds who come the first week in May and leave around Labor Day. Our backyard sculpture, Diva, may look like she's trying to shoo off the elk, but really she'd like to make friends with him.
EVERYDAY ROUTINES
Most of our time is still committed to the various groups with whom we volunteer. Judy continues with the fire department, which just finished dedicating a new state-of-the-art fire station that is truly a gem in this part of the country. She's a very active Treasurer for the Chamber of Commerce, and volunteers a half day a week at the Visitors Center. I'm still doing the managing tasks for the Visitors Center (buy toilet paper, get free materials for display, etc.) as well as work there on Saturday mornings. I've continued on the Chamber of Commerce Board of Directors and work to support their activities and help the town grow. The library has consumed less and less of my time since I'm only working with the Board of Trustees issues as Chairperson and not working in the library at all. However, I've been involved with the campaign to create a library district in the general election this November (if we are successful, we'll have sufficient funds to plan for a full-time, full-service library; if the ballot measure fails, the library will likely close!). October will be a very busy month. I'm still working with the Aging Services Foundation of Boulder County to raise funds for programs for older people, money to make up for the declining revenue from state and federal programs for aging services that have been cut severely in the past three to four years. What all this means is that we both have 2-3 meetings a week and at least one half day answering questions put to us by tourists to the area.
We call doing all these things "fun" and "satisfying" and "rewarding." And they are. But sometimes meetings and volunteer activities come in bunches that keep us so busy that we wonder if we've forgotten that we're retired. Only occasionally.
SHORT TRIPS
Not that we're complaining or not having a good time.
In addition to a regular schedule of hikes this summer, we've seen a really good performance of "Pirates of Penzance" at the University of Colorado, attended a pretty good chamber music series right here in Nederland, participated in the 4th of July parade (that's me in the top row in dark glasses; Michael, who plays trumpet, has dark glasses and a beard under the guy's arm that's holding the drum sticks), taken Sophie and Bella to Nederland's first annual Dog Day's of August Festival, drove all the way to Denver(!) to see the new Cirque de Soliel and the Imax movie, "Kilimanjaro." (Now that we've made the climb, we're going back again this month and relive the experience again.). We've had dinner at every restaurant in Nederland (part of our "duty" as Visitor Center volunteers to get to know each place we might send tourists to eat), and snuck off for a four-day camping trip to Red Feather Lakes in northern Colorado for biking, hiking, fishing, and reading.
We just returned from our annual reunion with Judy's high school girl friends and their spouses. We visited to Washington's Olympic Peninsula, Victoria, BC, followed by some hiking and schmoozing at the Lake Quinault Lodge on the southern edge of Olympic National Park. As usual we had a great time with Tom and Pat and Lee and Irene—we ate more than our share of good seafood, enjoyed great weather, and really loved the northwest countryside.
In a month we're looking forward to playing hooky for a week or so following the November election (either to celebrate the new Library District or wonder where we went wrong if the measure is defeated). We have no definite plans yet; we may just look in the paper the Sunday before and see what's on special and go there.
GETTING OLDER?
Looking over our calendar for the past three months, it's also clear we've spent more time than usual getting reacquainted with our several doctors and our dentist. Some visits have been routine, some trip-related, and some related to new aches and pains. We've been x-rayed and probed, MRI-ed and EKG-ed, rolfed and rubbed, drilled and filled, and taken new prescriptions. And we're not that old! Maybe we're starting a downhill slide from our "go-go" retirement stage to the "slow-go" time of our lives. If so, maybe it's a good thing: the stock market would be slowing us down anyway. Thank goodness our retirement benefits include good medical and prescription drug plans. It doesn't take much to understand the terrible plight of individuals and families who don't have such benefits or folks who have to rely upon medicare and medicaid.
IT MUST BE FALL
School started here in August. (In August—can you imagine?) After 50 years of being a student and a teacher, any nostalgia I might have had for the start of the school year has vanished. My heart hardly misses a beat when a school bus full of kids passes me on the road. Now, at the end of summer Judy and I find the hiking trails quieter, the aspens beginning to turn gloriously golden, and we experience a strong urge to cut trees and split logs. Fall is a great time to visit the mountains. We'll let you join us in the hiking, the log splitting, or both.
SOPHIE AND BELLA
For those of you who remember them, Sophie and Bella remain the best of friends. And they still make us smile.