August 1, 2011



Dear Family and Friends,

Just having finished the detailed write-up of our trip to the Canadian Rockies, we thought a

brief

newsletter is in order. A lot happened over the past three months, but there are several highlights: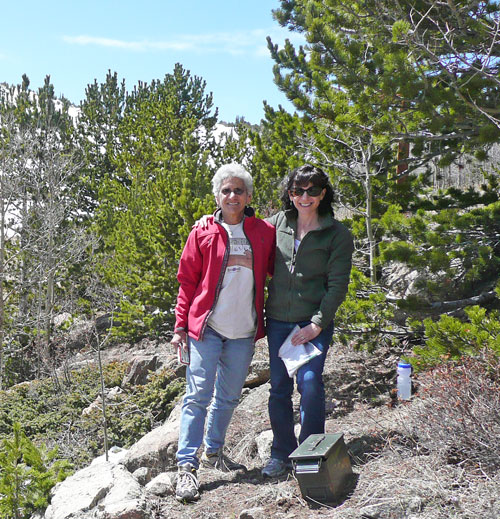 •Weather





We're certain that no matter where you live, this spring and early summer has brought weather extremes that may have likely set records for heat, rain, floods, etc. in your area. That was true here in the mountains where this spring was one of the wettest on record. The monsoon rains (which are normal, but usually come toward the end of July) combined with an unusually heavy winter snow pack that began melting at around the same time created a whole lot more water than this area has seen in some time. Actually, we remember in 1995 our road turning into a river of mud and water that washed out much of the surface of the road and left deep gravel ruts. That April water rushed downhill to the house and we had 2"-3" of water in our lower level. What a mess!!

This year was much the same: lots of rain and snow melt, though we are more prepared this year with a stronger road surface, gravel in the driveway circle, and trenches on both sides of the road to divert a lot of runoff away from the house.

Don't get us wrong. We're not complaining by any means. We don't have the very high temperatures and humidity levels that many of you have had, and we don't worry about the kind of flooding devastating so many other parts of the country. Just fires.


•Visitors

Judy's Massachusetts niece, Lisa, took some time away from a conference in Denver to spend a couple of days with us. She joined Judy for several runs here in the mountains, and we were impressed with how well she ran in spite of the altitude. As much family as possible gathered here to see Lisa and enjoy a Thanksgiving dinner. We introduced her to the "sport" of geocaching in this area, which is really an excuse to go hiking. And the weather was glorious in the middle of May! We were successful in finding all but one cache that eluded us: we did not fully anticipate that the cemetery in the nearby ghost town of Caribou would be under at least six feet of snow, making it difficult to get to and impossible to dig out the cache hidden there. We'll find it later this summer, take a picture of it, and send it to Lisa. The ammo box in the foreground of the photo of Judy and Lisa contained a cache we had found earlier hidden in some rocks behind the tree in the back.

Old friends Dick and Trish (it's hard to believe they were once students of mine!) blew in from Ohio for an intense visit that included a fine dinner at the Gold Hill Inn (a treat for us), rides on the carousel, and several games of Shanghai Rummy (which we had been looking forward to since we heard they were coming). Their visit was cut short because of family illness and they had to return to Ohio about as quickly as they drove out. However, their unplanned departure was probably just as well; we were unkind hosts at the game table.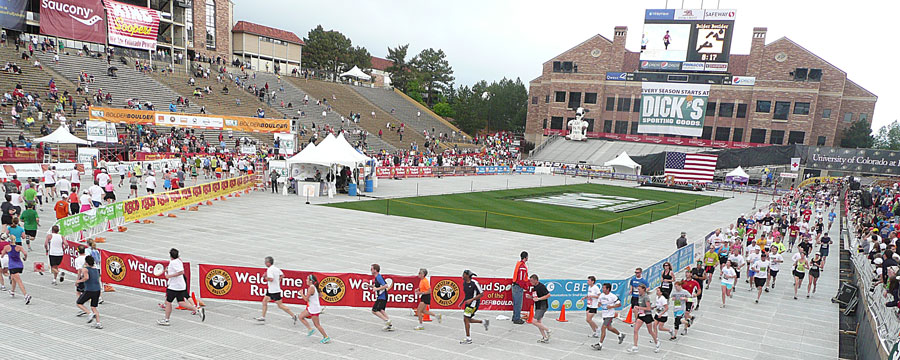 •Running





Bolder-Boulder 10K

. Judy did not join a training group this spring to prepare for the 2011 Bolder-Boulder 10K, but she won her age group by four minutes anyway—and knocked six seconds off her time from last year! So she earned her umpteenth first place medal, a ribbon for beating her age, and will receive another jersey for next year's race indicating that she was the age group winner for this year. You can see her in the photo in her orange age group winner's jersey (and black shorts) as she finishes this year's race in Folsom Field at CU.



Four on the Fourth 4K

. Judy won her age group for the second year in this local event sponsored by the Avery Brewing Co. of Boulder. This new race is gaining in popularity perhaps because the age group winners bring home a case of Avery beer. Last year she chose a case of White Rascal Ale; this year she picked up a case of Avery's IPA. Both are practical alternatives to another medal or trophy.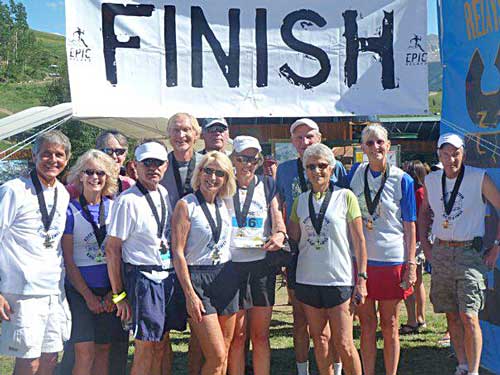 Rocky Mountain Relay

. A few years ago Judy joined a group of twelve older (masters) local runners won the Mixed Masters group (over 50, six men and six women) in the Wild West Relay, a 200-mile run from Fort Collins to Steamboat Springs. Last year the same core group (with a couple of subs) ran the Reach the Beach relay from Franconia to Hampton Beach, New Hampshire, and won their Mixed Masters group also. This year most of the same runners (with a couple of new folks) won the Mixed Masters group in the Rocky Mountain Relay from Colorado Springs to Crested Butte, also about 200 miles (over 12,000' Cottonwood Pass, if you know the area). As in the other relay events, each team member ran three legs of the route, which began at about dawn on July 22 and finished the following afternoon. Running at night is part of the fun and the challenge. So she'll tell you.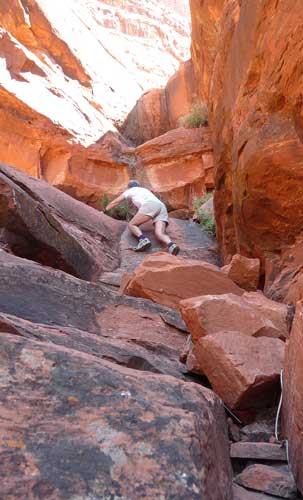 In addition to running on Sunday mornings with the Boulder Roadrunners Club, Judy has also been a member for some years of the Purple Runners, an informal group that runs Saturday mornings except during the summer. They meet at different locations in the Boulder area, run about 5K, keep times and award points for how they finish, and occasionally give annual prizes to the top male and female point winners.




•Travels



You already know more than you had thought possible about our Canadian Rockies excursion. Looking back, it was truly a great getaway to arguably one of the most beautiful regions in the world. It is certainly worthy of being a World Heritage Site.

We also spent a week in the warmth and sun of Sedona, a place we try to visit once a year. The buildings and facilities at Los Abrigados Resort and Spa are inviting and attractive, and the setting along Oak Creek is relaxing. The town of Sedona has, since we were there last, added some bike lanes to area highways that make long rides safer and attractive. We managed some hiking in some new areas, and climbed the sides of some of the red rock formations in search of hidden geocaches. Some required a pretty stiff climb, as shown in the photo on the right. Dinner at Judi's was an outstanding addition to our list of good restaurants in the area: superb service, a diverse and attractive menu, and a quiet atmosphere. We'll return there the next time we visit Sedona.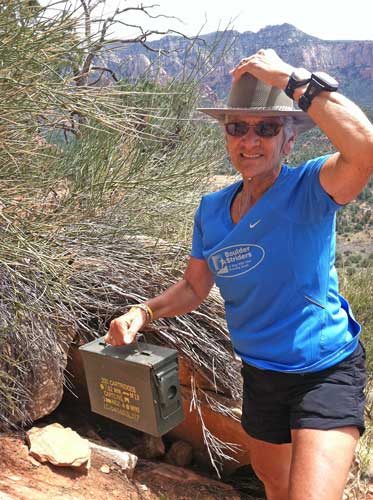 After nearly ten years of vacationing in Sedona, we finally made the drive to the Palatki Heritage Site and a few miles away to the Honanki Heritage Ruins, both places where the Sinagua people, ancestors of the Hopi, built small dwellings in the hillsides and lived there during the 10th–12th centuries. The sites have suffered some vandalism but are now under the protection of the US Forest Service. Getting to each requires a short hike and, in the case of the Honanki Ruins, a sharp eye to dodge rattlesnakes. The two sites are not close to town, but the drive over good gravel roads was worth the time and dust we accumulated. Along the road, we stopped to look for hidden treasures and added a half dozen more geocaches to our list of finds. The ammo can Judy's holding is just one of many we found that afternoon.




•Local Doings



We share Monday morning duties at the Carousel of Happiness, which draws visitors from all over the country who have heard or read about this marvelous attraction in newspapers, television programs, and by word of mouth. We welcome the visitors as they come in the front door, sell them tickets and souvenirs if they wish (Judy shown here with Trish and Dick), and watch the delight they have in the 31/2 minute ride. Young and old all have a wonderful time.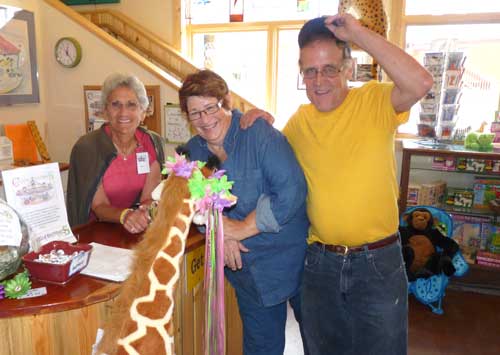 The Cutthroat Duplicate Bridge Group meets at least once a month, depending upon who is in town and not traveling. For the first time ever we finally got a chance to play together last month and we took home the trophy for high score. We do not take lightly such a victory in this group.

We have continued to volunteer off and on at the Visitors Center and at the Backdoor Theater most of the time we've been in town. We missed a lot during the winter and all of the month of June.




•Wildland Fire Very Close to Home



We have always said that the only real natural threat in this area is fire. We don't worry about floods, hurricanes, earthquakes, or tornadoes. But in what has been a long-term drought throughout the western mountains, we worry about wildland fire. Last year there were several tragic and horrific fires in Boulder County, two of which were within a few miles of our house both of which resulted in reverse 911 calls to evacuate. We take the warnings very seriously.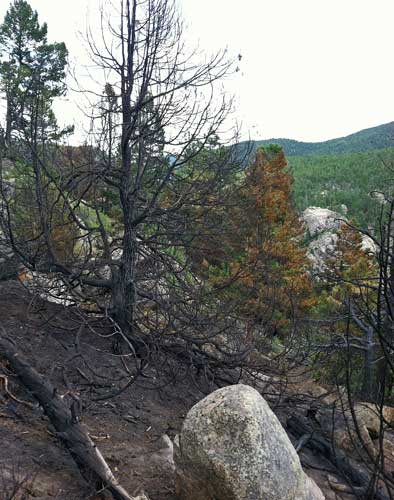 Given the near record rainfall and snow melt this year, what happened last week would seem highly unlikely. A lightning strike, during one of the many daily thunderstorms we've had for the past two weeks, hit a tree on our property on the slope between the house and Boulder Canyon. It happended sometime on Wednesday, July 20. The strike apparently caused a tree to smolder for two days until Friday morning when a small fire flared up about 10:30 in the morning.

[

Note: GPS and a sophisticated computer program that monitors lightning strikes allowed fire investigators to almost immediately identify the specific tree that was struck on a specific day and time as the cause of the fire. There was no guessing about whether it was an unattended campfire, a cigarette butt, or any other human cause. That tree right there, they said pointing down the slope, on July 20. It smoldered for two days before igniting Friday morning. Amazing!

]



Fortunately

, the winds were light, blowing from the north and west, and therefore away from our house or any others along Ridge Road;



Fortunately

, neighbors Brian and Tracy saw the smoke and called in a 911 smoke report, and then called to alert Hughes who was home (Judy was running toward Crested Butte);



Fortunately

, Nederland fire fighters responded quickly with lots of water and personnel, as did the US Forest Service and six other area departments; and



Fortunately

, the fire was quickly contained to less than an acre, no injuries were sustained in spite of the heat and rugged terrain, and there was no damage to any buildings.

Given the devastating consequences of several recent fires in our area, we were very fortunate indeed. It has prompted us to do what we have talked about doing a year or more ago: putting together an evacuation plan—what to take, where to store valuables, and how to proceed if "the big one" comes our way.


All in all, the spring of 2011 is a time we will remember well for a variety of reasons. Our lives the past three months have been at least interesting, and we recognize how important it is to have friends and family and neighbors we care about and who care about us.


All good wishes,


Judy and Hughes