Hughes and Judy Look Back at 2010




What a year! Joys and challenges as usual, except if you've read our quarterly newsletters you'll note the challenges seem to have overshadowed the many joys we had. We marked personal milestones and we enjoyed travel to both familiar and new areas. We experienced health issues we are relieved to put behind us. When we cast about for a flattering New Year's photo, we couldn't find one; Judy said it was an ugly year. And we are, without question, happy to put 2010 in our rear view mirrors and look forward to the year ahead with renewed optimism.

Most of our tales of woe and good times are detailed in our periodic newsletters at <http://www.pigseye.com/hj/letters/>. For this end of the year recap, we're happy to look back at those events that brought us joy and satisfaction.




Milestones




Hughes hit 70 in March. Judy executed a perfectly planned surprise party that drew curious friends and family from miles away to celebrate. (Judy is a bit younger. We'll report on her milestone in a few years.)

Our grandson, Griffin, graduated from high school in Massachusetts this past June. Thayer Academy lost a varsity tennis player and cross-country runner, a Cum Laude Society member, and their resident Latin scholar. Wake Forest gained an excellent student who finished his first semester this month. (Julia, Griff, Dan in back, Grandparents Norm and Townley, Debra in addition to Judy and Hughes)


Judy won her age group in the Bolder-Boulder 10K for the umpteenth time. For that she received another medal. She also won her age group in Avery Brewery's 4 on the 4th and brought home a case of beer—a more practical award.

The first hummingbird arrived on April 21, a bit later than usual. A foot of snow fell three days after Mother's Day.




Travels



Who knew the Pensacola airport would be snowed in on the February day we had planned a Gulf Coast get-away? Come on! Pensacola, for gosh sakes!! What a surprise to the residents of the Emerald Coast and the few visitors who came to Destin for some warm R&R. It was warm to us and we enjoyed our visit.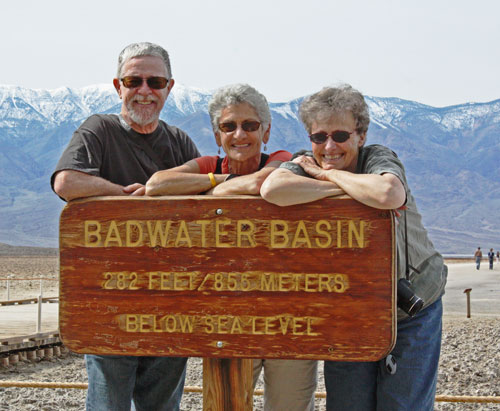 Most of March we found Death Valley and southern Arizona much warmer. In addition to ghost towns, hiking and biking, London Bridge, and bird watching, we enjoyed our camping trip with cousins Carol and Ken. We visited with cousins Bob and Ginny in Tucson, Boulder running friends David and Lada in Patagonia, and Nederland neighbors Jim and Sandy in Marana. Judy even won an unscheduled 5K race in Nogales.

Camping in August at Turquoise Lake near Leadville was a week of relaxing—fishing, hiking, running, and biking.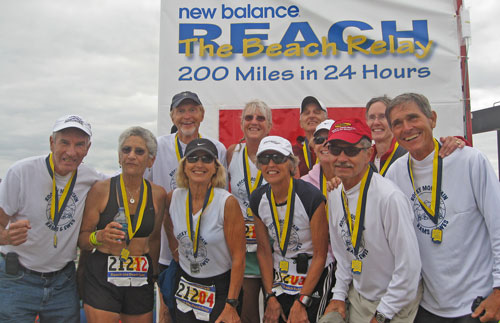 Judy competed in the 205-mile Reach the Beach relay race in September. She and eleven teammates won their age group in a race along New Hampshire's scenic back roads from Franconia south to Hampton Beach. We got a chance to visit Debra's family in Milton both before and after the race.

By the first week in December, we were looking forward to our customary week in Puerto Vallarta. Ideal weather for beach sitting, Shanghai rummy, light shopping, and great dinners with cousins Carol and Ken, plus nightly celebrations—parades, music, street food—during the 12-day Festival of Our Lady of Guadalupe. We also learned how rough the back roads of the Sierra Madre are on a day trip that left us shaken, not stirred. (This was not a highlight of our week in PV.) See photo below.




Visitors



Dick Sanders blew in and out of town twice during the year for two furious and intense afternoons of Shanghai rummy, plus news from the Toledo area. We dissed him at the game table.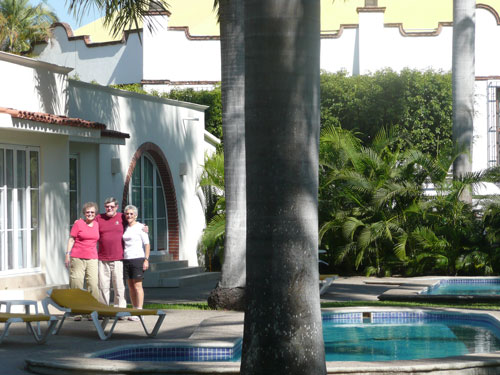 Xavier University's Leslie Prosak-Beres, one of Hughes's former doctoral students, paid her maiden visit to Nederland for several days of sightseeing in May. She was game to hike in the high country in addition to shopping Boulder and dining at Chautauqua.

To our surprise and delight, David Delo, who sang, drank, and studied with Hughes during their undergraduate days at Antioch College, popped up after nearly half a century. It was like a mini-college reunion: just the three of us recalling names and events from our undergraduate days, and telling stories of our post graduate lives since 1962.




What Kept Us Busy



We continue to enjoy volunteering in our area. In addition to working at the Visitors Center, Hughes joined Judy working at the new carousel that has drawn thousands of visitors since it opened on Memorial Day. Judy also greeted visitors from the front desk at Boulder Community Hospital.

We both bought new bikes and together we have tried to follow the lead of our bike enthusiast son, who logs well over 100 miles a week. We occasional join him or ride on our own in the Boulder area. We're still casual, fair-weather riders. We're also looking forward to doing more biking on our travels.

Judy has continued taking Lucy to training classes with mixed success. While Lucy's much better for the training, her behavior, unfortunately, is still too unpredictable to qualify as a hospital therapy dog. Both Bella and Lucy continue to bring so much richness to our lives.


Socially, we played more bridge this year than ever before since we moved here. Hughes continued to read mysteries and played the trombone in the Barker Dam Brass Band again in the 4th of July parade. Judy joined an informal women's hiking group during the summer and found many places in the area we hadn't discovered in 18 years living in the mountains.




Health and Aging



We have always felt comfortable in the Boulder County area, in large part because folks here are active, healthy, and generally young (or young acting). People are outdoors in all seasons running, biking, skiing, climbing, and all the other activities that keep one fit. This was one of the several reasons we came to this area. We figured these young folks would keep us young as well. Perhaps they have.

In spite of Hughes's heart attack, Judy's second cancer and later a colon resection, we're holding our own keeping up with the younger crowd. (It should be noted that Judy continues to outrun most of the younger women on race days.) In our heads, we're still 18 or 23. If only our bodies paid attention to what's in our heads.




Finally



Enough said. 2010 is gone and behind us. No more ugly. We're only going to look forward to a future of more good travel, interesting local activities and community involvement, and more good times with good friends.

Happy New Year to you and your family. All the best in 2011.