HUGHES AND JUDY LOOK BACK
Highlights and Lowlights of 2009




The past year will be remembered for the best friend we lost and the new member of our family; for the places we explored; for races won and races not run; for old friends we visited; and for overcoming the expected and unanticipated changes in our growing older.


TRAVEL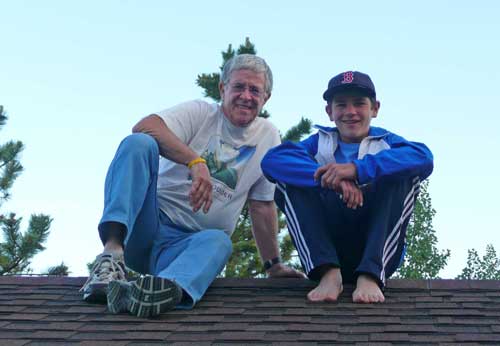 Retirement, for the past 19 years, has given us time for travel. We have relished each opportunity that has come our way. We spent four weeks this winter learning about parts of Arizona that were new to us. We were surprised how much we liked Wickenburg and the dry desert that sprawls quietly and sparsely populated westward to the California border with its ghosts of mining towns past, like Swansea and Vulture. Arizona sunsets are magnificent.

Judy's family held a mid-year reunion in the Washington, DC area. We renewed our friendships with family from both coasts, some we hadn't seen in over 40 years, some never before. On the way to the gathering, we stopped for several days in the Toledo area and visited with former neighbors and colleagues we'd not seen in many years. We made our way to the Boston area for a visit with Debra's family in suburban Milton. Grandson Griffin made the return trip with us and stayed long enough to help Hughes put a new roof on the garage, as well as learn to drive a stick shift and hike in the nearby high country.


Our four-week trip to Utah in the early fall did not go as intended. A week into the trip, Sophie died suddenly. We spent several days dealing with the tragedy and, in the end, decided to continue the trip believing that home would feel even emptier without her. We spent our planned week at Best Friends Animal Sanctuary in Kanab, and the rest of the time camping in Utah's beautiful high desert landscapes. Judy competed in two of the three races she'd planned in advance.

A shorter trip took us camping in Pagosa Springs for three days of great music at the Four Corners Folk Festival over Labor Day weekend. Our Puerto Vallarta "vacation" this year included an overnight tour of distilleries in the town of Tequila.


MEET LUCY

It's said that when a door closes look for another to open. Sophie's death came out of left field, such that not one of the three of us (Bella included) knew what had hit us. For days we seemed removed from the realities around us, lost in a state of denial, anger, grief, what-ifs, and what-nows. Bella had lost her lifetime companion; Sophie and Bella were unrelated and had been best friends for over nine years—all of Bella's life. She clearly grieved as much as we did. With the help of good people at Best Friends with whom we spoke, Sophie's body was cremated by a caring woman who provided solace as well as Sophie's ashes that we brought home to her familiar woods and a spot next to Gordie's grave. (Michael and Cindy have memorials for their former dogs in the same area).


The question of when to seek a new family member was settled after Judy talked with a friend who pointed out that Bella needed a companion at least as much as we wanted a second dog. Several internet searches and visits to shelters in the region led us, quite unexpectedly, to find Lucy, a lively and loving young dog (age 3–4?) who had been given up by a family that had, at least for much of her life, treated her well and taught her to like other people and other dogs. (Judy and Lucy will begin a formal obedience class just after Christmas to smooth out some of her "rough edges.") She has most all of Sophie's best qualities and will, within a short time, become a friendly and effective therapy dog for patients at Boulder Community Hospital where Sophie was beloved. (We were reminded of Sophie's wide circle of friends at BCH by the outpouring of condolences and fond memories from patients and staff.) Best of all, Lucy and Bella already act like good friends and she has firmly found a place in Judy's heart to fill part of the hole left by Sophie's passing.


THE RUNNING SEASON THAT WASN'T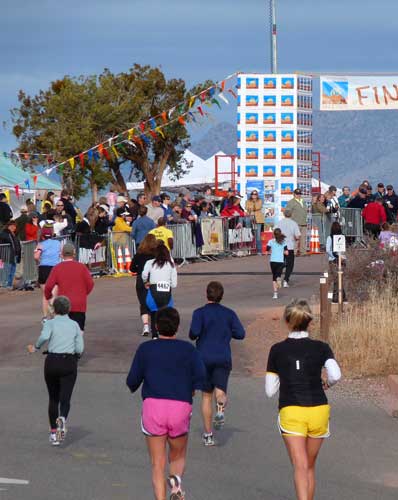 Judy's first injury came in Quartzite on our Arizona trip when she injured her knee in a bike fall. Nothing was broken we were glad to learn, but the swelling and pain did not permit her to run comfortably for about six weeks. (She said she did feel well enough to run the challenging Sedona 5K on our way home; though she won her age group in a respectable time, she probably should have skipped it.) Can you pick her out in the photo coming to the finish line? Shortly after we returned home, she began training with the Boulder Striders for the Memorial Day Bolder-Boulder 10K. However, her hopes of a 16th medal dimmed as she developed pain in her pelvis: x-rays and an MRI confirmed a stress fracture. Bummer! (Shopping for a new refrigerator and HDTV provided some distraction.) She didn't run again until early summer, and then not at the level of training she had planned. She set her sights on competing in the Neder-Nederland 5K, our local running event that she has always supported, even directed for three years. She ran it well and won her age group. On our trip to Utah, she ran in local races in Green River (fourth woman, first masters) and in Santa Clara (first 55+).

Hughes gave up running several years ago when his knees told him he had run one race too many. That situation has caused him little anguish because never felt the rush and the high that runners with Judy's spirit experience. As some of you know—and many people can't understand—running is something Judy has to do; she has little choice, and when she can't run because of injury, something valuable has been taken away from her and it hurts in many ways. (Three years ago, she ran and won a high altitude race with severe heel pain and just a few days after being diagnosed with cancer!) This year, being able to return after two significant injuries has lifted her emotional level back to where she feels good about herself and other parts of her life.


ODDS AND ENDS OF MOUNTAIN LIVING



Volunteering

.

We've never believed that retirement meant to stop working, only giving up a job. Especially in a small town, retirement involves volunteering: Judy (with Sophie and, soon, Lucy) at Boulder Community Hospital, Hughes at the Visitors Center in Nederland. We also seem to find other opportunities from time to time: When they needed people to cook turkeys for the community Thanksgiving dinner, Judy raised her hand. Need a speaker on Nederland history at the high school? Hughes said "Sure." He also demonstrated the fine art of water witching for kids at the local outdoor education school. Together we periodically volunteered at the local movie theater (selling snacks and cleaning up afterwards). We even volunteered as one-shot llama wranglers for a trail restoration project in the nearby Indian Peaks Wilderness Area.




Visitors

.

In addition to Griffin's two-week working/recreational/educational visit, Tom and Loretta Williamson from LA spent a night catching us up on their world travels (yes, they're retired also); Hedy Bressler from Florida spent a night in the mountains with us; Ken Andrews came from Georgia for dinner but didn't sleep over. (We met Ken and Hedy when the four of us were in college together and have stayed in touch for nearly fifty years, a connection we continue to value.)



Entertainment

.

We have found that even in our pursuit of privacy and lack of a "neighborhood," we enjoy the company of people around us. After eighteen years we've met a lot of folks we like and find stimulating. Judy gave up her book club a few years ago, but Hughes's Mystery Book Club continues to hold his interest after ten years. McGinty's Wake, who produced their first CD this year, still gets invited to local and out of town gigs: contra dances and well as entertainment performances. Summer and holiday picnics and parties are excuses to keep in touch with those who live "close by" (i.e., within a few miles) but whose houses we can't see. Thanksgiving includes a free community dinner at the fire station for any and all who wish to attend; this is held the Sunday before Thanksgiving Day, when we gathered with our close-by family—cousins Carol and Ken along with Michael and Cindy (with their dog, Gidget, and Lucy and Bella). This year we were introduced to "Trick or Drink," a local adult Halloween tradition here in the mountains that takes the place of never having children knock on our door for treats.


Two new avenues of delight have opened up this past year:

duplicate bridge

and

house concerts

.

On the bridge front, we not only have found a handful of folks who enjoy playing bridge as much (and as often) as we do, but we managed to gather together eight players at the same time for the inauguration of a Nederland duplicate bridge group. (We need to come up with an official name.) We've bought the boards, had two evenings without fussing or arguments, and will try to set a regular schedule that works around the frequent travel plans that many of us have.

Also, we "discovered" that a couple living in the area have been hosting performances by traveling musicians for the past ten years! We've known about their house concerts, but hadn't taken advantage of the opportunities to hear good music in an intimate setting (preceded by a superb potluck dinner). Now that we've gone a couple of times and really enjoyed the whole experience, we now consider ourselves "regulars" at these events held two or three times a month.

A confession on the subject of entertainment: We really love watching TV in high definition. It hit home last year when we watched the Super Bowl with friends in Arizona who had just installed HDTV. Watching the game was more fascinating than the game itself. The difference between digital and high-def is remarkable; it reminded us both of moving from black and white TV to color in the 1970s. We thought, "What had we been missing all these years?" We're willing to pay a little bit more for the secret pleasure, but as our friend Jack Ahern would say, "It's not a mortal sin; it's only a venial sin."


END OF THE YEAR THOUGHTS

We are grateful for all the good that has come into our lives this past year. Lucy has eased some of the pain and grief that followed Sophie's passing. Judy's semi-annual scans continue to confirm no signs of cancer. We have been able to live comfortably within our means during this tough economic period.

We are grateful for the strength of good friends who in their various ways, directly or distantly, help to sustain us. And we remain optimistic about whatever tomorrow may lay at our doorstep.

We wish for you in the year ahead continued good health, the capacity to hope, and an ever-widening circle of friends to provide the lift and support when you need it most.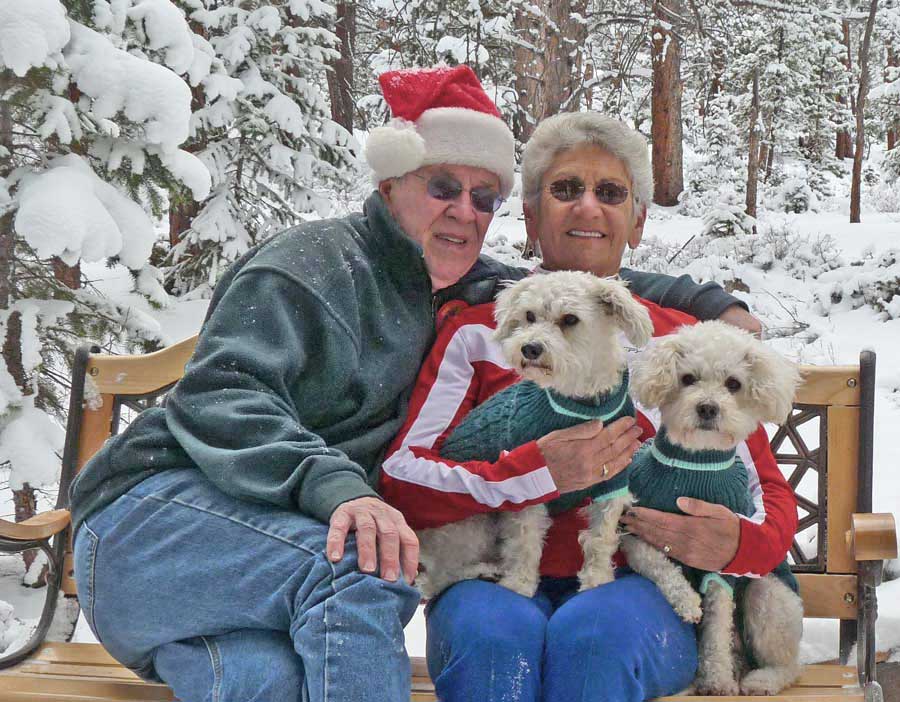 Best Wishes
to you
and your family
for the New Year,


Hughes, Judy,
Bella, and Lucy