Dear Family and Friends,


This past year we have continued to write and post online quarterly newsletters in hopes of sharing with you some idea of what we've been doing each year of our retirement.

We enjoy writing them and, from time to time, we reread them to remind ourselves of events, people, and places that have been important to us. If you have looked over the ones from this past year, you already have a pretty good idea about what has captured our interests, where we've been, and what life in the mountains has been like for us throughout 2008. Click on www.pigseye.com/hj/letters for any you have missed or would like to read again. This year we thought writing our usual end of the year newsletter might be redundant. So, instead, we'd like to acknowledge some highlights and reflect on some things that, looking back, seem important but might have passed unnoticed during the year past.


I. Highlights



•Alaska

: In three weeks we saw as much as we could by train, tour boat, horseback, hiking, helicopter, small plane, fishing boat, RV, and cruise ship through the Inside Passage, across the Kenai Peninsula, and Denali National Park. (That's the Northwest Glacier in Kenai Fjords National Park behind us in the photo on the left.)



•Puerto Vallarta

: Jean-Pierre and Linda Georges joined us for Day of the Dead celebrations, an election night gala, a 5K race, a visit to the PV Botanic Gardens, great restaurants (including Pipi's below), and a week of warm weather R&R.




•Sophie Graduates

: After a month of classes, training, and testing, Sophie joined the ranks of therapy dogs at Boulder Community Hospital. She and Judy, both dressed in their official volunteer uniforms, now make regular Monday morning visits to see patients of all ages at BCH.



•Wild West Relay

: Judy ran 195 miles from Fort Collins to Steamboat Springs on a relay team with eleven other runners. The team averaged 9:26/mile for over 30 hours. (They each ran a leg through the night.) They won first in the Masters category.



•National Cross-Country Championship

: Judy won an individual second place in San Diego at the National Cross Country Championships. Her team finished second in their age group. In local races, Judy won her age group in all seven races she entered, plus the Puerto Vallarta 5K in November.

•Spring began here on April 28th with the arrival of the first hummingbird.





II. Reflections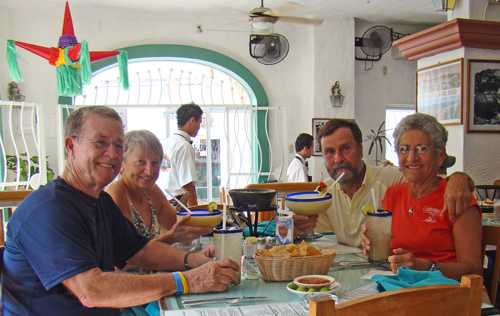 •You may have observed this yourself: as we have grown older, we find we are spending more and more time visiting different doctors for tests, lab work, scans (all Judy's tests continued to come back clear and clean), and surgeries (Hughes had a second left knee operation in March). We've both seen internists, dermatologists, dentists, acupuncturists, and a variety of others who have helped keep us fit and catch things before they develop. We're grateful for Medicare and good medical services in our area for keeping us going.

•A friend once described three stages of retirement: the "Go Go" stage, the "Slow Go" stage, and the "No Go" stage. After 18 years of retirement, we think we are still in the Go Go stage. We can still hike, scuba and snorkel, cut our own firewood, ski and snowshoe, run competitively, and bicycle for hours. While a cruise may be generally for those in the Slow Go stage, we enjoyed the convenience and economy of our cruise up the Inside Passage so much that we will likely plan another cruise sooner than we expected.

•A cruise through the fjords of Norway and other parts of Scandinavia is on our short list of places we would like to visit. High on that list also are a return visit to Ireland and a trip to the Galapagos Islands. Judy would include Antarctica. Spain, western Australia, northern Europe, Egypt and the Holy Land, and Turkey remain on our to-do list. There are areas of the US and Canada we would like to explore, and we have a comfortable RV for seeing as much of North America as we can.


•We have spent so much time driving the canyon between here and Boulder that we have considered moving "down below." We have not gone much beyond thinking the idea; the prospects of moving are over-whelming, and the potential of finding an affordable house is outweighed by selling this one. The thought of moving into a house with neighbors next door is really not comfortable after 16 years of not seeing other houses. The dogs would have to be fenced. So many changes to have to make! At the end of the day, however, we continue to relish coming home to the peacefulness and beauty of our mountain home.

•Volunteering has been a blessing for us both. Since we came to Nederland in 1992, both of us have had a wide variety of volunteer opportunities, some of which we have, from time to time, even received compensation, though that was never a factor in doing the work. We know we have contributed to our community and the pleasure and great personal satisfactions have enriched our retirement.

•We enjoyed visits from Jill and Cal Calcamuggio from Toledo (Jill inspired Judy's interest in running nearly 25 years ago); from Hedy and Don Bressler (Hedy graduated from Antioch College 47 years ago, a year before we did); Cythnia Sievers and Darla Belshe (in photo on the right) graduated from high school with Hughes and we got reacquainted with them after half a century at Hughes's 50 high school reunion last year.

•We find we're more hopeful about what the future holds for us. As bad as the past eight years have been for the country and the world—even as prices have gone up and our savings have dipped—we remain optimistic that our country will recover financially. All the confidence we've lost at home and our stature across the world can and will be regained. We are encouraged by a new moral vision for our society and new leadership. We can travel outside the USA with a sense of pride in our country once again. We hope you share our optimism.


Each year we appreciate more and more the true value of family and friends. We thank each of you for your continued friendship as neighbors or friends across the country. We wish each of you and your family health and happiness in the coming year.





Judy and Hughes