Hughes and Judy Look Back at 2006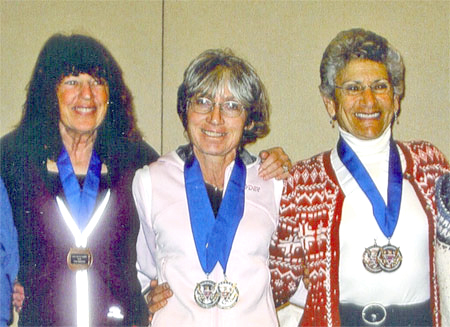 January: 2006 got off to a very wintery start, weather that encouraged lots of inside activity. Hughes began a major winter project: transferring our 5000 slides to CDs (He finished in April!); together we enjoyed a weekend of X-country skiing at Granby's Snow Mountain Ranch on the other side of the continental divide from Nederland; we continued our 3-a-week visits to the local health club for aerobics and general body tune-up; we heard lots of good music and stories at Arvada's annual Cowboy Poetry Gathering; in spite of weather, Judy continued training for February's National Cross Country Championships in New York.


February: Judy returned from New York with an individual bronze medal and a gold team medal; our book clubs kept us both up on bestsellers and good mysteries (write for personal favorites if interested); Judy regularly X-country skied at local (Eldora) ski resort; Hughes continued making music with McGinty's Wake plus his weekend shift at Visitors Center throughout the winter.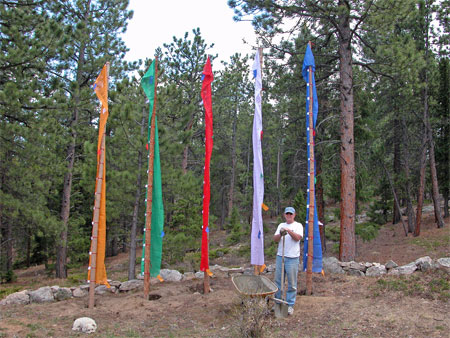 March: Judy began serious training with Boulder Striders for Bolder-Boulder 10K on Memorial Day. Hughes landed a slot in this year's Ride the Rockies in June, which meant he had to get his bike tuned and think about training for the 400+ mile trip. (See details of the past winter.)


April: We gave up the fitness center to run outside in the warm spring weather; attended daughter-in-law Cindy's Volunteer of the Year award ceremony in Lafayette; Judy won her age group in the Boulder Distance Festival and the Earth Day 5K, both considered tune-ups for the Bolder-Boulder; heard more cowboy poets (Baxter Black was the headliner) in Estes Park.


May: We flew to Puerto Vallarta for the wedding of neighbors Brian and Tracy; we erected poles for our Bhutan prayer flags at back of our meadow (their colors are now faded, but the prayers continue to be blown by the wind); torn plantar fascia tissue made running painful for Judy, but with the help of a good podiatrist and some cortisone, she won her Bolder-Boulder age group for the 15th time and helped her team to a third team championship; Hughes biked from here to Estes Park (45 miles) and declared himself fit for the 6-day Ride the Rockies.



June: We drove to Sedona for our annual reunion with Judy's high school girl friend and her husband. (The third musketeer who had always been with us passed away a year before, so we were only four this year.) Sedona's early summer heat forced us to take short morning hikes and spend plenty of pool time the rest of the day; Hughes finished all 419 miles of the bike ride across southern Colorado (What was it like? You can read his day-by-day account online.); Judy, meanwhile, decided to run one more local 5K—in spite of a painful foot—and was the second overall woman! (See details of the past spring.)


July–August: Judy spent much of the summer recovering from cancer surgery (June 26) and radiation treatments (beginning in August) that extended into October; visits from Debra, Judy's brother Herb, and college friend, Hedy, were supportive and helped to boost spirits; old friend Tom Williamsen dropped by for a couple of days to show off Loretta Turner, his bride-to-be (wedding in September); Herb returned with wife Joan for another visit; doctors and radiation therapies consumed most of the summer; McGinty's Wake played a Denver area wedding (This was a huge mistake: wrong music, wrong venue; we'll probably never do another wedding) and annual Carter Lake Yacht Club gathering for the third year (They loved us! We'll go back again next year.)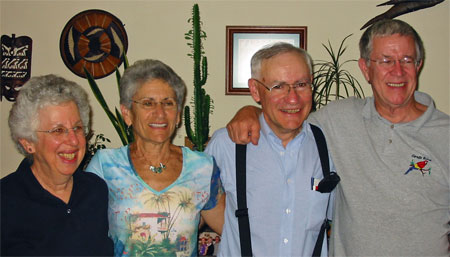 September: We flew to SoCal for Tom and Loretta's wedding—a good time and a nice break in the summer's routine; a week of R&R in Steamboat Springs was perfect get-away—hikes, daily runs, light shopping, reading, movies, eating, resting.


October–November: Judy flew to Boston for a consultation at Harvard's Dana Farber Cancer Institute and visit with Buddes; our week in Puerto Vallarta with Michael and Cindy was energizing and relaxing; we extended our visit into November for Day of the Dead "celebrations" plus Judy's return to competitive racing in the IV International Half Marathon and 5K (She took 2nd place in her age group ["Femenile Veterano Plus"] in the 5K race); Hughes ran also and did enough damage to his left knee that he had surgery to repair torn meniscus (the right knee was worked on in 2003); we celebrated Thanksgiving here with Michael and Cindy and Judy's cousin Carol and husband Ken. (See details of this past fall.)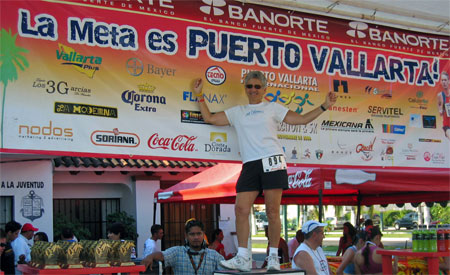 December: Not much slowing down for either of us this month: Judy continued to develop cancer recovery nutrition/diet plan (though she's been practicing good eating habits for years!); more doctor visits and tests show no signs of metastasis (a huge relief for now—next scan/tests in three months); we officially entered the telecommunications portion of the 21st century with the purchase in mid-December of our first cell phone; our end-of-year social calendar is busy as usual (in the mountains there are always neighborhood and community dinners, potlucks, and occasional celebrations honoring various members of the community; we look forward to a quiet, relaxing holiday season with Michael and Cindy, neighbors, and whoever else might drop in before the end of the year.

We hope your holiday are filled with the joy and pleasure of friends and family.


A good friend in Montana began her Christmas newsletter this year this way:


"My wish for you this Christmas is that your hearts will be at peace. May we all be able to set aside life's struggles and losses and rejoice in the blessings that are ours."
We could not wish more for you.





Good holiday cheer and best wishes for a very Happy New Year.

Judy, Bella, Hughes, and Sophie