POSTCARDS FROM PUERTO VALLARTA
November 2–9, 2007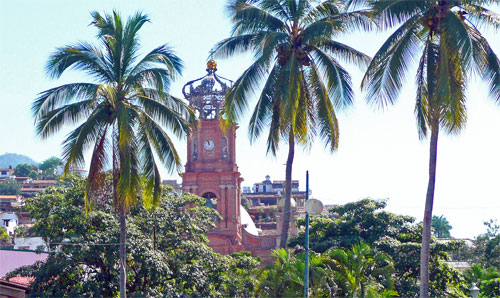 We have been coming to Puerto Vallarta since 1996. Once a year we swap a week of cold Colorado weather for a week of tropical sun and warmth.

It is a city of 300,000 that continues to delight our senses with colors, sounds, foods, neighborhoods, and the Bay of Banderas. We feel comfortable and safe, and at home, as much as gringos can in Mexico. The people we meet are welcoming. We like walking along the malecon watching the families, the mimes, the artists, and street performers; we like the narrow, noisy streets in the "Zona Romantica" or old section. We like the adventure of riding the buses. We have found many good restaurants; we return to certain favorites every year, yet we continue to discover new places every year.

Usually we use our time share at the Krystal Vallarta with family, sometimes by ourselves. This year cousins Ken and Carol McKenzie joined us for a week of reading and pool time, jungle adventure, Day of the Dead celebrations, the Puerto Vallarta International 5K race, and plenty of good food and dining. We played many hands of Shanghai Rummy and drank margaritas. We did what we came to do: relaxation and renewal.



The Church of Our Lady of Guadeloupe (above) has been called the most endearing landmark in the city. It dominates the central city skyline and though it has the look of an historic building, the church was completed in the mid-1900s. The crown is patterned after the crown worn by Empress Carlota wife of Emperor Maximillian who ruled Mexico in 1864–67.






I. THE RACE




Each year for the past four years, Puerto Vallarta has hosted an international half marathon and 5K race, usually on the first Sunday in November. This is the second year Judy has run in the 5K race. Several members of the Boulder Roadrunners participate as well. The conditions are very un-Boulderish: in spite of the early start (7:00 am, before sunrise), sea level, and the season (mid-autumn), the humidity is high and the temperature very warm. It's not an easy run. The course takes runners from the city's sports complex north on the main street of the city towards the airport. The 5K turnaround is just before the Krystal Vallarta; the half marathon goes beyond the airport before turning around. The surface is flat and, for Puerto Vallarta, smooth.

The early start required the only alarm clock of the week. We were up and out of the rooms by 6:00 in order to catch a bus to the sports complex. There was a bit of waiting before the start of the races (the 5K started 10 minutes after the half marathon). When Judy finished we had breakfast at "100% Natural" restaurant, a small family-run eatery across from the Sheraton that has perhaps the best health food we've run across anywhere. There was a long wait afterwards while the results were compiled and verified, the presentation of awards, and claiming the award money. We got back to the Krystal by about 1:00.

Judy's second place finish last year was controversial. To make sure runners are who they say they are and are entered in the right age group, this year runners were required to provide photo IDs with their birth dates. Judy won second place money this year. Other Boulder runners who placed in the top three finishers in their age group included Colleen De Reuck, Dave Dooley, Tom Lemire, Rich Castro, and Carl Mohr—pretty good for a small contingent from high and dry Colorado.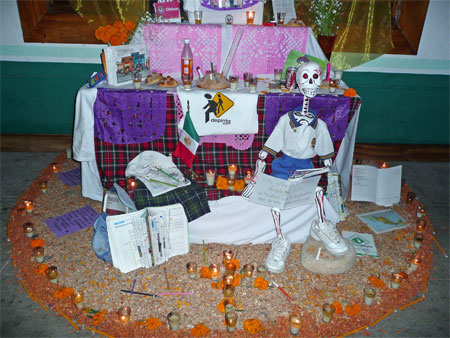 II. DAY OF THE DEAD

Judy's race was one of reasons we chose this particular week to come to Puerto Vallarta. Day of the Dead was originally a summer celebration of the Aztecs. Catholic missionaries, in an effort to blend Christian and indigenous beliefs, made the celebrations coincide with All Souls' Day and All Saints' Day. Today, the festivities begin with Hallowe'en (October 31), All Saints' Day, and All Souls' Day (November 1 and 2).

El Dia do los Muertos

celebrates life and honors those who have passed away.

All Saints' Day is a time to remember children who have died by decorating their grave sites with toys. Deceased adults are honored on All Souls' Day with public displays decorated with photos, food, and other memorabilia. Marigolds are part of the lavish displays that celebrate the lives of departed family members, reassuring them they are not forgotten.


We walked downtown to see the displays surround the city building. They were elaborate, personal, touching, and are the result of careful planning. While we didn't go the city cemetery this year, we have vivid memories from last year of the decorated graves that we saw everywhere. We'll return to the cemetery next year. Mexicans certainly do to far greater lengths than in this country to remember and honor their ancestors, at least once a year.

Hallowe'en is a more recent addition to the celebration; children with their parents scour the malecon with bags hoping for candy or money. Children don't say "Trick or treat;" rather they come up to folks and say "Hallowe'en" and show their bag in hopes for a treat or cash. Anyone who gives a treat/cash becomes the target of all the kids in the vicinity—think of feeding pigeons in the park. Hallowe'en night goes strong until at least 10:00 (when we left for home at the Krystal).


III. DAY TRIP

We usually plan at least one activity that gets us out of town for a change in scenery. In the past we've taken the "Pirate Ship" cruise, day trips to Yelapa and Quixmoto to snorkel and ride horses, explored the old mining town of San Sebastian in the hills to the north and east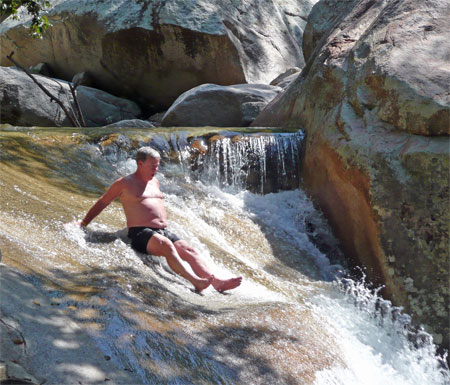 of town, and we once took a tourist bus north to the tiny resort beach at Chacala to check out a holistic-style living center called Mar de Jade (closed, but a nearby beach restaurant served outstanding ceviche). This year we spent the better part of a day getting to El Eden, a jungle destination (site of location for the movie "Predator") where they serve a traditional lunch under a huge palapa beside cascades of the Rio Tuito. Getting there required a stop for some retail in the "Zona Romatica" area of town and at a "tequilla factory outlet" in Mismaloya, both very disappointing ways to spend our time. When we finally arrived at El Eden both Ken and Hughes had a surge of testosterone and thought they should slide down the cascade rocks in the river. They returned safely and refreshed, and didn't catch anything from gulping the river water. The beer was refreshing and the snack foods were tasty.

The entire experience was tame compared with our first trip to El Eden. Getting there years ago was the day Judy drove for the first and last time in Mexico, an experience neither of us nor Michael and Cindy will forget. (The road is much better now, though still not for ordinary cars and still very dusty.) While Michael and Cindy hung out to enjoy the food, drink, and shopping at the big palapa, we hiked a couple of miles upstream through the jungle guided by an enterprising teenager named Maximillian, who jumped out of the jungle and offered his services as a guide to take us safely to the end of the trail where the waterfall was too steep to go beyond. It was a real jungle adventure. When Judy had asked about snakes, Maximillian assured us (especially Judy whose aversion to snakes is known around the world) that there was nothing to worry about. "No snakes on the ground. They live up there (pointing to the trees)."


IV. VACATION R & R


Ken and Carol, like us, are retired and in truth it is difficult to think of any trip as a vacation. Aren't we always "on vacation?" The thing about going to Puerto Vallarta is that we act like we

are

on vacation: We eat dinner out every night (and occasionally some other meals as well), we play a lot of cards every day (sometimes in the evening). We swim and sit by the pool every day, and we've been known to shop for stuff we don't really need. We don't have meetings to go to, no volunteer job commitments to meet, and we never make our beds, wash our dishes, clean our bathrooms, or do laundry.

The Krystal Vallarta, in spite of some ups and downs over the ten years we've been coming, remains a tropical urban island of quiet and greenery where the pace of living slows to a crawl. We fell in love with the ambiance when we first walked through it and, though there are newer resorts, none give us a sense of peacefulness that we continue to find at the Krystal. We started out buying a one bedroom timeshare in 1996, we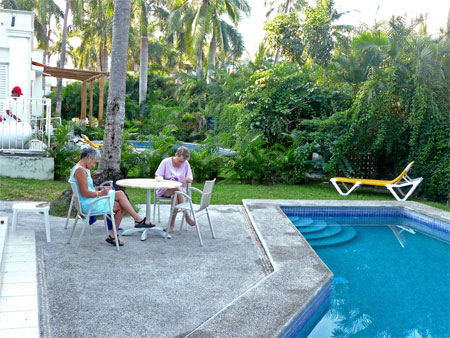 upgraded to a two-bedroom unit three years later, and last year we upgraded to a two-bedroom villa with a private pool that we share with no one else (skinny dipping in the evenings is not a problem). We continue to use some of the other "big pools" because at certain times of the day there is more shade. But how nice it is to walk out your bedroom door and into a private pool and play cards or read there until you need to cool off. There is no loud music nor are there loud kids, American tourists, or water aerobics creating a noisy atmosphere that seems to be endemic among some age groups or cultures.

Typically before breakfast Judy would run and Hughes would use the stationary bike on the grounds and meet at the pool for a cool down. Then we had breakfast by the pool, usually with Ken and Carol. This would give us a chance to plan the day or get back into our reading. By about 9:30, the sun would bear down on the pool area of our particular unit and we would pack up for town or a trip, or we'd plan to go to the quieter larger pool where there was good shade all day for reading or playing cards.

Good food can be found throughout the town. We have a list of at least dozen places we have tried and would not hesitate to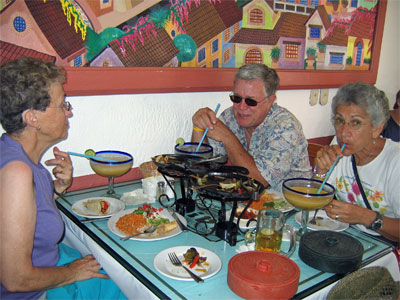 recommend. Unlike our experience in Italy where we never had a "Wow" dinner, these are places that create a dining experience featuring outstanding traditional food, especially fresh seafood: red snapper, shrimp, mahi mahi, calamari, lobster, and the ubiquitous "catch of the day." In addition, there is often guacamole made fresh to order at the table, special desserts and coffees prepared at the table that require experienced waiters (Spanish coffee, bananas flambe, etc.), and margaritas that reflect the specialty of the house. Every good restaurant serves outstanding

flan

; if the dinner is second rate, the

flan

will be second rate also.

In addition to the

100% Natural

(where we ate both a light dinner and a hearty breakfast), we returned to

Pipi's

(and who wouldn't?),

Los Feliz Langosta/The Happy Lobster

) which still has outstanding food and service, and

Tino's

(a family oriented restaurant in Pitillal where the service is always cheerful and outstanding). We also tried two new restaurants:

The Blue Shrimp

, which serves shrimp a hundred different ways in an attractive semi-outdoor setting complete with two caged macaws, and

El Arrayan

, which features outstanding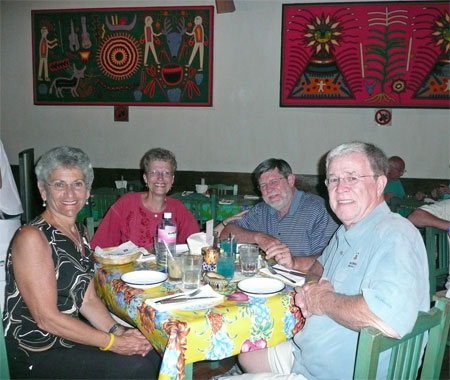 recipes from all over Mexico in an out of the way side street we finally found. We might not hurry back to The Blue Shrimp, but El Arrayan will get our business from now on. We wish we could include a photo from each place, but El Arrayan's Huichole yarn paintings on the wall are worth noting. They belong to the owner of the restaurant whose grandmother collected them years before they became fashionable. We should add that washbasins in the baños are worth time out to wash your hands when your arrive as well as leave. And their flan was exceptional.

During the day, when we did not have a day trip planned, we usually spent part of the day walking through the city. We shopped at the tile store in the old section of town. Ken and Carol spent several mornings searching out the perfect Huichole yarn painting, which they eventually found and brought home with them. Hughes found his favorite discount liquor store where the Tequila was cheaper than at Wal-Mart. We tried to get downtown walking finished before the real heat of the day arrived. Back to the Krystal for a walk on the beach or swim in the pool.

Most evenings we spent walking the malecon, watching the mimes, the street performers, and all the people, both locals and tourists, enjoying the cooler evening air and sea breeze. We listened to music in the square next to city hall, and one evening we were entranced by traditional dancers in an outdoor park a few blocks north of downtown which were part of a week-long program highlighting indigenous traditions in the state of Jalisco. Vendors around the park offered traditional clothing, art, and food.

However, we spent a good deal of our time reading or playing Shanghai rummy, enjoying homemade margaritas, and occasionally snoozing around one of the pools. After all, R&R usually is an abbreviation for "rest and relaxation." It was exactly the reason we came.