ANGKOR/SIEM REAP, CAMBODIA
OCTOBER 13—15, 2005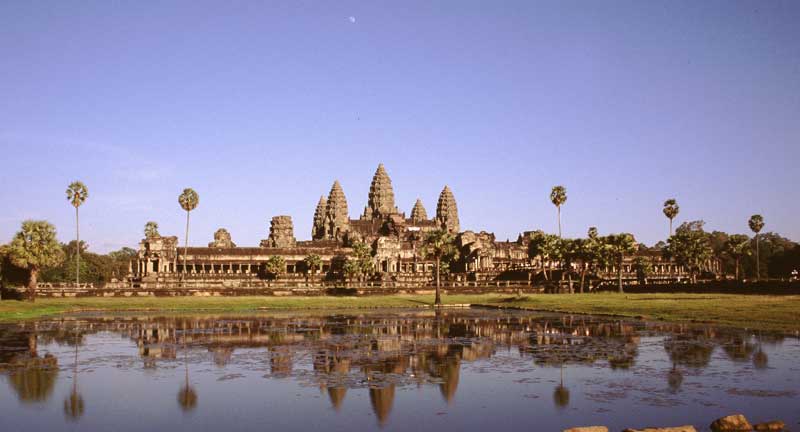 I. Introductory Notes
Our three days in Siem Reap was an adjunct to our two weeks in Bhutan. We felt we could not leave this part of the world without experiencing the Angkor temples complex in northwest Cambodia.
Angkor names a city, an area, and an empire. It is a much more than a single monument or temple. Angkor Wat (pictured above) undoubtedly is the best known, most completely excavated, and perhaps the most visited site within the complex that covers an area over 75 square miles, roughly the size of Manhattan Island (although recent infrared imaging from space satellites suggests that this area may be up to four times larger). Angkor Wat is only one of over 40 sites currently accessible to visitors. In fact, we visited just five sites, each splendidly unique and different from the others: Angkor Thom, Bayon, Angkor Wat, Ta Prohm, and Banteay Srei.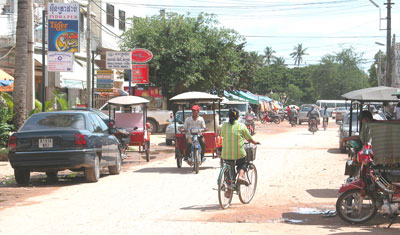 What we found in our short visit was much more than the excavated ruins of an incredible civilization unknown to, unnoticed or ignored by western historians until the mid-19th century. We encountered a country still suffering from the devastation and memories of hundreds of years of war both with foreign nations and by recent resident despots. In addition to being overwhelmed with the scope of Angkor, we were equally overwhelmed by so many people struggling to capitalize on the recent "rediscovery" of Angkor as a tourist destination in spite of a weak infrastructure, especially roads and transportation, an economy still in recovery, and a government reportedly as corrupt as any in the region.
We met people as poor as we have seen anywhere living in farming areas to the north of Siem Reap (population over 900,000) and to the south in the shallows of Tonle Sap, a large lake formed by the river of the same name. Rarely did we sense that people had given up, but were doing all possible to improve their economic status and maintain their cultural identity against tremendous obstacles.
It is impossible to visit Cambodia, even by the most naive tourist, and not be touched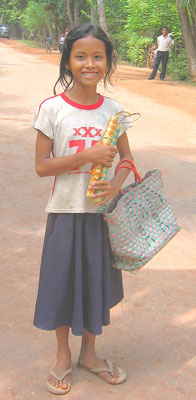 by the impact of war on the country and the people. There are reminders everywhere of the legacy of the war in Viet Nam and the horrors of Pol Pot's brief but deadly reign of terror in the late 1970s. These are only the most recent cases. Sadly, Cambodia, especially the area including Angkor, has experienced religious and political strife for centuries. Angkor itself shows all the signs of clashes between Hindus and Buddhists (Buddhist statuary destroyed or defaced by conquering Hindus), warfare among different Cambodian factions (Khmer Rouge bullets strafed Angkor Wat's stone columns), and incursions of foreign powers (according to the Insight Guide to Laos & Cambodia, there was "minor damage from (a) stray American bomb that... exploded in Angkor Wat").
Many Cambodians who escaped death during the 1970s are left without limbs or eyesight. They were everywhere we went—playing music at temple complexes, selling books on city street corners, or simply going about everyday work tasks with the aid of crutches or a prosthesis. They are the reminders of a generation lost to the insanity of war in neighboring Viet Nam (We were disingenuously assured by our government at the time that USA troops were never involved in Laos or Cambodia) and the insanity of Pol Pot's killing fields, where an estimated 2 million or more Cambodians died between 1975-79, one-fourth to one-third of the population.
The pockets of poverty and those who survived the bullets, bombs, and minefields stood in stark contrast to the cultural splendor of the Khmer Empire's greatest achievement, the former capital of Angkor.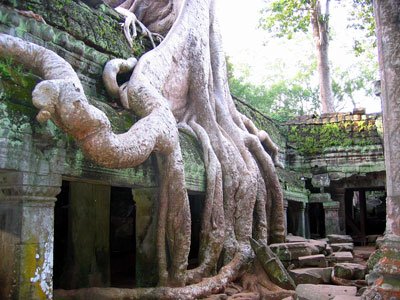 We made arrangements to stay at Journeys Within Bed & Breakfast that was brightly described in the December, 2004 issue of Frommer's Budget Travel Magazine (page 75). In addition to providing excellent accommodations and food during our stay, Andrea Ross and her most courteous and efficient staff arranged for round trip air transport between Bangkok and Siem Reap; provided a car, driver, guide, and admission for all temple tours; an evening dinner theater of Cambodian music and dance; a visit to a local school; and made solid suggestions for shopping, restaurants, and other places we might visit. She even arranged an evening massage for those who wanted to experience an authentic Thai massage. More than simply a place to stay, Journeys Within is full service travel company with its headquarters at the Rosses' comfortable B&B featuring spotless rooms, a sparkling swimming pool, a gifted cook, and the friendliest staff you can imagine.

II. The Temples
Construction at Angkor began in the 9th century C.E. by King Jayavarman II and reached its height four hundred years later with the construction of Angkor Thom by Jayavarman VII. By the early 1400s, the Angkor Empire was overrun by armies from the north and had disappeared. The temple complexes were swallowed up by jungle vegetation and lost to fable and mystery.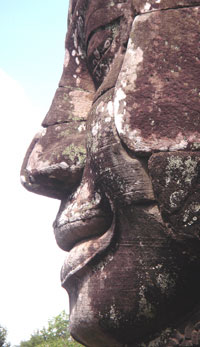 Asian explorers and traders had heard of, visited, and published accounts of Angkor as early as the 8th century. Europeans wrote detailed accounts of the temples and the area in the 16th century. Traders from China and Japan, as well as the Middle East and Europe lived in what is now Cambodia and wrote accounts of their observations as early as 1601.
Perhaps because the science of archeology did not develop until the 19th century, there was little interest in the West until French naturalist Henri Mouhot reported on his visit to Angkor in the 1860s. When that part of Cambodia became part of a French colony, archeologists from France and elsewhere in Europe began detailed explorations of the sites, made translations of temple inscriptions, and published stunning photographs. Civil war slowed archeological development and restoration. Looting, which had been a problem from the earliest days of Angkor, escalated until the United Nations/UNESCO efforts to safeguard the sites began in the early 1990s. Today, Angkor is a gift to the world, and a source of national pride, a cultural legacy, and an increasing tourist economy for Cambodia.
We visited five of the ten sites on our planned tour. That we did not visit more was in part for lack of time, in part because we were overwhelmed with what we did see, and in part because we needed to slow down the pace of our travel after two weeks of trekking in Bhutan and two nights in Bangkok. Nevertheless, the five sites we did visit were enough to make the point that if the area had been known to Western historians who draw up these lists, Angkor would have been the Eighth Wonder of the World.

[Dawn Rooney has written a comprehensive and accessible history and description of the temples: Angkor: An Introduction to the Temples (Odyssey, 2004). It is authoritative, interestingly written, easy to carry with you on your tour, and clearly explains what visitors cannot know about what they are viewing for the first time. Copies of bootleg 4th editions were readily available from any number of "booksellers" around the temples for $5.00, compared to $22.95 at Boulder bookstores.]
Different architectural styles are found among the buildings which were constructed at times when the kings favored either Hinduism (e.g., Angkor Wat) or Buddhism (e.g., Angkor Thom). The complex and the finely wrought statues and bas-reliefs are inspired by religious mythology as well as historical themes. There is, frankly, too much to take in, process, and understand in a brief tour.

1. Angkor Thom and Bayon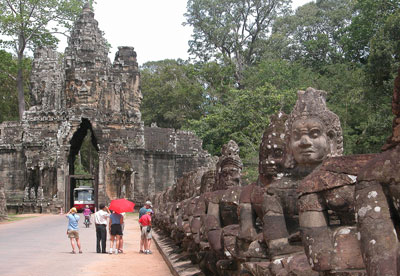 The ruins of Angkor Thom are about five miles north of Siem Reap and the site is visited probably as frequently as the more publicized Angkor Wat. First time visitors may be excused for confusing the two since Angkor Thom is a huge complex, larger than Angkor Wat, that contains within its walls numerous temples, a king's palace and other royal dwellings, bathing pools, monuments, and scores of other buildings that are themselves spectacular. The city complex, completed at the beginning of the 13th century, is surrounded by a 25-foot wall nearly two miles on each side with a moat as wide as a football field.
Angkor Thom (literally "big city") supported perhaps as many as 1 million Khmers in the 13th century, which would have made it the largest city in the world at that time. It was the last capital of a magnificent empire. In the 14th century the area was overrun by armies of Ayutthaya, a kingdom to the northwest, and by 1431 Angkor had been virtually abandoned and the buildings absorbed by the surrounding jungle. It is ironic that the success of the Empire may have been the cause its demise: Expanding the cities to accommodate increased population required clearing more and more jungle trees thereby changing the environment such that people could no longer sustain their agriculture and the rich soil washed away. It happened with the deforestation of the Highlands of Scotland; it's happening today with the rampant destruction of the Brazilian rain forest.
It took a few minutes to obtain our three-day pass (USD$40) with our passport photo laminated on the front (that's one of reasons for bringing an extra passport photo). We drove on to a parking area near the entrance at the south gate. A flood of people, young and old, descended on us when we got our of the van to sell us souvenirs, T-shirts, books, food, baskets, and much, much more. Their approach was assertive, competitive, persistent, and they offered their goods at surprisingly low prices.
We approached Angkor Thom by one of the five causeways leading into the city (shown in photos above). We were flanked by massive stone figures—gods on one side and demons on the other, holding parallel nagas, the railings or balustrades in the form of serpents—and passed through the gopura, or arched gate crowned with four heads each facing the cardinal directions. Our initial encounter with Angkor could not have been more impressive.
The heat and humidity made the interior of the buildings inviting, especially the corridors of Bayon, a major temple located in the very center of Angkor Thom. Bayon's most important feature are the bas-relief carvings that tell stories of kings and battles, as well as depicting everyday events in the lives of the people. It is clear that great care has been taken to restore and protect these remarkably detailed and complex carvings from decay and destruction. Only the effects of people touching or rubbing the stones show wear, especially on the breasts of the carvings of female nymphs which are polished to a smooth sheen. Though King Jayavarman VII, the most prolific builder of temples at Angkor, was Buddhist, many of the motifs and images are Hindu, especially the countless apsaras (stylized female dancers or celestial nymphs) that are found on walls throughout all of the sites we visited. Future kings who were Hindu permitted the destruction and defacing of Buddhist images, leaving many statues of Buddha without heads and wall niches without faces that were originally Buddhist. It is also likely that many of the missing heads were the result of looting and treasure takers.

2. Ta Prohm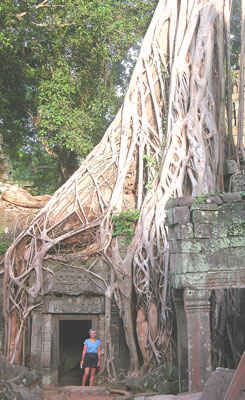 In afternoon, following lunch and a refreshing swim in the pool at the B&B, we drove to the temple of Ta Prohm located near Angkor Thom. We entered the east entrance and walked virtually straight through and out the west entrance. While the buildings themselves are not as remarkable in form or condition as other sites—there were fallen stones and other rubble within the walls—we felt that we were viewing the temple much as the first western explorers saw it. Archeologists have done little to remove the jungle from the grounds and the result is an eerie scene of giant banyan, kapok, and strangler fig trees that have overgrown the remaining walls and doorways. They seem to emerge from the ground or from the buildings themselves. We felt dwarfed by trees that are now an integral part of the support structure within the temple. The afternoon light cast dim shadows and created other-worldly images we did not find anywhere. We took dozens of photos.
Near the west entrance to the temple was a group of land mine survivors playing Khmer songs on traditional instruments. Some had lost a hand or a foot; some were blind. They played for donations and sold their CD. Most remarkable of this group was a man playing the melodies on a leaf (he's sitting in front on the right with his hand to his mouth), a skill our guide also demonstrated. It reminded us that years ago we hosted an artist from Japan, Taro Yashima, who, after dinner, stripped the leaves from a branch of one of Judy's house plants and proceeded to entertain our family and dinner guests by playing simple Japanese folk melodies on the leaves. It was a talent, he said, he learned as a boy in Japan.

3. Angkor Wat
Some of the group wanted to visit Angkor Wat at dawn, usually a good time of day for photographs, as well as to avoid crowds. However, in the very early morning there was a slight rain and the sky was cloudy, so the pre-breakfast trip was canceled. After breakfast, however, we went immediately to the site just four miles north of town to find that it was not particularly crowded. We approached the entrance along the main concourse of tightly fitted square stones flanked by balustrades on either side in the shape of a snake (naga).
Angkor Wat is a statement of superlatives. Dedicated to Vishnu, the temple was built in the early 12th century by King Suryavarman II as either a tomb and/or as a temple. In any case, it is the largest and arguably the most impressive monument in the Angkor area and the best preserved. Dawn Rooney goes further:

"(Angkor Wat) is an architectural masterpiece. Its perfection in composition, balance, proportions, reliefs and sculpture make
it one of the finest monuments in the world. This temple is an expression of Khmer art at its highest point of development."
(Angkor, p. 129)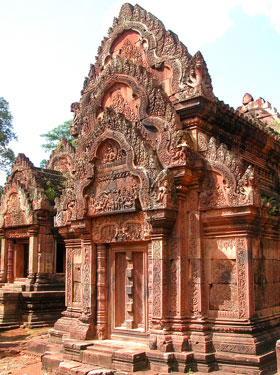 The site is complex. Walking through the temple was not simple: there are halls and doorways that lead to rooms, porches, bathing pools, covered galleries, courtyards, and stairways to three different levels. The five towers, over 200' at the highest point, represent the four cardinal directions and the fifth or middle tower signifying the center of the universe. We should have read more beforehand in order to begin to comprehend fully the full significance of the temple. Even so, we know we walked through a monument that surpasses any manmade structure we have seen yet, including Maya pyramids, gothic cathedrals, and modern skyscrapers.

4. Banteay Srei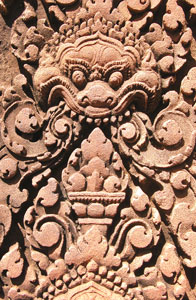 About 20 miles north of Siem Reap is a small but exquisitely carved temple unlike the others we visited. Banteay Srei was built out of predominately pink sandstone in the 10th century as a shrine to Shiva. It is remarkable for its detailed carvings that adorn the outside and interior walls. It has been the object of treasure hunters since its discovery in 1914; the most notorious theft was planned and executed by French novelist Andre Malraux in 1923 (though he was made to return everything upon his subsequent arrest). After a visit to the site, one can understand Malraux's misplaced passion to possess part of this sculptural masterpiece.
A temple as small as Banteay Srei is much easier for the first time visitor to grasp at once. The outer walls are about 400' long and not very high; the walls of the temple inside are about 160' long, making it possible to see across the temple and both sides all at the same time. Both the entry to the site and the entry to the temple are surrounded by carefully carved Hindu motifs and decorations. These are repeated throughout the existing walls and towers. We spent a great deal of time looking at the carvings up close marveling at the workmanship and acknowledging the artistry of the anonymous carvers who were unknown to the "civilized world" over a thousand years ago.
In all we had explored one city (Angkor Thom) and three temples which are in a wonderful state of restoration (Angkor Wat, Bayon, and Banteay Srei). The other temple (Ta Prom) seemed "built into" the surrounding jungle forest, remaining largely in the condition it was found. We left several dozen sites for another trip: some large, others small; some close, others a day's drive or more; and still others that are currently inaccessible because of poor roads or land mine dangers. However, we saw enough to understand why the Angkor complex is drawing more and more visitors every year to the splendors of an area and empire that are not well known or well understood by most westerners.

III. The People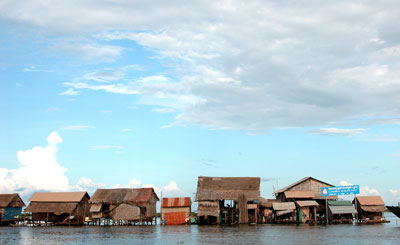 Tonle Sap Floating Village. We spent an afternoon on Tonle Sap, the "Great Lake" south of Siem Reap where there is a thriving "Floating Village" of several thousand folks. While the water is not deep, the lake does vary in area and depth seasonally: during the rainy season, the rising waters of the Mekong River make the Tonle Sap River reverse its flow. The area of the lake expands by nearly 50% and the depths can increase from less than 6' during the dry season to over 40' when the Mekong rises. Hence the need for houses that are either built on stilts or that can rise and fall with the water levels. In October or early November during the time of the reversal of the river, there is an important national festival (Bon Om Tuk) that draws hundreds of thousands of Cambodians for three days of boat races, music and dancing, eating, drinking, and fireworks. We missed the event by a week or so.
The village, which extends just a few miles from the shore, is a real neighborhood of minority Cambodians (Cham Muslims originally from Indochina) and Vietnamese immigrants who, unlike the Buddhist Cambodians who farm inland, do much of the killing of animals for all to eat. (Buddhists do not mind eating meat that others kill.) In addition to houses laid out in grids or "streets," there is a police station, a Catholic church, restaurants, stores, gas stations, and a headquarters of the Cambodian People's Democratic Party (that's the building on the right end with the blue sign). Some families keep chickens and pigs to supplement fish, which is their main diet. Looking quickly in the houses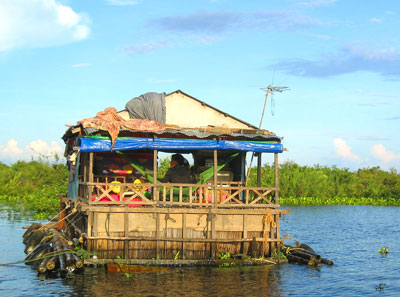 as we passed by in our launch, we saw furniture, appliances, TVs, and other household items found most anywhere (plus hammocks which are often used for sleeping). Missing were bathrooms, though one might presume that the lake provides all that's necessary for people's needs. On our return leg of the trip, we stopped at a floating restaurant/gift shop for some cold beer (locally brewed Angkor Beer, of course) and some retail therapy.
Regrettably we did not climb the few hundred feet to the top of the only "hill" in the area to see the 9th century temple of Phnom Krom and watch the sunset which might have been spectacular that day because of the huge clouds that were beginning to form.
Rural Farming Villages. On our final day, after visiting Banteay Srei in the morning, we stopped on the way back to town in a rural village where crafts, particularly baskets and textiles, are made and sold along with various vegetables, fruits, and dried fish. Houses on stilts here reflect the seasonal rains that can flood a village as well as the extensive rice paddies in the area. The dirt "highway" was in desperate need of repair and shoring up. It may be sufficient for bicycles, which are the dominant way of getting around, but awful for the growing bus and van travel that brings more and more tourists to outlying temples and monuments.
Land Mine Museum. Since 1998, Aki Ra, a former soldier in the armies of the Khmer Rouge, the Vietnamese, and the Cambodian army, has devoted his life to establishing and operating a Land Mind Museum, educating both Cambodians as well as tourists about the existing problems of uxos (unexploded ordinances) that hidden in the fields and roads throughout the country. He estimates there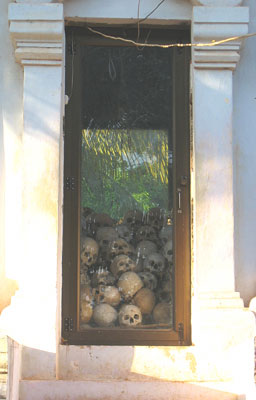 are still 30 million(!) land mines that pose a danger to travelers in all parts of the country, though the area surrounding Siem Reap has been cleared. In spite of the sobering displays and government harassment (officials think tourists will be frightened and stop coming), the museum is becoming a major attraction for residents and visitors alike. We stopped there on our way back to town from Banteay Srei and though we did not stay long, it was an experience that we won't forget.
English School. Sela, the very pleasant desk clerk at the B&B, volunteers as an English teacher at a local school in the afternoon. He invited us to visit while he was teaching and have a chance to talk with his students (and give his students a chance to practice their English conversation skills). Apparently most public schools are run in the morning, perhaps because the heat of the day is too oppressive for teaching, or perhaps Cambodians think half day is long enough and there's work to do at home. We visited one of the many private schools (this one run by a Buddhist mission) that offers free English instruction in the afternoons. Most of the students we found were in their late teens and twenties. Judy and I talked informally with two pairs of students, giving them a chance to practice their English and so that we could learn about each other. The major purpose for them to learn English was, they told us, to "get ahead," to get a better job where English gives them an advantage, especially in the growing tourist industry. I spoke with an 18-year-old orphan who was being raised by a Catholic seminary and a 27-year-old father and husband who held a full time job when he wasn't in class. They were most interested in how we liked Cambodia. Neither of the two I spoke with was particularly interested in coming to the US except perhaps for a visit, but certainly not to immigrate.
Outside the school building but within the mission compound was a chorten-like structure with glass panels on all four sides. The monument held hundreds (thousands?) of human bones and skulls, filling the inside of the monument to a height of about three feet. We could not read the signs nor did we ask the specific nature or reason for the monument. It was another stark reminder of Cambodia's tragic history and, for us at least, a monument to those unfortunates who did not live through the last half of the 20th century in Cambodia.
Central Market. Just south of the old French Quarter in Siem Reap, where we enjoyed a tasty lunch and cold Angkor beer at The Red Piano, is the Old Market where one can purchase souvenirs of varying quality and prices: silk and other textiles, T-shirts, jewelry, carved woods, musical instruments, books, and clothing of all sorts. The market is a daily inside affair with a labyrinth of passageways between the many vendors' stalls. Of course there is a food section with fruits and vegetables, flowers, meats and fish, and other groceries. We were fortunate that Andrea Ross found an excuse to take us through and make sure that we shopped with those vendors she knew sold quality merchandise at fair prices. Sure, we shopped around on our own for a while, but when it came time to make a major purchase of a silk hanging, we followed
her advice about where to spend our money. It hangs proudly on our wall to remind us of our visit there.

A Final Thought
Though our stay in Siem Reap was a scant three days, we were left with some powerful and lasting impressions and images—and, ultimately, questions. The grandeur and scope the Angkor Empire reminds us that we are taught so very little about this part of the world. Europe was suffering plagues and petty wars guided by ignorance and superstition during the "Dark Ages" when the art and culture of Angkor flourished, yet we are largely ignorant of what was a higher level of civilization than that of Europe. (The same can be said of other cultures, such as Arabia, the Moguls, and the Maya). In our own lifetime we knew what was reported about the war in Vietnam, which was plenty. We should have been paying similar attention to the impact of the war in surrounding countries and the revolutions that followed in the region, including Cambodia.
If we can't know everything, how much priority can we or should we place on issues relating to this part of the world? The non-Western world has always been dim in our world vision, yet it is the most populous and fastest growing region in the world. More people speak a language of China or India than all other languages combined, yet we devalue those languages (and cultures, therefore) in favor of "western" languages and cultures that are, in the larger world view, in the minority. More and more the countries and people of east and south Asia are impacting our lives. Is Asia the elephant at the party that we've been ignoring or didn't see?
People in Cambodia are poor and the population is increasing. Outside money from tourism, exports, and international aid continues to pour in. Sadly, it appears that not much of that money trickles down to the people of the country who are still feeling the effects of a period of colonization and warfare that goes back nearly a century. It would be easy and understandable for them to view their future with pessimism. Yet we found Cambodians to be like people everywhere: friendly to those who are friendly to them, industrious, wary of government, proud of their family, and working as they can for a better life. Who could ask for more? The smile of this boy from the Floating Village speaks volumes.