SEDONA, ARIZONA
April 11—22, 2002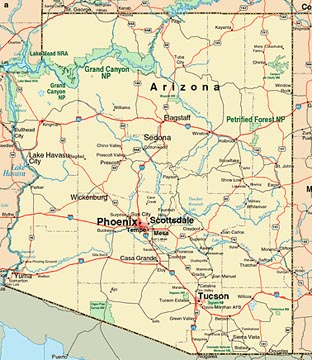 April in Nederland is, as a rule, one of the wettest (i.e., snowiest) months of the year. If the winter has been particularly cold and snowy and windy, cabin fever can strike even the toughest of mountain folk, especially those who don't ski. Knowing this, we often plan a get-away for the early spring and we set our sites on Sedona, Arizona, a small vacation area between Phoenix and Flagstaff best known for its "red rock" landscapes and New Age vortexes (or vortices). We knew there was good hiking, excellent mountain biking, fine scenery, old mining towns, and a great place to relax for a bit. Who knows: maybe we'd even find a vortex that would speak to us. So we packed clothes for warm dry weather, put our hiking boots in with the running shoes, put the mountain bikes on the back of the car, and headed for central Arizona.

ON THE WAY TO MOAB
It's about a two-day road trip from Nederland, but there is so much gorgeous country in the 800 miles that we planned to take at least an extra day and visit some favorite places we'd been to before, and explore some new areas we should have gone to earlier. We drove quickly across Colorado on I-70, crossed the Utah border, and got off about half an hour into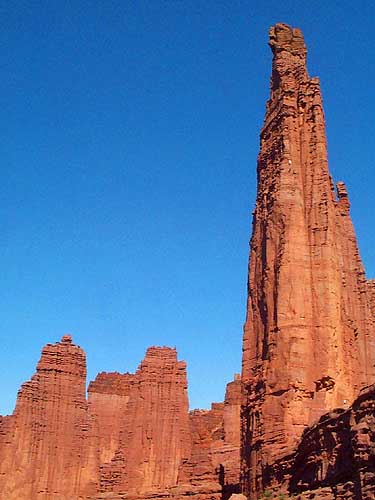 Utah (exit 212) and drove along the Colorado River on State Route 128 headed toward Moab for our first night.
Before we reached Moab, we stopped to bike briefly on a few miles of the Kokopelli Trail. Later, we parked the car on the highway and biked a few miles up to the base of the Fisher Towers. This whole length of Route 128, with great biking and quiet camping along the Colorado, is often bypassed by folks in a hurry to get to Salt Lake City or who want to get to Moab (and Arches N.P. and Canyonlands N.P., or Lake Powell) on a fast, straight road. This section of narrow and twisting blacktop takes you past some of the most beautiful "red rock" county in the West. Fisher Towers is the best known and most striking of the many eroded sandstone monoliths that define this area.
Moab is considered by many, especially those in Moab, as the mountain bike capital of the country. Certainly it is a recreation destination for thousands every year. There are miles and miles of trails that run from easy to extreme, and there are at least a half dozen bike shops and bike tour companies who can rent you a bike, show you where to go, or take you to the limits of your abilities. If you don't care for biking, you can also rent jeeps, hummers, ATVs, go rafting, hiking, and climbing, visit ruggedly beautiful national parks, and even take helicopter rides over the area.
We stayed the night in Moab, had a delicious Mexican dinner at Banditos Grill, and found a great bookstore strolling along the main street. The air was warm and dry, just what we'd hoped for when we left Nederland. Like others who come to Moab for recreation of all sorts, we'll be back.

ON THE WAY TO HOLBROOK
The next day we stopped for the first time at Edge of Cedars State Park in Blanding, Utah. We knew about the Anasazi ruin there, but what we really enjoyed was a surprisingly beautiful display of contemporary Mata Ortiz pottery from Mexico in the museum. Mata Ortiz is the equal of pottery by the Hopis and from the pueblos of New Mexico, and in many ways part of the same tradition, but taken, we think, to a new level of fineness and craftsmanship.
We continued south on US 191 to Mexican Water, Chinle, and stopped in Ganado at the Hubbell Trading Post, a National Historic Site run by the National Park Service and still doing business as a traditional trading post. Though we'd been there once before, this time we took the guided tour to learn about the Hubbell family and the traditions they began as one of the earliest posts to support native weavers.

From Ganado we drove just a bit further south to I-40 which paved over much of historic US 66. It was an hour to our next night's stay in Holbrook, once an important stop on US 66 that still retains much of the 1950s flavor of that historic highway. Joe and Aggie's Cafe and the Wigwam Motel are relics of the 40s and 50s, and are still doing business as they did when US 66 really was the "Mother Road." We stopped in a the Wigwam to consider staying there, but in spite of the nostalgia which was clearly on sale, the (wigwam) room was cramped and dark--good enough for easterners of a generation or two ago looking for some phony western experience, but a bit too 1950s for us.
The big draw for us was the nearby Petrified Forest National Park and Painted Desert area to the east of town. We'd not been before and the half day we spent hiking through and around the fallen mineralized trees was an amazing experience. The temperature was was mild and spring-like, nothing like the heat of the summer when most tourists come to this area. There are no trees, no shade, and often folks spend little time really hiking this desolate but stunning desert area. We visited the former Stone Tree House, now the Painted Desert Inn, built by Herbert David Lore on the north side of the park in 1924. It housed the CCC in the 1930s and later sold to the Fred Harvey Company who refurbished the interior with southwest motifs; of particular importance are the murals done by Hopi artist Fred Kabotie. Today the Inn is a National Historic Landmark a park museum displaying what was incredible luxury to the few tourists who could afford the finest accommodations of the day.

FINALLY, TO SEDONA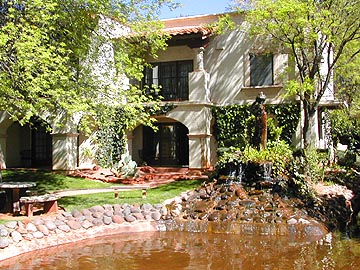 After the Petrified Forest stop and another brief one in Flagstaff for groceries, we drove the 28 miles down beautiful Oak Creek Canyon from Flagstaff to Sedona and the Los Abrigados Resort and Spa, our destination for the next week. Though we had not seen the resort before, we could not have selected a nicer place to stay. It features several restaurants, two pools, a comfortable suite of rooms for us with an adequate kitchen, fitness and spa facilities for Judy's massages, tennis and miniature golf (which we didn't use) and a short walk to fine galleries. Oak Creek runs right through the property so I could practice fly fishing just a few short steps from our rooms. More important, however, were the terrific hiking and biking opportunities within a few miles of Los Abrigados.
The area around Sedona is red sandstone formations with pinon and juniper vegetation, along with yucca, cactus, sage, and other grasses associated with high desert areas. Red Rock State Park seems to surround the town and offers a wide variety of recreational opportunities, as well as being home to a number of vortexes that are the destination of new age believers. (A recent study by Northern Arizona University reported that 64% of visitors to Sedona came "seeking some kind of spiritual experience... Vortex sites are some of the most visited and impacted sites in the Red Rock Country of Coconino National Forest." No wonder, then, that several of our hiking and biking destinations were, coincidentally, to a vortex where we commingled with individuals or groups meditating.
We hiked the West Fork Trail, a slot canyon (see photo on right) at the northern
end of Oak Creek Canyon until we couldn't go any farther without hiking knee-deep through the creek. Another day we hiked the Boynton Canyon Trail on the north side of town, site of several vortex sites. Both of these hikes are easy to moderate 5 to 6 mile hikes, and both offer spectacular views. With over 60 trails within the region, we'll have plenty of new trails to try out on our next visits.
Bicycling in the Sedona area is as popular as hiking, though you'd never know it from the lack of bicycle lanes and narrow
shoulders along the roads. To be safe, you need to cart your bike to a trail head and return to your car when you run out of trail. We especially enjoyed the 15-mile loop we took from the village of Oak Creek, just south of Sedona, that followed the easy Bell Rock Pathway north to the Big Park Loop and Little Horse Trails. What started out as a hard packed two-lane pathway, went through paved neighborhoods, to jeep roads and finally a fairly challenging rocky single track that was steep enough is some places that we walked (or flopped) until we came to less challenging stretches. That's Judy on the left posing on the edge of Chicken Rock, the beginning of a two-mile stretch of technical, tough (we thought) single track and the site of Hughes's headfirst flop into an area thankfully without snakes, cactus, or yucca. Like our hikes, we had sensational weather: April temperatures 65° to 70°, clear skies, and light breeze. At the end of each, we returned to Los Abrigados for rest, a massage, a swim, and even some fishing.
One of the nice things about Sedona is that is is relatively close to quite a few other interesting spots: the Grand Canyon is within a couple of hours (we didn't go). The old mining town of Jerome that sits atop Cleopatra Hill a mile from the Gold King Mine (copper) was once the territorial capital, and is within an hour's drive of Sedona. We poked around the mine camp souvenir shops and had lunch at a place that made the best margarita I've had in years; they would not give me the recipe except to say it was made with Herradura silver!

On the way home we stopped at Tuzigoot National Monument, Montezuma's Castle National Monument, and Montezuma's Well, all built and inhabited by the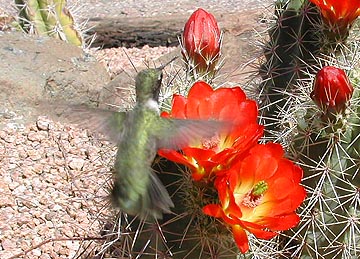 Sinaguan people, contemporaries of the Anasazi, and each small and interesting in its own way.
I should add that we passed by a desert plant nursery so attractive and spread out that we turned around to take a closer look. They had too many varieties of varieties of cactus to count, most of which were in bloom. Judy bought a dozen specimens that have thrived and re-bloomed here at home.
And did I mention art galleries? There are dozens of sculptors, painters, photographers and other artists who have there works throughout town. Many are located in the Tlaquapaque Center, a serene outdoor collection of shops, small restaurants, and boutiques with something for everyone's pocket book. Since it adjoined Los Abrigados where we were staying, we strolled through the area several evenings, always seeing something new and intriguing.
Any description of Sedona would not be complete without some mention of the commercial jeep trips through the Red Rock Country. Sedona is particularly well known for a company that uses only pink jeeps; they are one of Sedona's best known "landmarks." There. I've mentioned them.

GOING HOME
We often return from a road trip like the horse heading to the barn at the end of the day: fast and direct. From Sedona to Flagstaff to Gallup to Shiprock and to Farmington the first day. We passed landmarks familiar to us: Richardson's Trading Company in Gallup, where shoppers for kachinas know the quality and prices are good; holy Shiprock Peak, a 7178' landmark that can be seen from a hundred miles in all directions across the empty high desert of the four corners region; north on US 666 along the eastern edge of the Navajo Reservation, Leaphorn's and Chee's highway in Hillerman's mysteries; Foutz's Trading Post in Farmington, where we have purchased most of our rugs.
East of Farmington we entered Colorado by way of Cumbres Pass (10,022') and La Magna Pass (10,230'). We followed the Cumbres and Toltec Railroad, an historic narrow gauge line that takes tourists over some spectacular scenery, especially in the fall when the groves of aspen are gloriously golden. The railroad connects Chama, New Mexico, with Antonito, Colorado, the southern gateway to the historic San Luis Valley, where the state's earliest European settlements were established just following the war with Mexico of 1848. This area is still home to hardworking farmers and ranchers who have always had to scratch hard for a living from the earth, a quite different image from the Aspen and Telluride crowd who give our state an image with superficial glamor and glitz. The roads in this south-central region can be as flat and straight as any in the midwest, but the peaks of the Sangre de Cristos or the San Juans are always on the horizon. There's a quiet beauty of open spaces here, and the mountains are a majestic as anywhere in the west.
When we arrived in Alamosa we turned east for the interstate to make a beeline for home. On the way north on I-25 we endured the traffic, the congestion, the hurry, and the press of people we had escaped the past ten days. But at 70 mph we were not long going through the craziness and confusion. As we crested the road up from Boulder at the dam to catch our first glimpse of Nederland and the Indian Peaks, we knew we'd had a great trip, but this is home—and it always feels good to be back.