HIGHLINE LAKE STATE PARK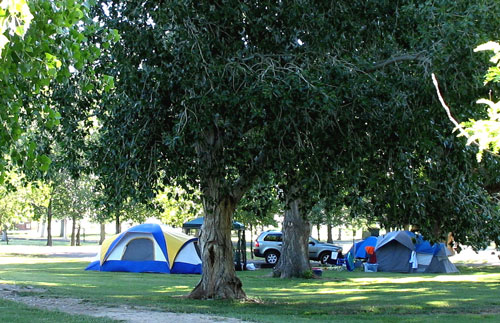 We had never camped at Highline Lake and probably would not have on this trip, except that winter friends from Tucson were camp hosts and invited us to spend the night there. We discovered that in the flat dry farming region of Mack, next to the Utah border west of Grand Junction, there is—surprise!—an oasis of green (cottonwoods and irrigated grass) surrounded as far as the eye can see by fields of corn, alfalfa, and other farm crops.

Ron and Sandy welcomed us with homemade lasagna for dinner, a jar of wild plum jam Sandy made when the fruit ripened on the bushes in the park this summer, and a tour of the park and the Mack Mesa and Highline Lakes, magnets for boating, swimming, and fishing. The park is spacious, restful, quiet, and, despite no hook-ups, very comfortable. We'll return another time to take advantage of the extensive bike trails in the North Fruita Desert Area close by.